Phoebe Waller-Bridge's 'SNL' Monologue Revealed The Real Reason Everyone Loves Hot Priest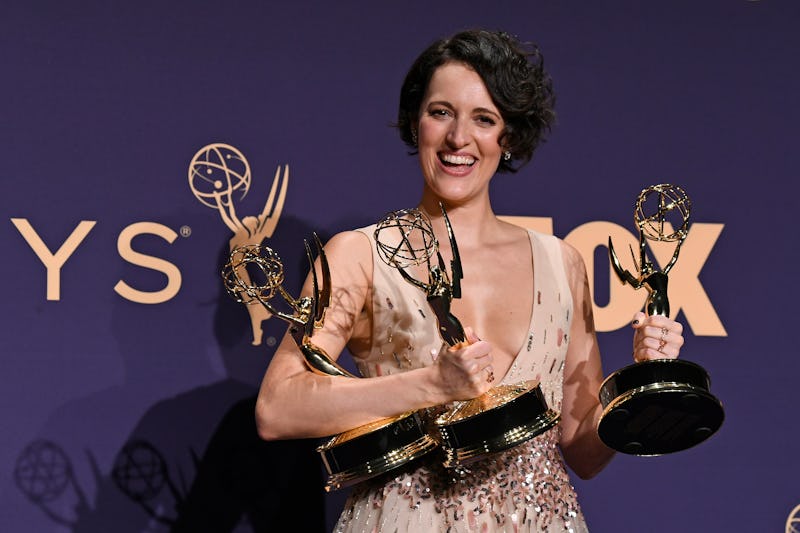 Frazer Harrison/Getty Images Entertainment/Getty Images
After dominating the Emmys mere weeks ago, Phoebe Waller-Bridge hit the Saturday Night Live stage Oct. 6 to make her hosting debut. True to form, Waller-Bridge's SNL opening monologue was wry and unabashed, covering everything from women's sexuality to the awkwardness of human bodies. She also joked about Andrew Scott's Hot Priest from her critically beloved BBC series Fleabag, and the real reason the character struck such a chord with viewers.
"Fleabag came from a very personal place for me. It began as a way to get Andrew Scott to dress up as a priest and tell me that he loves me," Waller-Bridge joked. "It took me six years and two seasons to achieve it, but I did it."
She went on to explain that she simply called Scott's character "Priest" in the script, and it was viewers who proclaimed him "Hot Priest."
"Obviously, Andrew is hot, but this priest character caused such a horn-storm," Waller-Bridge said, to much laughter. "Andrew and I were trying to figure out what it was about him that was driving women so mental."
The answer? "We boiled it down and realized he was doing this one thing: listening. Really, really listening. Try it, guys," Waller-Bridge said with a smile.
While Waller-Bridge played this off as a joke, pointing out that Hot Priest is attractive to women because he's both emotionally available and attentive is a pretty valid observation. After Fleabag Season 2 premiered, Huffpost's Leigh Blickley and Emma Gray talked about how Hot Priest was markedly different from most of the men Fleabag involved herself with, largely because he was emotionally and spiritually mature. "He is a teacher and counselor and friend and confidante," Gray wrote.
Blickley agreed, pointing out that Fleabag "uses the camera as a way to escape from the moment" until she meets Hot Priest, the first man who really allows her to be comfortably vulnerable. Hot Priest isn't hot to audiences just because of looks; he's hot because he embodies the exact kind of emotionally mature, supportive partner that many people desire.
In the monologue, Waller-Bridge also talked about the relative freedom women now have to explore their sexuality. "Women can now speak openly about their desires without being burned at the stake, which is nice," she said. "Back in the day, horny women were to be feared. Now they're given Emmys."
And she displayed her physical comedy, which was often deployed on Fleabag to humorous effect — a knowing smile here, a pointed stare at the camera there. For SNL, Waller-Bridge used this form of humor to joke about genitals, wondering aloud about how "little attention we pay" to them despite living in a world rather preoccupied with sex. "They're just sitting there. Patiently. Like," Waller-Bridge said, hugging her body and smiling awkwardly at the audience, which elicited a ton of laughter. The human body is an unusual and even uncomfortable topic for an SNL monologue, which makes it exactly the kind of conversation Fleabag herself would open with.
All in all, Waller-Bridge impressively blended her fictitious persona with her real one, proving that the best creators truly do know their creations — and their intended audience — like the back of their hand.