Everything We Know About Monday's 'Bach' From These 'Men Tell All' Pics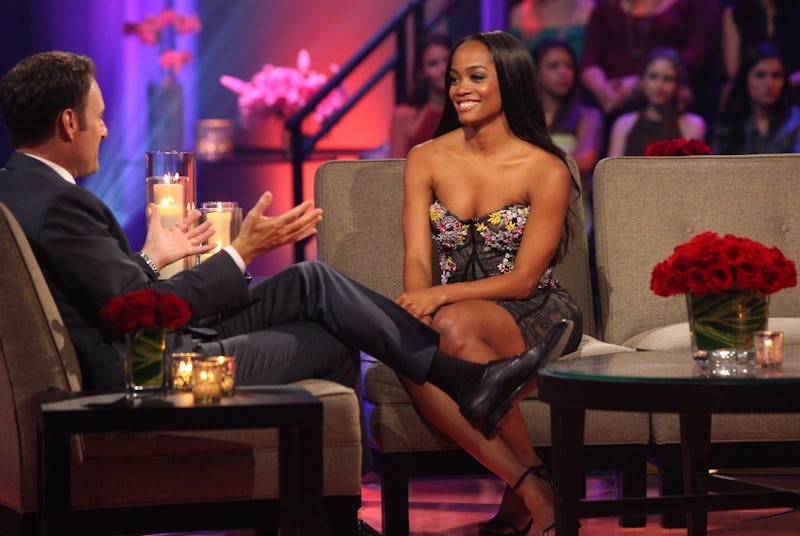 ABC/Paul Hebert
We are in the home stretch of Rachel Lindsay's run on The Bachelorette and things are heating up. This Monday night is the long-awaited Men Tell All episode and ABC has given us a tease of the fun that is going to go down by pre-releasing pictures from the event. The photos give us a glimpse into the drama that is sure to unfold and hints to viewers that it is going to be a wild ride. For those of you who don't want to wait until Monday to get your fix, here are 13 things the photos from The Bachelorette's Men Tell All episode tell us about the event.
The Men Tell All episode is always one of the best of the season for a multitude of reasons. Viewers get to see their favorite villains try to defend their actions, gone-too-soon fan favorites get the chance to address the person who dumped them while sitting awkwardly next to them, and the random guy who you swear was never actually on the show decides to interject his unwarranted opinions on topics he wasn't even present for. It is also a wonderful experience because you get to see all of the squabbles that popped up during the season rebroadcast on a big screen and then brought back to life and egged on by Chris Harrison — all in front of a live studio audience.
Here's what we can expect this time.
1. Chris Harrison is Back
It seems like Chris Harrison's camera time this season has been cut way back, so it's nice to see his face on screen again. Even if he looks like he doesn't know what to do with his hands.
2. The World Gets To Meet Kenny's Daughter
Viewers got to see a little bit of Kenny's daughter during his time on the show, but now we'll get to spend more time with her. Apparently, she's also a fashion icon.
3. Lee And Josiah Have Beef?
If you would've told me that Lee was going to be on the couch with someone during the Men Tell All, I would've assumed it would be Kenny. However, after seeing this photo I am curious as to what prompted the meeting between Lee and Josiah instead. (Besides, you know, Lee being the worst.)
4. DeMario Tries To Interject Into A Conversation
It's hard to judge the nature of DeMario's interjection from this photo because the rest of the faces of the men in the picture are varied, but my mind will be running wild with possible scenarios until Monday night.
5. Will Wears White Nikes With A Suit
The sneakers with a suit is usually reserved for news anchors and people doing Skype job interviews, but Will makes a bold move and wears them while sitting in the front row, in front of millions of people. Keep doing you, Will.
6. The Tickle Monster Sits On a Tickle Throne
Sometimes I think the producers on this show have way too much fun. I wonder what cost more: this hand chair or the airfare that it took to get Adam Jr. to Norway to have him watch the handball match.
7. Jack Stone Looks Like He Would Rather Be Anywhere Else
It doesn't take a body language expert to figure out that Jack Stone's mind is somewhere far, far away from the Men Tell All.
8. DeMario Approves Of Something
DeMario looks like he is either giving a thumbs up to someone who is on stage with Chris Harrison or he is trying to hitchhike. Guess we'll have to wait until Monday to find out which it is!
9. Lee And DeMario Share A Handshake
The evil smile on Lee's face makes it look like he is a used car salesman who just sold DeMario a car that has an engine being held together by bubblegum and a bobby pin.
10. Will Finds Something Very, Very Funny
I'm assuming this shot is from the portion of the show when they play bloopers, and the look on Will's face has me hyped for what is going to be shown on Monday night.
11. Dean Makes Some Interesting Fashion Choices
Dean took to his Twitter account before the Men Tell All was filmed and asked his followers for fashion advice via a series of polls. He ended up ignoring all of the answers and wore the camo jacket he was warned against.
12. Rachel Is HOT
If anyone else was placed in a room with 15 of their exes, they would probably be a sweaty mess, but Rachel looks absolutely flawless.
13. Iggy And Anthony Have A Bromance
This very bromantic moment between Iggy and Anthony reminds fans that while only one guy gets to win Rachel's heart, contestants can still make other meaningful relationships.
These photos provide a nice sneak peek at what viewers can expect on Monday night, but don't answer a very serious question about the Men Tell All: Are we going to get one last "Whaboom"?