Photos From 'The Defenders' Show Women Rule This Marvel Universe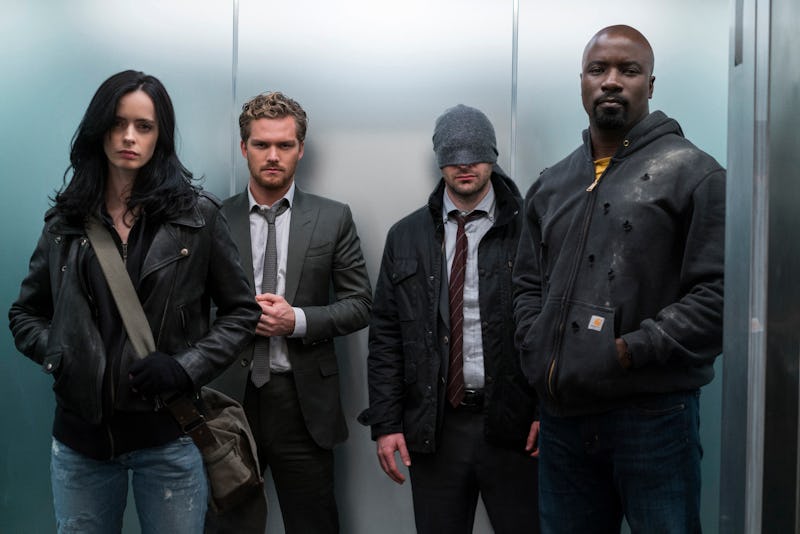 Sarah Shatz/Netflix
Who run the Marvel Universe? From the looks of the first photos Netflix released from Marvel's The Defenders, out August 18, it's girls, lots of girls. Actually, they're not girls — they're strong women. When looking through all 48 new photos for Season 1 of the superheroes miniseries — which has reluctant heroes Jessica Jones (Krysten Ritter), Daredevil (Charlie Cox), Luke Cage (Mike Colter), and Iron Fist (Finn Jones) teaming up for the good of New York City — it's hard not to notice there are a lot of female characters getting time to shine. In fact, the majority of the series photos feature women who look like they're ready to kick ass and take names. Beyoncé would be proud.
While Jessica Jones is the only female Marvel (kind of) superhero to get her own standalone series, fans of Daredevil, Iron Fist and Luke Cage already know that for every one of these great men, there's an even greater woman there to help. She doesn't always have superpowers, though, sometimes she does. (Hey, Elektra!) Often she's a lawyer, cop or a journalist who's smart, strong, and capable of defending herself whatever comes her way.
In The Defenders, that includes some very strong female baddies, which means you may not be rooting for all the women in these photos. Though, who doesn't want to see what Sigourney Weaver has up her sleeves?