Becca Just Described 'The Bachelorette' Finale Using The BEST 'Game of Thrones' Reference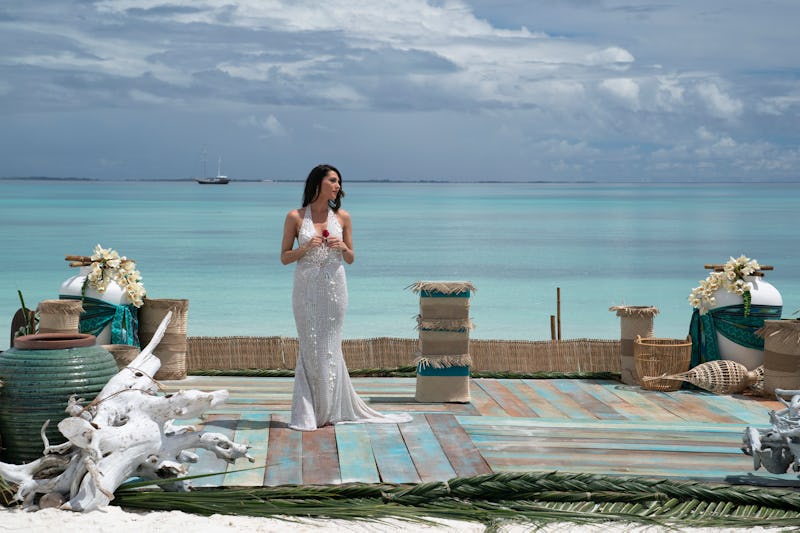 Paul Hebert/ABC
All men must die — but one man must pop the question first. With just a few days to go before The Bachelorette's Becca Kufrin offers up her final rose to either Garrett Yrigoyen or Blake Horstmann, the current Becca teased her final Bachelorette choice with a Game Of Thrones reference on Instagram that fans of both shows will appreciate.
Posting three photos from the finale, Becca stands in a white, embellished gown in front of a crystal blue ocean in the Maldives, holding a single red rose and looking pensive. It's all standard Bachelorette fare, until you reach the caption, where Becca seems to drop plenty of hints about the man she is currently engaged to. "Just awaiting my Jon Snow to bend the knee," she wrote, paying homage to the fictional King of the North, played by Kit Harington on the hit HBO series. "Only two more days until the real beginning of this lurve journey. How are we already here?!"
While Becca's ode to Jon Snow might not obviously point to either Garret or Blake — after all, neither one of them has Harington's long, curly hair nor are they currently engaged in a war for the Iron Throne — but there's still plenty to unpack in her caption.
Most importantly, there's the fact that she used the phrase "bend the knee," which, while also a clever play on the traditional bended knee that people get down on in order to propose, is a familiar line to Game of Thrones fans everywhere. In Westeros, "bending the knee" is perceived as a formal act of submitting to a ruler, to prove that they are loyal subjects. And — spoiler alert — fans of the show may, in fact, remember Jon Snow himself bending the knee to Daenerys Targaryen (Emilia Clarke) on the most recent season of Game of Thrones.
(Considering that Jon and Dany hooked up not long afterwards, this also seems to be a good indication that Becca views her now-fiancé as her own personal Jon Snow. Perhaps that's why she chose an appropriately icy white gown for the finale?)
If Becca sees her new love as someone who will "bend the knee" to her, that seems to imply that she chose someone who treats her like a queen and worships her similarly — something that her ex, Arie, who infamously broke up with her on television definitely did not do when he proposed to her and then changed his mind. Whether Becca chooses Garrett or Blake on the season finale, it's clear that she has officially moved on from Arie, and is ready to embark on a new journey with her new love.
So does this make it clear whether Becca ultimately chose Garret or Blake? Not exactly — but if she does inevitably pick Garret to get the final rose, it does shed a little bit of light on why she decided to choose the man who got her first impression rose, even in the wake of the scandal involving his controversial Instagram likes, which he has since apologized for. If Becca perceives Garret as someone who worships her like a queen (especially after being publicly dumped and humiliated), it makes sense that she'd want him to be one of the final contenders for her hand.
Of course, Becca has commented on Garret's Instagram scandal, early in the season, but knowing that he made it to the final two, she kept her statement purposefully vague. According to E!, she said, "I've heard a little bit about it these past couple days... everyone is entitled to their own opinions, and at the end of the day I wanted to go on this journey to open up myself and have people see my love story unfold."
As for his (or Blake's) ability to defend her against an army of White Walkers, well, that's a question that's best left for After the Final Rose. In the meantime, Becca and her personal Jon Snow will make things permanent on Monday's finale, which airs at 8 p.m. ET on ABC.