Chris Pratt & Katherine Schwarzenegger's Latest Adventure Together Involved Family & Wine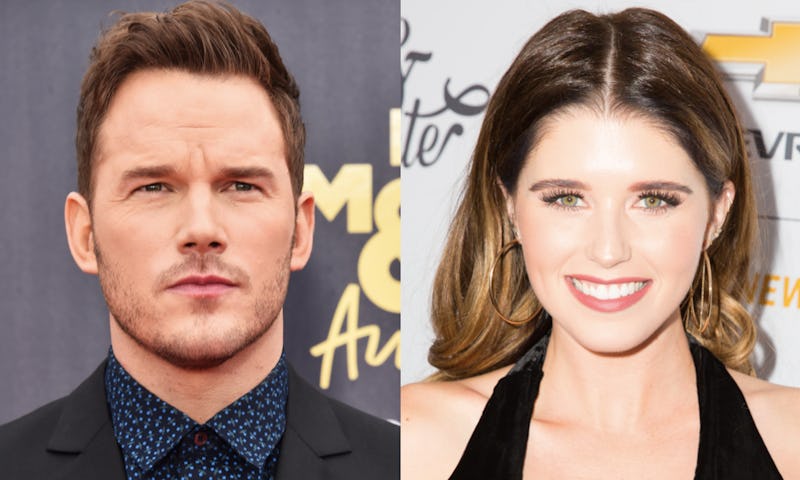 Alberto E. Rodriguez/Getty Images Entertainment/Getty Images; Alison Buck/Getty Images Entertainment/Getty Images
There's nothing quite like having a winery weekend in Napa, California. That's exactly what happened over the weekend of Sept. 8 when Chris Pratt and Katherine Schwarzenegger went to a winery together, along with Pratt's family and some friends. On Monday, the Round Pond Estate posted photos of Chris and Katherine on Instagram hanging out at the winery. Based on the images, it looks like they had a great time — and laughed a lot.
Next to a series of photos of the reported couple (they have yet to officially confirm their relationship status), the winery wrote,
"What a weekend! We had the distinct pleasure of hosting Mr. Chris Pratt and Miss Katherine Schwarzenegger and friends this past Saturday, and they are every bit as warm and hilarious as you'd think! We are SO happy to have you as part of our Round Pond Family!"
As you can see below, the two can't stop smiling and look adorable drinking their wine. Chris' brother, Cully Pratt, also shared photos on Instagram with his famous sibling and Katherine. Cully posted a lot of pictures, so be sure you scroll through all of them. He captioned the post,
"Few more pics for the fellas & gals who attended the incredibly beautiful wine tour @roundpondestate. If you ever have a chance to checkout St. Helena / Napa Valley it's a must! @candy_lvr @katherineschwarzenegger @prattprattpratt @highbrassleather and all our friends & family not on IG, until nect [sic] time!"
Cully also posted a video of his brother trying to saber a bottle of champagne, aka use a sword to cut off the bottle neck. It's clear Chris is still his funny self when he's around Katherine, because he couldn't help but crack jokes while holding a sword. You can even see a glimpse of Katherine laughing at Chris when he fails at sabering the bottle. Don't worry, he was successful the second time around.
One of the pictures shared by Cully is a really cute candid of the two. They sure know how to have a good time and seem very comfortable with one another.
Besides paparazzi photos and Patrick Schwarzenegger sharing an Instagram Story featuring Chris at a his family gathering in August, Katherine and the Guardians of the Galaxy star really haven't been seen in social media photos. These Instagram photos are rare. The actor and Katherine have never posted any social media pictures together, either. You might even say this is their official Instagram debut.
Cully also shared even more photos from Sept. 9, where Cully, Chris, and Katherine attended the 2018 Mayor's Gala in Napa, along with many other people and loved ones. According to Cully's Instagram, the evening consisted of an auction (Chris served as the auctioneer) raising money for The Leaven.
According to The Leaven's official website, the organization focuses on bringing after-school mentoring and tutoring programs "to struggling neighborhoods where drop-out rates are out of control and gangs threaten the peace of the community."
Chris and Katherine haven't been making headlines for that long, but they're already raising awareness together for good causes.
Chris and Katherine were first rumored to be dating in June on Father's Day after they were spotted together. (Bustle previously reached out to the pair's reps about the relationship rumors, but did not hear back.) Apparently, Katherine's mom, Maria Shriver, set her 28-year-old daughter up with the popular actor. It seems like they've been constantly with each other ever since. Katherine has also met Chris' son, Jack, who is from his previous marriage to Anna Faris.
According to a source who spoke with Entertainment Tonight at the end of July, they've "gotten serious, quickly... Chris and Katherine have introduced one another to their family and friends, and have been almost inseparable when they are free."
Well, it sure seems like they're serious, especially since they've already met each other's families and have taken winery trips with them.