Meghan Markle & Prince Harry Arrived At Windsor Castle For A Typical Wedding Tradition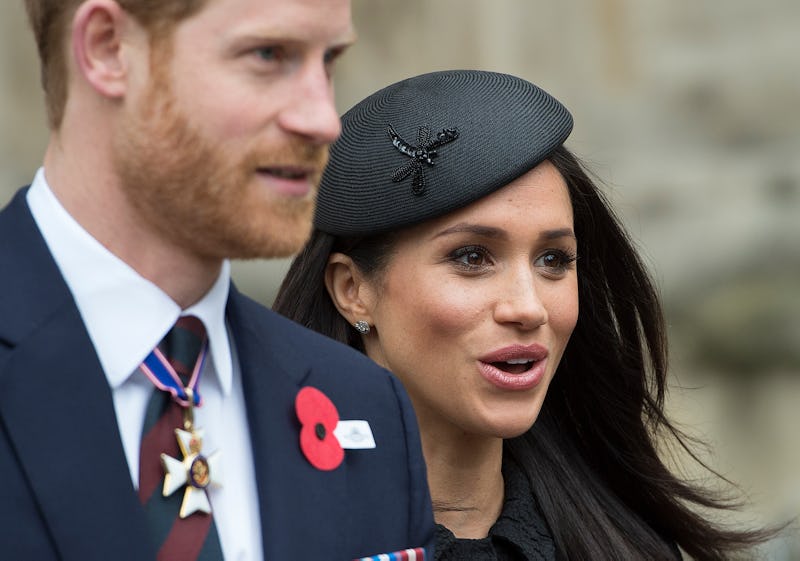 WPA Pool/Getty Images Entertainment/Getty Images
With just days until the 2018 royal wedding takes place, Meghan Markle and Prince Harry have arrived at Windsor Castle together for the last time as an unmarried couple, according to E! News on Thursday. Even the royal family has to have a rehearsal dinner — who knew?
Markle, Harry, and the Duke and Duchess of Cambridge — also known as Prince William and Kate Middleton — were all spotted being driven into Windsor Castle together, U.K. newspaper The Telegraph reported. As E! News pointed out, this is the first public appearance Prince Harry and Markle have made together since late April. It's also the first time fans have spotted Markle since the unfortunate situation with her father's health made recent headlines.
On the subject of her father, Thomas Markle, the Suits actor said the following via a statement on Kensington Palace's Twitter account:
"Sadly, my father will not be attending our wedding. I have always cared for my father and hope he can be given the space he needs to focus on his health. I would like to thank everyone who has offered generous messages of support. Please know how much Harry and I look forward to sharing our special day with you on Saturday."
Meanwhile, fans have noticed the royals out and about in Windsor. Per E! News, they reportedly spent Thursday on a rehearsal tour of the big day, which included a "procession through Windsor Town featuring members of the Armed Forces," as well as "a carriage representing the one Prince Harry and Markle will sit in" for their first ride together after the nuptials.
The royal wedding is set for Saturday, May 19, at St. George's Chapel at Windsor Castle in Windsor, U.K. It will be a sizable affair; according to The Telegraph, some 600 guests are expected to arrive, including members of the royal family and the Queen of England herself — but noticeably smaller than the 2011 royal wedding. When Prince William and Kate Middleton were married, they picked the traditional site of Westminster Abbey. Prince Harry and Markle's wedding will reportedly be more intimate. As intimate as a reception can be when the entire world will be watching the ceremony.
Harper's Bazaar has the full schedule of the wedding, which appears to span most of the day. The earliest guests will arrive at Windsor Castle at an invitation from the royal family. They'll be able to see the royals off on their way to the chapel. After guests, members of the wedding party, the groom, and the Queen have all made their way to St. George's, Markle will finally make her appearance at the chapel. So, if you're watching from home and not on Greenwich Mean Time, it's safe to wait until 7 a.m. or so to really tune in to the spectacle, per Harper's Bazaar.
Until recently, it was understood that Markle's father Thomas would meet her at the entrance to St. George's to walk her down the aisle. Due to his heart condition and potential extenuating circumstances, that's no longer the case; it's possible that Markle's mother will "give her away" instead. Her mom is already scheduled to spend Friday night at the same lodgings as her daughter, according to Harper's Bazaar, and their shared carriage ride to the chapel was planned in advance. Still, this is another not-so-subtle way the wedding is breaking with royal family tradition, and fans are here for it.
Markle's wedding dress is one of the last details kept secret from fans and spectators. Middleton's Alexander McQueen gown echoed Princess Diana's for sure, but with a conservative-meets-modern twist. It was perfect. Fans have no idea what designer, style, or overall look Markle will go for, but if it's anything like her future sister-in-law's trendsetting look, she's about to enter into the bridal gown hall of fame.
Once again, the extremely well-rehearsed 2018 royal wedding takes place on Saturday. Definitely catch up on rest on Friday if you're planning to stream it live — coverage starts so early, it will basically still be Friday night.