These Photos Of Jade Roper & Tanner Tolbert's Baby Are So Cute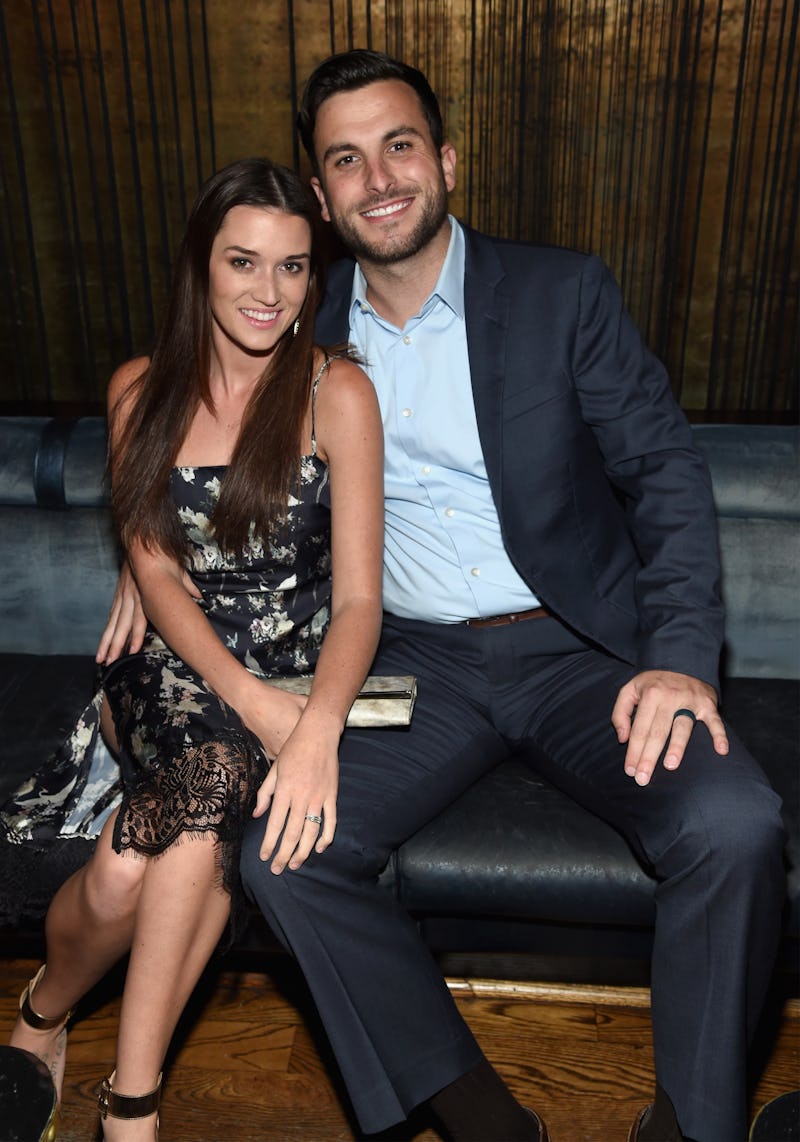 Jamie McCarthy/Getty Images Entertainment/Getty Images
A newcomer has officially been welcomed into Bachelor Nation! Bachelor in Paradise's own Jade Roper and Tanner Tolbert had a baby girl on Thursday, Aug. 17. Since then, they shared a few sweet snaps of the newborn on social media that capture the first few precious moments of their time as new parents. The photos of Jade and Tanner's baby are just too cute. Bustle reached out to the couple's rep in regards to the baby's name, but did not receive a response.
The reality stars, who have yet to reveal the name of their daughter, shared in separate Instagram posts that their baby girl arrived one month earlier than their due date of September 12. Roper took to social media to share a photo of herself holding the couple's new bundle of joy alongside an emotional caption that read:
"We did it! Our little sweetheart is here! She arrived on her own terms, quickly and four weeks early, but she is perfect in every way, healthy and doing well. Precious little girl, there are no words to describe the feeling of holding you in our arms for this first time and looking into your beautiful eyes. We love you so much. #bestdayever #ilovemyfamily (Thank you, @avawomen for helping us start our family)."
Roper and Tolbert met and hit it off back in 2015 on Season 2 of ABC's Bachelor in Paradise. Following their time on the show, the couple was engaged and then married in a televised ceremony that aired on ABC on Valentine's Day in 2016. By March, they had announced that they were expecting their first child together.
According to E! News, the newborn baby is currently undergoing treatment for jaundice, a common ailment that premature babies are born with in which their skin begins to form a yellow tint because of excess bilirubin in their blood.
Tolbert took to Instagram on Saturday to share a series of photos of his newborn baby girl, including one in which she's seen under a blue florescent light wearing protective sunglasses and a towel wrapped around her upper body.
According to WebMD, jaundice appears only mildly in newborns in most cases, and it usually goes away within a week or two. Tobert's photo of his daughter receiving treatment was posted alongside a playful and lighthearted caption that read, "I gotta wear shades cuz my future so bright."
Jade and Tanner are already showing so much love with newborn Baby Janner. That's pretty much as good a sign as any that these two are going to be great parents.