Proof That Every Time Kate & Will Leave The Hospital With A Baby The Exact Same Thing Happens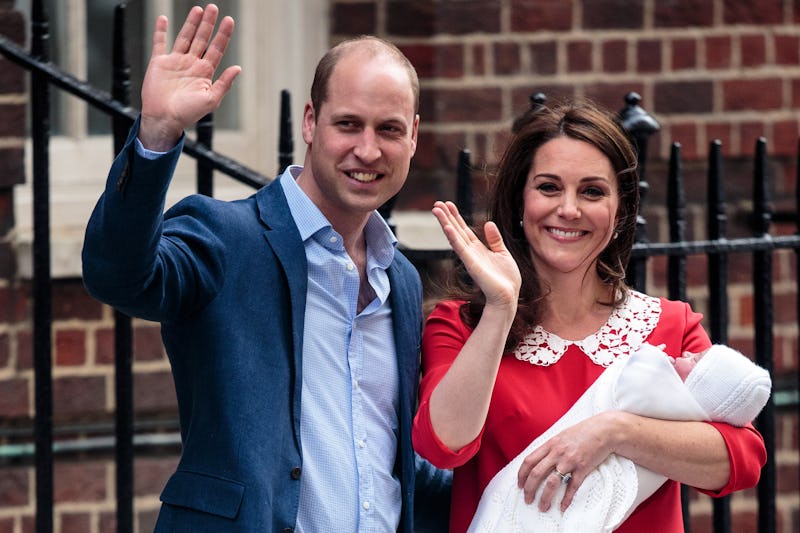 Jack Taylor/Getty Images Entertainment/Getty Images
Now that the third British royal baby is here, it's time to look at photos of Kate Middleton leaving the hospital — and not just with the newest little guy. Have you noticed how Middleton and Prince William pretty much take the same pictures every time they welcome a child into the world? They exit the Lindo Wing at St. Mary's Hospital in London with Middleton carrying the newborn. They smile. They wave. Middleton looks gorgeous in whatever dress she's chosen to wear post-birth and the happy couple goes back inside the hospital before leaving again to take their baby home.
This is exactly what happened with Prince George, Princess Charlotte, and the latest addition to the beloved royal family. Middleton and William have a system down. (As did Princess Diana and Prince Charles before them.) They give the media what they want by posing for a brief photo session and introducing their child to the world. Typically, the baby is wearing a hat, bundled tightly, and looking as adorable as ever. Not much later, the family, including Middleton, leaves the hospital and heads back to Kensington Palace.
On Monday, Middleton gave birth to her third child, a son. Kensington Palace revealed early Monday morning, "Her Royal Highness The Duchess of Cambridge was safely delivered of a son at 1101hrs. The baby weighs 8lbs 7oz. The Duke of Cambridge was present for the birth. Her Royal Highness and her child are both doing well."
His name has yet to be unveiled, but until then, let's take a look at the photos from each time Middleton left the hospital with her new baby. There's nothing better than a walk down memory lane, especially when it involves this sweet family.
The Royal Babies Making Their Debut
With each birth, Middleton and William have walked out of the Lindo Wing doors and given the world the very first glimpse of their child.
Here's George:
Here's Charlotte:
Here's Royal Baby #3:
They Walk Down The Steps
After posing for awhile at the top of the steps, Middleton and William slowly walk down them to allow everyone present a closer look at their newborn.
First, they did this with George:
Then, it was Charlotte's turn:
Finally, Royal Baby #3:
They Give Huge Smiles
Every time, Middleton and William have looked overjoyed. Parenthood suits them well — and you can tell how happy they are to be a mother and father.
With their firstborn:
Parents times two:
Third time's even more of a charm:
They Always Look Up
Middleton and William never forget the people watching from above.
Their first time:
Saying hello a second time:
And a third time:
They Always Stare At Their Baby Lovingly
They only have eyes for George:
And Charlotte:
And Royal Baby #3:
The Wave Is A Must
Hi from George:
And from Charlotte:
And from Royal Baby #3:
The Close-Up Shot
Look at how tiny George was:
How can this be Charlotte?
And their second baby boy is just as sweet:
The Baby Comes Out In A Car Seat
The family always makes a grand exit. Also, take note of Middleton and William holding hands. Unlike Prince Harry and Meghan Markle, you rarely get to see these two show affection publicly.
Bye, George:
Bye, Charlotte:
Bye, Royal Baby #3:
Soon after this, the happy family heads back to their home at Kensington Palace.
Tradition is important to the royal family, even when it comes to their children's first photos. It will be interesting to see if or when Harry and Meghan have their own children, if they'll follow in Middleton and William's footsteps.