Fans Are Already Eager For Photos Of Khloé's New Baby, But It May Take A While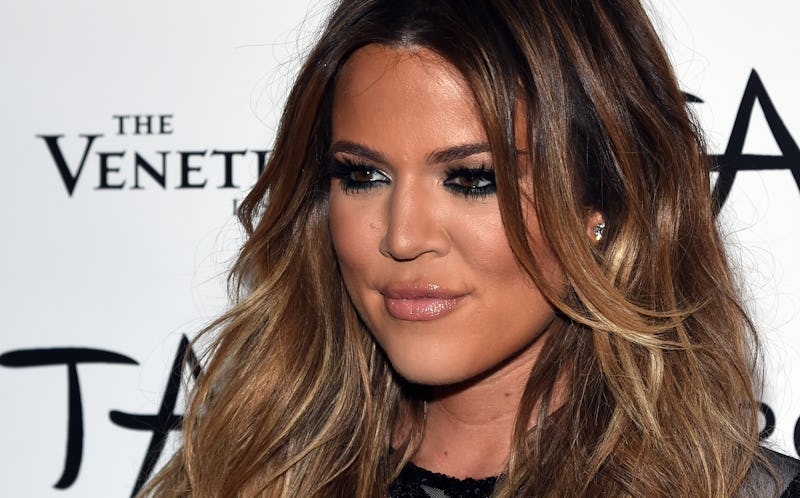 Ethan Miller/Getty Images Entertainment/Getty Images
This just in: Khloé Kardashian's baby is officially here, and fans can't wait to see photos of Khloé's newborn daughter. According to TMZ, Khloé gave birth on Thursday morning in Cleveland to her baby girl. As of right now, there aren't photos of the baby that have dropped online, but that doesn't mean fans aren't eager to see her. Still, considering TMZ reported the baby doesn't even have a name yet, it may take time before there are any photos. (Bustle reached out to Kardashian's reps for comment on the birth and baby name, but did not receive an immediate response.)
The Revenge Body host confirmed her pregnancy in a Dec. 20 Instagram post, after months of speculation. According to Khloé, she wanted to try and keep the moment to herself as long as possible and to enjoy it without celebrity spectacle. But even before her pregnancy, Khloé seemingly tried to make a habit at keeping things under wraps. She and her partner Thompson successfully kept their budding relationship out of the public eye for months before fans caught wind. According to Us Weekly, Kardashian and Thompson met while on a blind date, set up my mutual friends, sometime in 2016. And in November 2016, they made their romance Instagram official with an adorable post of their interlocked hands, with Thompson's NBA championship ring making a cameo.
In Khloé's pregnancy announcement, the California native shared with her fans that having a baby was her "greatest dream realized," and thanked her partner, Thompson, for helping to make her a mommy. Longtime viewers of Keeping Up With The Kardashian, and even Khloé and Lamar, can attest to the fact that becoming a mom one day was super important to her, and so seeing that come to fruition was cause for a celebration for many fans.
Khloé's joyful moment also came with its fair share of backlash, however. Back in March, she faced a great deal of scrutiny for partaking in a family trip to Tokyo while eight months pregnant. And when it comes to sharing her baby bump to the world, there are quite a few people who have criticized the reality star for doing so.
She didn't let any of the negative energy rain on her parade, though. And to let all of her haters know just how she felt, the, then, mom-to-be took to Twitter. In the Feb. 28 tweet, Kardashian wrote, "I have only months to enjoy this phase in my life, so I will touch my bump and love my bump as often as I choose."
However, if the backlash back then seemed like a lot, Khloé is welcoming her child during a rather difficult time. Earlier this week, rumors that Thompson cheated on Khloé spread across the internet. First, Daily Mail shared what they claimed was footage of the NBA player kissing another woman. Then, TMZ shared a video, reportedly featuring Thompson at a hookah lounge with two women last October. (Bustle reached out to Kardashian's reps and Thompson's agent about the videos and rumors, but did not receive an immediate response.)
Despite all the drama, TMZ also reported that Thompson would join Khloé in the delivery room. A source told the site that she would put aside her own feelings so that he would have the opportunity to bond with his new daughter. Of course, that's unconfirmed, but still sounds like she's putting her child first.
As for details like the baby name and those photos fans are clamoring for, it seems like Khloé will reveal that information when she's 100 percent ready. And given all that's happening, that's more than understandable.