These Photos Of Newly Elected Congresswomen Hanging Out Will Put A Smile On Your Face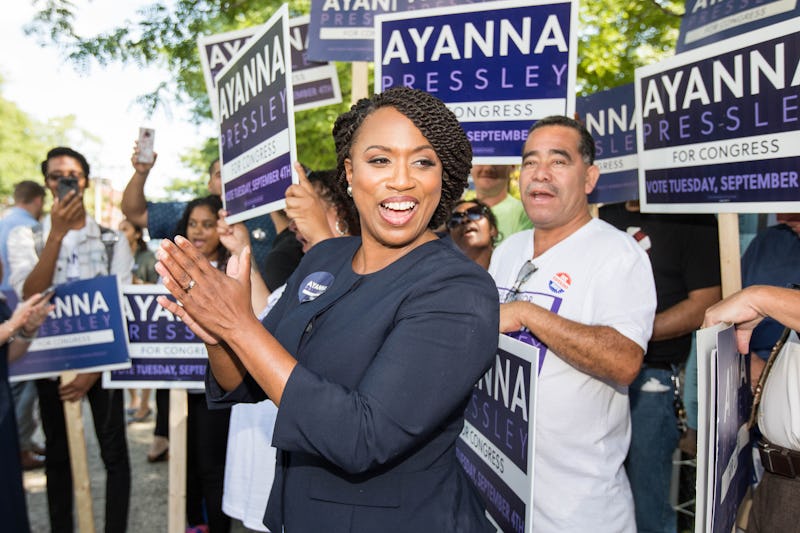 Scott Eisen/Getty Images News/Getty Images
Soon-to-be congresswoman Alexandria Ocasio-Cortez (D-New York) posted a pic to Instagram on Monday of her sitting next to three other women who will have an office on Capitol Hill for the first time next year. Photos of newly elected congresswomen who were gathered at the Congressional Progressive Caucus orientation in Washington D.C. this week show they're thrilled to work together — and ready to get to it.
"We out here," Ocasio-Cortez said in an Instagram story on Monday while filming herself walking with her new colleagues. The photo posted to her grid, simply captioned "squad," showed her with Rashida Tlaib (D-Michigan), Ilhan Omar (D-Minnesota), and Ayanna Pressley (D-Massachusetts). Tlaib posted a similar pic to Instagram on Monday with the caption "#DreamTeam in Congress. Going to hit the ground running fighting for #JusticeforAll."
Women candidates broke countless records in the midterm elections: Tlaib and Omar became the first Muslim women elected to Congress; Pressley became the first black woman to represent Massachusetts on Capitol Hill; and Ocasio-Cortez made a name for herself by ousting a veteran Democrat in the primaries and becoming the youngest woman elected to Congress. Not to mention, at least 122 women were elected to the U.S. House of Representatives last week.
"I am honored to be a part of this time in history when so many new voices are being included in our national discussion," Sharice Davids (D-Kansas), one of the first Native American women elected to Congress, tweeted on Tuesday. "It will be a special privilege to serve alongside @Deb4CongressNM. I am inspired by the work she has done for her community & am grateful for her friendship."
Pressley's post was more subtle. A photo she posted to Instagram on Monday with the caption, "Good morning, Washington," showed her sitting at a massive conference table next to Omar.
Sitting congresswomen have also celebrated women candidates' victories, explaining how excited they are to serve in Congress with more women. As Sen. Kamala Harris (D-California) put it last week:
Instead of just thanking women of color for electing progressive leaders yesterday, America elected women of color as those leaders.
Rep. Pramila Jayapal (D-Washington), the first Indian-American woman to serve in the House, was photographed at a press conference for the Congressional Progressive Caucus surrounded by Ocasio-Cortez and other newly elected Democrats and looking especially joyful. "So unbelievably excited and proud to welcome so many new Congresspeople to the @USProgressives Caucus! Over 90 members and counting," she tweeted.
The most recent New Yorker cover depicted how new congresswomen are disrupting the status quo with a drawing by cartoonist Barry Blitt titled "Welcome to Congress" that shows Ocasio-Cortez, Omar, and Davids walking into a room full of white men. Though the men don't seem to notice the newcomers, the women have smiles on their faces and appear to be walking in whether they're welcomed or not — a sentiment many of them have mimicked since the midterm election.
Omar tweeted, "My sisters and I are busting through these doors and will hold them wide open!"