These Photos Of Prince Harry & Meghan Markle's Quiet, Shared Moments At The Wedding Are SO Sweet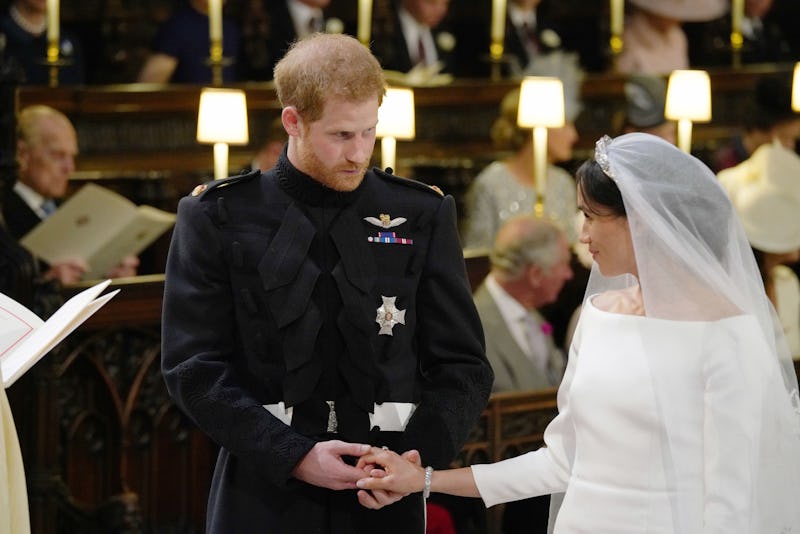 WPA Pool/Getty Images Entertainment/Getty Images
There was certainly no shortage of adorable moments between Prince Harry and Meghan Markle at their wedding on Saturday morning, and I may have gotten a little choked up, even. As soon as Harry laid eyes on the now-Duchess of Sussex upon her appearance at the church, he was clearly in awe of his wife-to-be in her stunning white gown, which pretty much melted the hearts of everyone in the Twittersphere. But there were many more tender moments between the couple throughout the ceremony — and the photos of all their shared moments during the royal wedding will likely bring you to tears all over again.
Despite the major public and media focus aimed at Meghan and Harry's nuptials — it is a royal wedding, after all — there were still plenty of private moments for the couple to share; even as the entire world was watching and abuzz with commentary. And if seeing the nuptial celebration once wasn't enough (and why oh why would it be?), here are some of the loveliest shared moments between the royal newlyweds at the ceremony. Because you know you totally want to cry in achingly romantic glee all over again — while (maybe just a little) enviously reviewing your love, relationship, and life choices ad infinitum. Because after this, it's pretty certain that Harry's got that bar for how-to-be-the-most-romantic-groom-ever leveraged pretty high.
Harry Watching Meghan Walk Down The Aisle
Remember when we talked about Harry upping the game for grooms everywhere and forever? Yeah, that.
Harry Wept Actual Tears At The Altar, Because That's How Smitten He Is With His Bride
As Prince Harry got his first glimpse of Markle coming down the aisle he was overcome with emotion, and so were we, Harry, so were we. In one of the sweetest moments of the ceremony, Harry was seen wiping away a tear as his bride joined him at the altar. And we can only appreciate and admire the love he clearly has for his bride.
When Harry Told Meghan That She Looked "Amazing"
This quiet moment between the couple was truly heart-melting. As soon as Meghan started her epic trek down the aisle of Saint George's Chapel on the grounds of Windor Castle, Harry was clearly awash with excitement, and even a little overcome by it all. As she joined him at the altar, he whispered, "you look amazing," and pretty much all of Twitter sobbed in the throes of romantic overwhelm.
A Moment Worthy Of Your All-Time Favorite Romantic Tear-Jerker
I mean, is there really anything left to say? Didn't think so.
Meghan's Laugh
In yet another moment with all the feels. All of them.
All The Love-Gazing
So folks, the moral of the story is this: don't get married until someone looks at you like this, and you look at them like that.
That Kiss Outside The Church
There's no denying the love, genuine joy, and deep affection between the royal newlyweds here. After emerging from the church post-ceremony to greet their eagerly awaiting public, Meghan and Harry appeared for their much-anticipated balcony moment (in keeping with a long-held royal tradition), and shared a kiss that could melt the darkest and most cynical of hearts. I mean, seriously — this is just so lovely. If a picture can say a thousand words, this one says it all.
Whether you're a loyal royal aficionado, or more of a casual observer, there's no doubt that Prince Harry and Meghan Markle's wedding is historic in every possible way. The love and sheer joy shared by the couple, in addition to the empty seat Harry left for his mother, the late Diana, Princess of Wales, at the ceremony — in a quiet and beautiful tribute to her memory — all made for a genuinely moving and beautiful celebration. So grab a Kleenex or three; because there won't be any shortage of Twitter commentary, social media uploads, or media coverage celebrating the sweetest and most special moments between this royal couple any time soon.