Stassi & Ariana's Joint 'Pump Rules' Birthday Party Was As Cold As Ice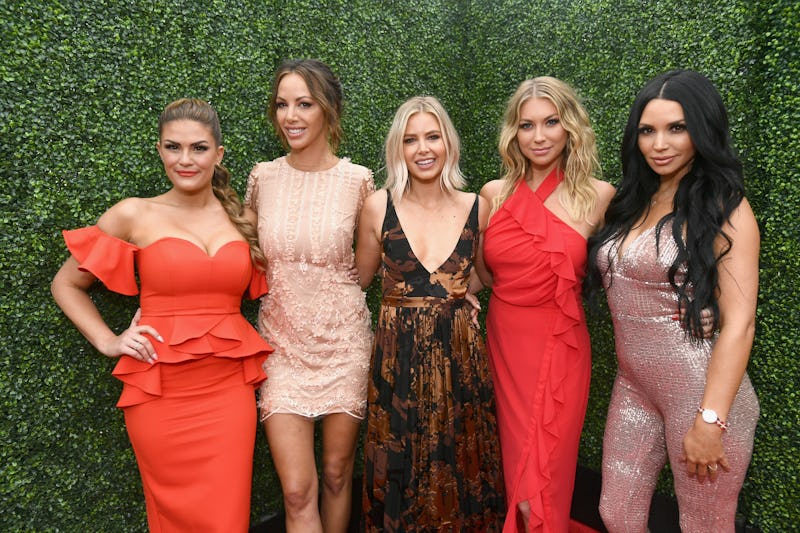 Emma McIntyre/Getty Images Entertainment/Getty Images
Vanderpump Rules fans, you might want to sit down for this one. On Saturday, June 23, Stassi Schroeder and Ariana Madix celebrated their birthdays — together. That's right, they actually joined forces and decided after years of celebrating apart to throw an epic party side by side. And just wait until you see photos of Stassi and Ariana's birthday party. They, of course, chose the perfect theme — winter ice queens.
It's not entirely clear why they chose a winter wonderland party, but it definitely speaks to who the SUR bartender and Straight Up With Stassi podcast host are as people. As viewers of the Bravo reality series know, Stassi and Ariana can sometimes be as cold as ice. They tell it like it is and aren't afraid to speak their opinions. Sometimes they also aren't the best at expressing themselves or their emotions, which might make some people feel like the Bravolebrities aren't super warm or fuzzy.
There's also the fact that Stassi is a huge Game of Thrones fan, so there's a good chance the HBO series, which once teased "winter is coming" and "winter is here", inspired the party. One might even say Stassi and Ariana are queens of Pump Rules, hence them dressing up as ice queens. However they decided on the theme, they chose well. They went above and beyond for it, too. Just look at their makeup done by artist Jared Lipscomb. He did a fabulous job.
It looks like most everyone from Pump Rules was in attendance. Of course, both Ariana and Stassi's boyfriends were there, aka Tom Sandoval and Beau Clark, respectively. Based on social media, Brittany Cartwright, Jax Taylor, Kristen Doute, Brian Carter, Katie Maloney, Tom Schwartz, Lala Kent, Scheana Marie, Peter Madrigal, Billie Lee, and Raquel Leviss all showed up. It's unclear why James Kennedy, Bravo star and Raquel's boyfriend, wasn't there, but maybe he had a DJ gig.
According to a now-expired video shared on Jax's Instagram Story, there were cameras filming the party, which seems to suggest it will be featured in the next season of Pump Rules. Both Stassi and Ariana's birthday parties (Stassi's was murder-themed and Ariana channeled Beyoncé) were part of Season 6, so their joint party will probably be seen in Season 7.
Whatever the case, the cast seemed to have a blast at the party. The celebration was also thrown at a huge and gorgeous home in California, according to Instagram Stories. And with that, it's time to check out the party pictures that will make you want the next season of Pump Rules here, stat.
Brittany Had The Most Amazing Time
Be sure to scroll through all of her photos.
Billie Totally Rocking It
Slaying it like always.
Peter's Totally Casual
Apparently, he went with an easy costume.
Scheana & Adam Spott Are So Cool
Yes, that's a wig she's wearing.
Are Scheana & Adam Together?
What is happening here? According to Scheana's caption, she thinks Adam is "alright" and he's also kissing her cheek. This could be purely platonic or Scheana is moving on from Rob Valletta.
Cookie Portraits, Of Course
Because why not?
Raquel Minus James
Does this means she's an even bigger part of Pump Rules now?
The show sure has changed a lot. It seems like most of the cast is currently getting along. Even Kristen and Ariana are all good, which shows how much they've grown. Kristen wished Ariana a happy birthday on Instagram Monday by sharing a photo of the two and writing: "happy one year hotter @ariana252525 ! this year is going to be even more epic than it already has been. ilysm".
Even though Pump Rules won't be back for awhile, at least fans have Stassi and Ariana's ice queens birthday party to look forward to.