Kat Von D's Wedding Dress Was A Totally Unexpected Color & No, It Wasn't Black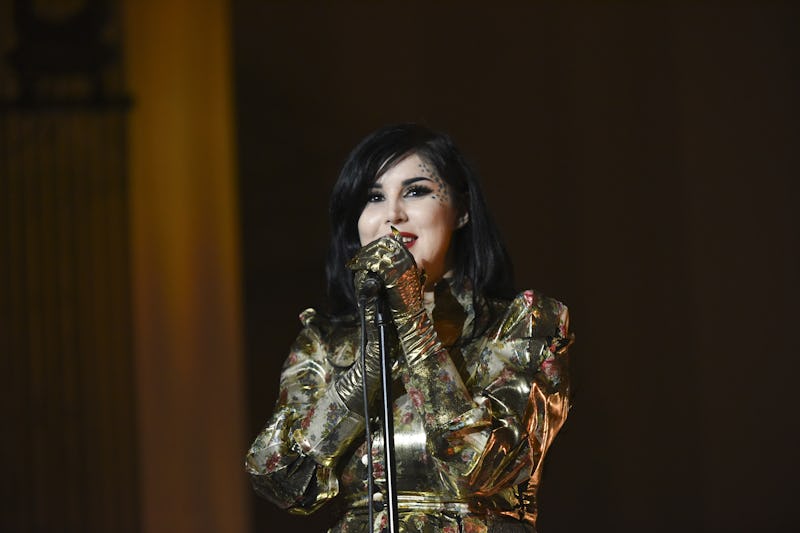 Vivien Killilea/Getty Images Entertainment/Getty Images
Kat Von D officially married husband Leafar Seyer, who is the father of her unborn son, earlier this year. However, the couple celebrated with a grand goth ball aka wedding ceremony this past weekend. Kat Von D's wedding dress wasn't her beloved black, as so many of her fans and Kat Von D-evotees expected. It was actually bold, bright, and blood red.
Kat Von D was the lady in red at her official nuptials.
Since the celeb tattoo artist and makeup maven is usually cloaked in head-to-toe black with some rare exceptions, a black wedding gown felt like a foregone conclusion. Remember, the duo rocked matching black manicures and pointy-toed shoes at the legal ceremony in February. But they switched things up a tad for the celebration with friends.
Von D wore a red, long-sleeved gown that also showed off her baby bump. She wore a cascading red veil that was attached to the high, ruffled, and Victorian-like collar of her dress. She wore antler-like horns in her black hair, as well. The presentation was fully and beautifully gothic and thoroughly Von D.
Seyer aka Prayers wore all black and sunglasses. Thus, they were a majestic bride and groom.
In her Insta story, Von D confirmed that her dress and her head gear were bespoke and designed by Majesty Black.
The elements were signature KVD and looked stunning on her, especially when paired with her inky hair, sprinkling of tattooed stars along her temple, and her always glam red lips.
It was all about that scarlet frock and its matching veil, which rivaled that of Meghan Markle. The Duchess of Sussex who wore an epic veil during her wedding to Prince Harry last month. Hers was white, though!
Seyer himself shared this image of his bride! You get a closer look at Von D's wedding makeup — despite her face being sheathed by her red veil. Her face had a gorgeous crimson patina. You can still see her signature matte ruby lips and winged liner in full effect.
Kat's fans were so supportive and besotted by her look in the comments of the Insta post revealing her dress.
These users were not disappointed at Kat's choice of crimson for her wedding frock hue. They also noticed the details in her veil.
Von D shared a red-bathed sketch of her dress a week before the big day. Some eagle-eyed fans were aware that red was likely going to be the shade.
Check out the red carnations and sparkly red manicure. It was a color-coordinated affair.
Kat and Leafar actually gifted their guests with a black and gold Kat Von D Beauty lipstick which will not be produced and sold to the brand's customers. It was a special lippie designed for the duo's closest friends and family to celebrate their big day. Maybe KVD lovers will speak up on the socials and ask for the brand to create a version for retail. But for now, it's merely something you can covet from afar. The chunky gold glitter flecks are something else.
This is not the first time we've seen KVD rock red from top to bottom. She appeared in an all-red and vegan leather ensemble when celebrating her brand's 10th anniversary earlier this year, as well.
She usually steps away from her beloved black to enjoy a pop of color courtesy of red. She often rocks red lipstick, so it is one of her sig shades.
Here's a previously-revealed sketch of what we would end up seeing this past weekend.
Red is not uncommon when it comes to Kat Von D's platform boots, epic gloves, and additional accessories.
Here's the throwback to the coordinated, dagger-shaped, and black-lacquered manis the duo rocked when they made it official. Their shoes matched, too. The couple that accessorizes together, stays together.
What a gloriously goth gathering!