Check Out Krystal's Ring From Her 'BiP' Engagement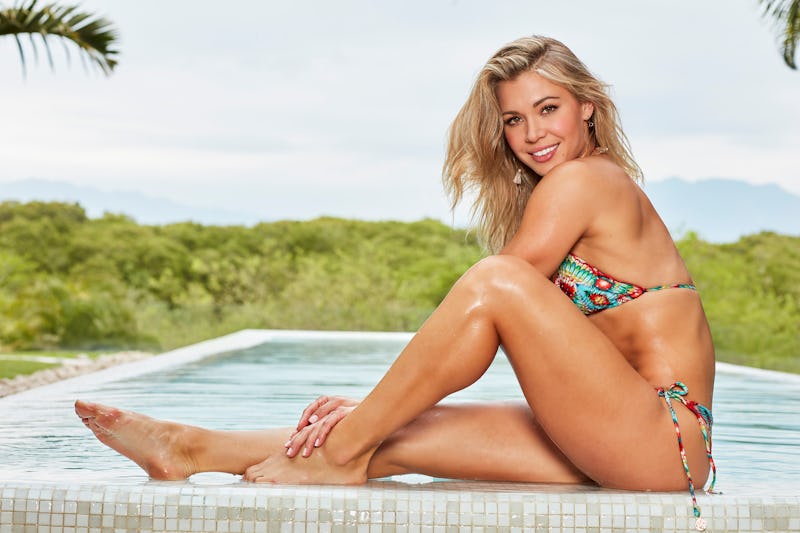 Craig Sjodin/ABC
Chris and Krystal's relationship on Bachelor in Paradise sort of came out of nowhere. Yet, over the course of just a few weeks, it was obvious to anyone watching that these two were actually really, seriously, into each other. And when Chris popped the question during the BiP finale, it was hard to not root for them. Whatever you might think of Chris and his behavior throughout this season, pictures of Krystal's ring might change your opinion of the guy. Either him or Neil Lane really worked some magic when it came to picking out the perfect ring for Krystal.
Then again, it wasn't always a given that these two kids would end up together. At the beginning of the season, Chris seemed to be vying for Tia's attention, even going so far as to telling her that he could be all in with her. But after kissing Krystal, and then lying about it to Tia, that relationship was over before it could ever really get going. (Also, Tia was way too consumed with Colton to really focus on anyone else, let's be honest.)
As soon as Krytal and Chris ended up on a daybed together they made out. Krystal opened up the action by saying, "I wanna hang out with you more and, like, explore this and just talk with you and see if you feel like there's a connection." Then Chris responded, "I've never kissed a blonde before." After that, all bets were off when it came to Tia or anyone else.
Well, sort of, considering that Krystal remained open to some of the other guys on the beach after that makeout sesh, even going on a pretty romantic date with Kenny. Still, it turned out that she and The Goose were meant to be. They were sort of made for each other, if only because they seem to chill each other out in the best ways.
After a little fake out on the beach — Chris said that he was "sorry" that he couldn't leave the beach with her hand....because he wanted to leave with her heart — he finally popped the question. It was nerve wracking for a minute, but in the end it all worked out just fine. And Chris obviously knew how to pick out a piece of jewelry.
Check Out This Rock
Once this couple made it known that they were "all in," as they say in Bachelor Nation, they could not take their hands off of each other. In almost every episode, the two were spotted hanging out with other cast members gossiping about who would go home, making out in the pool, doing yoga together, and even enjoying a very romantic massage during a date day. Not that being all over each other is a clear sign that a couple is destined for a happily ever after, but...at least the passion was strong with these two.
Leading up to the BiP finale, both Chris and Krystal were still all lovey-dovey on social media. Chris posted a picture calling Krystal his "WCW," or "women crush Wednesday." Likewise, Krystal posted a pic from the show of what she called their "magical" date and even called him "Goosey," which is totally gross and totally sweet, all at the same time.
Welp, you can't judge love, right? Let's just hope Chris doesn't wear that bandana at the wedding.