Travis Scott Just Got Some Serious Ink On His HEAD & Ouch!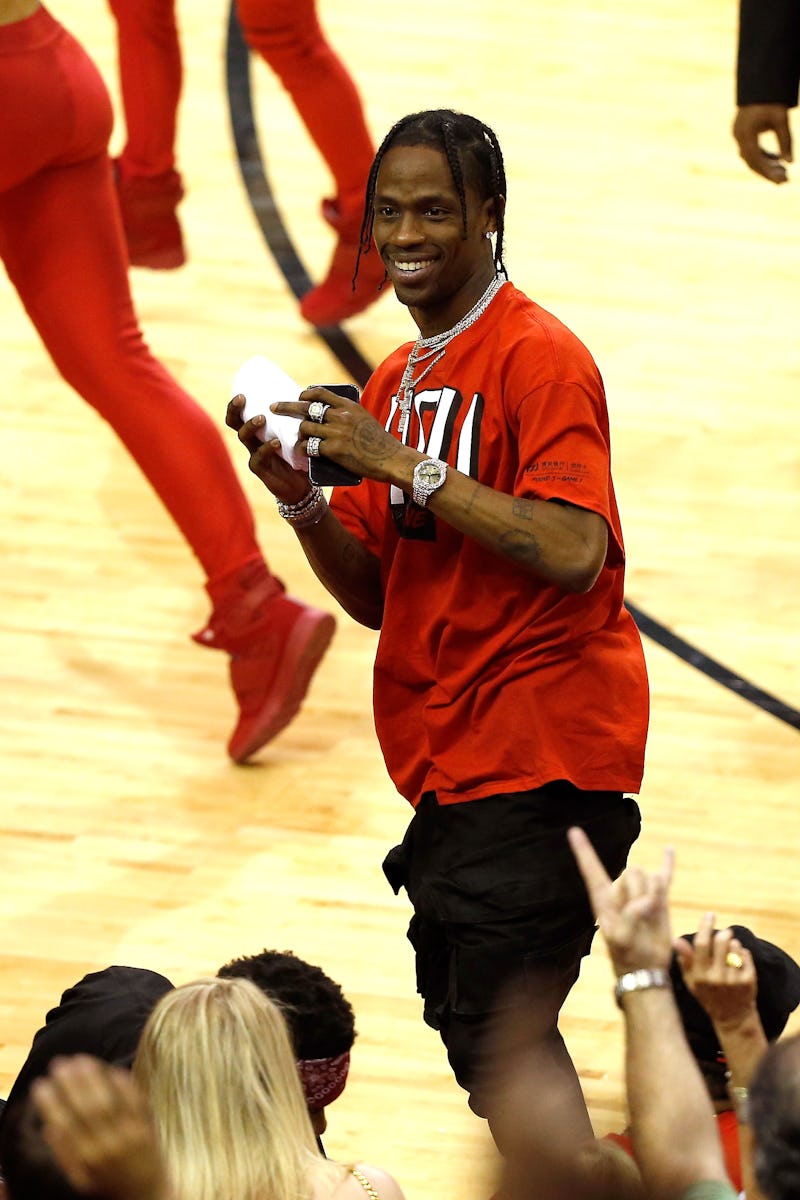 Bob Levey/Getty Images Sport/Getty Images
A celebrity getting a tattoo is maybe not all that earth shattering. However, a celebrity getting a tattoo on their head? Definitely worthy of note. That's exactly what's happened. Travis Scott's head tattoo is a real thing, and honestly, it looks painful. However, outside of what was probably a brain-tingling process, it's hard to deny that this piece of artwork looks pretty freaking cool.
Before you start wondering, no, the tattoo has nothing to do with his girlfriend Kylie Jenner, and it's not an homage to their baby girl Stormi Webster either. This bit of ink seems to be all about Scott and his upcoming tour. What a way to celebrate, right?
According to Scott's Instagram account, he got the brand new ink on Thursday day, and he specifically said that it was because he was getting, "tour ready." Apparently, tour ready means a skull tattoo, and to be honest, it looks kind of awesome. The intricate patterns of line work on Scott's head are incredibly precise and practically perfect.
As for who did the tattoo? It's tattoo artist Scott Campbell who happens to be married to actor Lake Bell. According to Dazed, Scott isn't his only famous client. He's tattooed the likes of Jennifer Anniston and Marc Jacobs. After seeing his stunning work, it's no wonder celebrities seem to flock to him.
Following Scott's post, Campbell took to his own Instagram account to give a bit of a better view of the rapper's new tattoo.
Scott nor Campbell have commented on whether the tattoo has a specific meaning to the rapper, but regardless, it's a gorgeous piece that kind of works perfectly on his skull.
Of course, the skull tattoo isn't the only one that Scott has. He's got a multitude of ink covering his arms and even has a face tattoo of an anchor that you can see in his photo from getting the new skull tattoo.
Tattoos actually seem like something he and partner Kylie Jenner have in common. In fact during a Q&A session with the couple for GQ, Jenner quizzed Scott by asking how many tattoos she has. While the pair never actually say the number, Scott adorably rattles off the ones he remembers, and clearly, Jenner's got a love for ink just like her boyfriend. In fact, Jenner can't definitively say how many tattoos Scott has either.
Only time will tell if the pair decide to take the Pete Davidson and Ariana Grande route and get matching tattoos or ones inspired by one another, but it certainly seems likely given just how much ink they both already have.
If you're headed to the AstroWorld tour, be on the lookout for Travis Scott's new head tattoo. The precise line patterns are honestly so cool, and clearly, Scott wanted to be sure that he had the ink just in time for the tour. Who knows, maybe more will start popping up while he's on the road. For now, though, one skull tattoo seems to be enough.