Pink's Daughter Did The Cutest Makeup Tutorial Ever & OMG You Won't Be Able To Stop Watching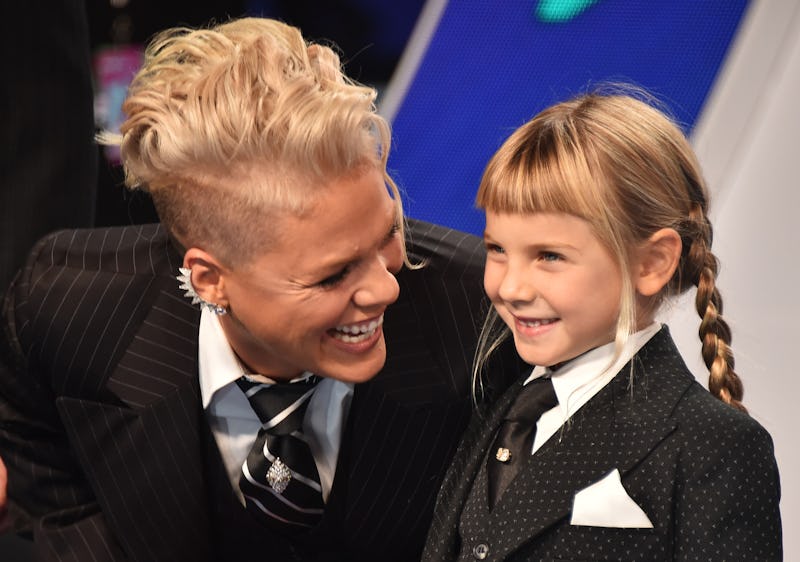 Frazer Harrison/Getty Images Entertainment/Getty Images
Pink is one of the coolest moms on the planet. Therefore, it's no surprise that her daughter Willow is pretty darn cool — thanks to Pink's influence, DNA, and general awesomeness. Willow stars in her own adorable makeup tutorial posted on Pink's official Instagram. In the clip, Willow got into mom's makeup backstage while on tour and played with it because of course she did. Young children love to emulate their parents. It's a rite of passage that most kids experience.
Willow, who is six, is all of us in this video! She clearly had a good time applying an assortment of lipsticks and eyeshadows in any way she wished. It's readily apparent that Pink has a future makeup lover on her hands.
Pink made headlines at the 2017 VMAs with her empowering speech, which addressed her daughter's comments and questions about beauty standards and androgyny. She was also praised for her fashion choice for the evening — the stylish singer, her daughter, and her husband wore matching suits.
Pink continues to inspire and encourage her daughter's individuality and identity by sharing this time-lapsed video, which is sped up and wholly entertaining. You will find yourself watching this makeup lesson multiple times.
Willow's makeup tutorial wins the internet today, while Pink wins at life with her parenting style every day!
First off, how adorbs are Willow's bangs and her long blonde hair? And her AC/DC rock 'n' roll tee? She is a mini rock chick, just like mom.
Willow starts off by diving into the silver, bedazzled train case and has her way with tons of products. She pulls out a lipstick and smiles at the camera. She applies some blue product on her forehead and then blush dots on her cheeks. She swipes stripes of blue eyeshadow under her eyes and adds a whole bunch of glitter over top because glitter is fun. She eventually draws on a blue mustache and slays some hot pink lipstick.
Willow could very well be a budding YouTuber and makeup influencer. Don't you love how she actually shows the products to the camera before she applies them? That's a patented influencer move befitting the likes of Jaclyn Hill or Tati Westbrook. Lookout, beauty influencers. Willow Sage Hart is gunning for your throne, so step aside.
The internet absolutely loved Willow's makeup prowess, praising both her style and her mom's supportiveness.
These users sum up all of the feels about Willow doing her own makeup. Who hasn't done this at some point during their childhood? It's all about exploration and vibing with the world around you! And you cannot argue with the cuteness contained within.
Willow is already accruing quite a fanbase of supporters, thanks to her handiwork.
Pink's previously mentioned VMAs speech was both heart-wrenching and empowering. She revealed that while driving Willow to school, the little girl referred to herself as "the ugliest girl I know." She also said Willow thought she looked like a boy with long hair when criticized by her peers.
Pink responded by putting together a PowerPoint presentation highlighting the notions of beauty and androgyny featuring artists like Janis Joplin, Freddie Mercury, Prince, and Annie Lennox.
She also reminded her little girl not to change just because others may not like or understand her look. Pink affirmed that the best process is to "take the gravel and the shell and we make a pearl. And we help other people to change so that they can see more kinds of beauty."
Her speech taught us so many lessons of acceptance.
Just like Willow taught us that makeup is a creative and artistic tool that allows us to express ourselves any which way we choose.