Why FOX Needs To Save 'Pitch'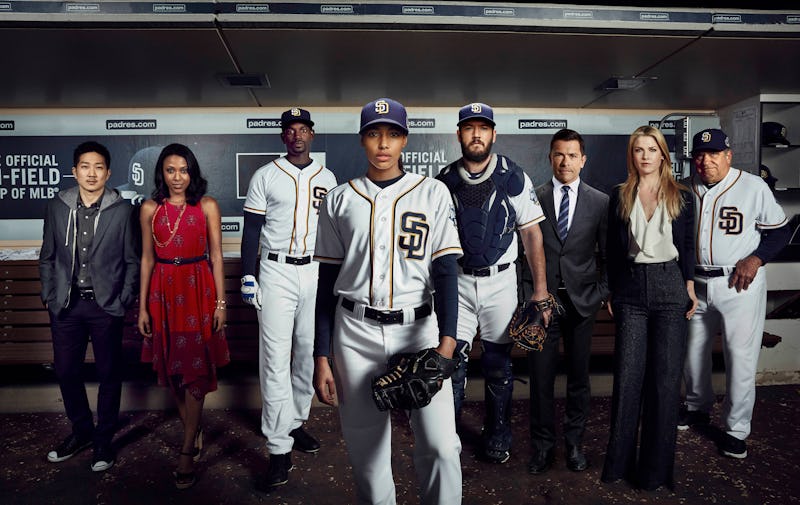 FOX
We all know that television can be a brutal landscape. Sometimes, a show gets cancelled just as people are starting to love it. Much-beloved shows like Firefly, My So Called Life, Freaks and Geeks, and Bunheads were gone after only one season, leaving fans devastated. Now, despite its good reviews, captivating premise, and ability to tap into the zeitgeist, it looks like FOX's Pitch might be next on the chopping block, due to low ratings. But not giving Pitch a Season 2 would mean young women losing a great role model and television losing a diverse, feminist piece of entertainment.
Pitch stars Kylie Bunbury as Ginny Baker, the MLB's first (fictional) professional baseball player, who pitches for the San Diego Padres. It also features a top notch supporting cast, including Mark-Paul Gosselaar (who has some serious sex appeal as a bearded, gruff athlete. So long Zack Morris!) as Ginny's mentor and team catcher. Despite its great ensemble and captivating premise, though, Pitch hasn't exactly hit it out of the ballpark when it comes to ratings. According to CinemaBlend, Pitch's series premiere attracted 4.2 million viewers, but the ratings haven't scored above that since the second episode.
At the TCAs this week, Deadline reports, FOX chairman Gary Newman said that while the network is "proud" of Pitch, it didn't get the viewership they wanted. "We'd love to have seen a bigger audience, but it had a loyal core fan base, and there was a lot of delayed viewing," said Newman. The executive added that the possibility of a second season was still an unknown, saying of the show, "the performance level enabled us to make an early decision, as we get to May, we'll consider it. Do we have a place for it on our schedule where we can grow it?" Here's hoping. Pitch is beloved by both critics and fans, with a 93 percent fresh rating on Rotten Tomatoes. Supporters are not keeping quiet about their love for the show, either; the hashtags #RenewPitch and #KeepHerintheGame have emerged on Twitter, with many of the show's viewers explaining what the series means to them.
It would be a damn shame if FOX ends up cancelling Pitch. For one thing, it's a truly compelling drama. The main action of the series is rooted in baseball, but like any good show, the real drama lies in the interpersonal relationships of the various, well-wrought characters. That's not to say that the sports aren't exciting, though. With the MLB supporting the show, the action and intensity of a late-season playoff game infuses every game on Pitch, and adds a level of excitement to each episode.
But more importantly, the show hits on poignant and topical themes. Pitch stars a female lead, when women on television are always in need of further representation, and the fact that said female lead is a woman of color brings an element of intersectionality to the show's feminism. Then there's the series' subversive and important subject matter, which is that of a woman breaking into a typically male profession. Furthermore, by including a number of female characters with varying roles and addressing issues like mansplaining and sexual double standards, Pitch is truly powerful TV. Take, for example, the storyline of Ginny's leaked nude photos and the male team members pulling together to take nude photos themselves. It was a powerful moment for the show, and for TV overall.
Even just one season in, Pitch is already inspiring young girls. Before the show premiered, a promotional video hit the web where reporters asked several kids if women could play pro baseball. One little boy says, "I don't think so, because every baseball game I see in person or on TV I've never seen a girl play." He's never seen it, so he's never imagined it as a possibility. But all it takes is a glimmer of what could be to inspire kids to change their outlook. There are already two women playing professionally for a California minor league team, and one on the MLB's registration list of young players to watch. So it seems like women playing pro baseball isn't a matter of if, but when, and keeping Pitch on air can only make that happen faster.
So come on, FOX — give this feminist, freshman series a second season and keep its momentum going. Not only does the network have a great cast on its hands, but it has a devoted audience, an exciting premise, and writers who aren't afraid to broach really timely issues. The only good call here is to #KeepHerintheGame.