Polar Just Launched A New Seltzer Flavor Inspired By Meghan Markle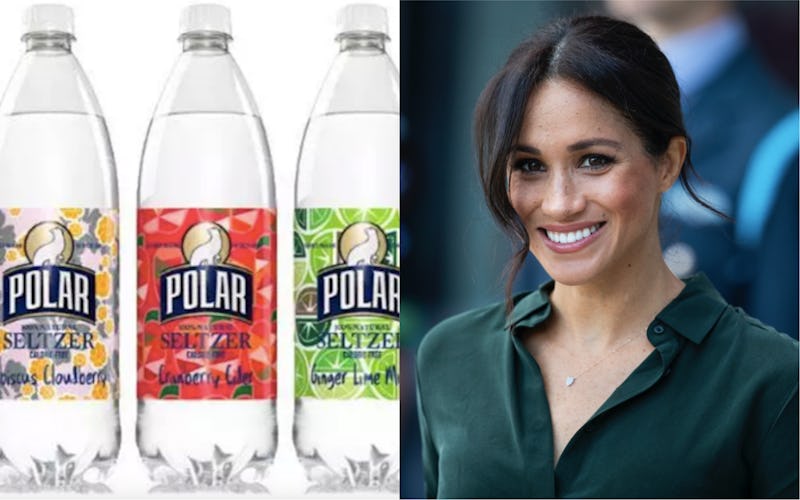 Polar; Dan Kitwood/Getty Images Entertainment/Getty Images
Good news for anyone who enjoys a festive, bubbly drink: Polar Seltzer's limited-edition flavors for Winter 2018 have been announced — and one of them is apparently inspired by Meghan Markle. They're due to hit stores soon — really soon — so even though fall has barely begun… well, let's just say that you're going to be able to get quite the leg up on your winter holiday party drink menu plans. When it comes to seasonal treats, there's no such thing as "too soon."
Polar, which is based in Worcester, Mass. and has been around in one form or another since 1882, has launched limited-edition flavors a couple of times a year — usually during the summer and winter — for quite some time; it was in only in 2016, however, that they went viral for doing so: Their "Unicorn Kisses" flavor ignited a frenzy, selling out rapidly with bottles later appearing on eBay for $100 or more. Although none of the limited or seasonal flavors the brand has released since then has achieved quite that level of success, they're still solid sellers — and now that the Winter 2018 flavors are here, you can probably expect them to get snapped up in a flash.
Typically, the winter flavors hit stores in early October and remain available until roughly January (or at least, that's how it worked in 2016, according to Polar's website). This year, there are five flavors on offer, according to the Boston Globe: Cranberry Cider, Ginger Lime Mule, Hibiscus Cloudberry, Blackberry Clementine, and Vanilla Zen.
If a couple of those flavors sound familiar to you, there's a reason for that: They're not new for the 2018 winter season. Cranberry Cider debuted in 2016, while Ginger Lime Mule made its first appearance in 2017. Both have proved quite popular, however, hence their reappearance this year. According to That Girl At The Party, Ginger Lime Mule "plays very nicely with vodka and other spirits," especially if you add a twist of lime to finish your cocktail off; however, it's also delightfully refreshing on its own if boozy seltzer isn't your thing.
The new flavors for this year are the Hibiscus Cloudberry, Blackberry Clementine, and Vanilla Zen seltzers. The first "shines a light on the humble cloudberry while offering touches of exotic tartness," according to a press release via the Boston Globe — cloudberries being a juicy, golden yellow fruit that grows primarily wild in New England, areas of Canada, and the Nordic countries. They're something of an acquired taste due to their tartness; however, they're commonly used in jams. (The sugar sweetens them up a bit.)
Meanwhile, Polar describes the Blackberry Clementine flavor as "a jam-licious wonder," according to the Globe — and as for Vanilla Zen? That's a "a resplendent recipe of noble vanilla with serene touches of pomegranate." Also, it seems it was subtly inspired by the Duchess of Sussex, report both the Globe and Mass Live.
It's no secret that Meghan Markle is an enthusiastic foodie; long before her entry into royal life, she was known as much for her recipe development skills as for her work as an actor. (Nor has she given that up since getting married; she just published a cookbook, with the proceeds benefiting survivors of the Grenfell Tower fire.) So why was Vanilla Zen chosen as the flavor with which to pay homage to her? Because of her well-documented love of vanilla smoothies, according to the Boston Globe.
In 2015, Markle spoke to The Chalkboard about her daily routine, which of course included a list of some of her favorite foods. In this interview, she noted that one of her go-to breakfast recipes was a "vanilla shake with blueberries." Then, shortly before Markle and Prince Harry's wedding earlier this year, The Chalkboard followed up on that three-year-old interview with the actual recipe Markle uses. The recipe calls for frozen blueberries, cinnamon, chia seeds, almond milk, coconut water, and the shake or protein powder of your choice — and according to Markle, her favorite type of powder to use is vanilla-flavored.
Nor is that the only time a vanilla-based flavor profile has popped up in the Duchess' favorite breakfast options. Several recipes published on her now-defunct lifestyle site The Tig — which, happily, are still available to view via the Wayback Machine and The Tig's archives on Blog Lovin' — also feature vanilla prominently: Her Vanilla Almond Chia Seed Bowl combines coconut milk, almond milk, chia seeds, raw honey, protein powder, berries, and a healthy slug of vanilla extract, while her Coconut Chai Smoothie contains, among a whole host of other ingredients, coconut milk, almond milk, spices like cardamom and cinnamon, and a scoop of vanilla protein powder.
According to the Boston Globe, the first batch of the Winter 2018 flavors shipped out at the end of last week; as such, they should be available in stores soon. However, as Polar notes on their website, "remember some of our bubbly is only made in limited quantities or for limited time." So, even though you can use Polar's product locator to find a store near you that carries Polar Seltzer, you might want to call ahead to see if they've got these specific flavors in stock before you trek out there to buy them.
But act fast — you've only got a few months to get your hands on them. Good luck, and may the seltzer odds be ever in your favor.