Prince Harry & Meghan's Favorite Disney Movies Totally Match Their Personalities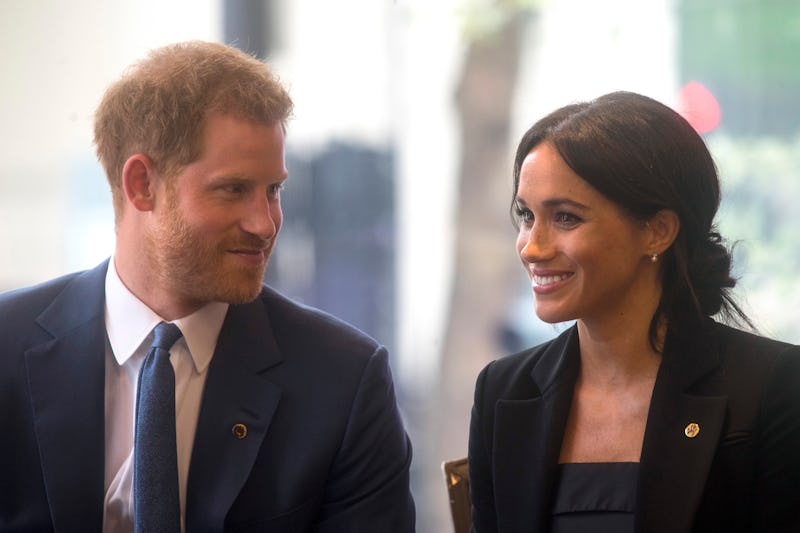 WPA Pool/Getty Images Entertainment/Getty Images
If you ever wanted to know what Prince Harry and Meghan Markle's favorite Disney movies are, here you go. According to People, on Tuesday, the Duke and Duchess of Sussex dished about which Disney flick they can't get enough of at the annual WellChild Awards, which celebrates inspirational qualities in seriously sick children and young individuals in the United Kingdom. Believe it or not, but the animated films they love the most actually match who they are as people.
People reported that 10-year-old Chloe Henderson and 2018 WellChild Awards winner, asked the British royal couple, "There's a question I have to ask you." She then asked, "What's your favorite Disney film?"
Well, Harry appreciates The Lion King the most, whereas Markle said she has "always loved The Little Mermaid." Harry also reportedly asked Henderson, "You know who does the voice of Zazu?" He answered his own question by saying, "Rowan Atkinson, who plays Mr Bean."
Yeah, those choices sound about right. First of all, how many times as Harry been to Africa? He's done a lot of philanthropic work there, in addition to promoting animal activism. Heck, Harry even has his own charity, Sentebale, which helps children living in Lesotho and Botswana who are impacted by HIV. Between loving the continent, constantly traveling there, and helping the people and the animals, it's no wonder Harry prefers The Lion King.
Plus, Harry loves music and isn't afraid to dance when the timing calls for it. By the way, in December 2016, The Sun reported Harry and Markle saw The Lion King, the musical in London's West End. Finally, Prince George loves The Lion King, too, as Prince William revealed in October 2017. Harry and George have probably bonded over the movie and possibly watched it a few times together, too. What do you think their favorite songs are from the 1994 movie?
As for Markle and The Little Mermaid, her choice makes complete sense. Most obviously, she, like, Ariel married a prince. Of course, Markle and Ariel both love dogs. Remember how much Ariel adores Prince Eric's pup, Max? Oh, and then there's the whole storyline of Ariel wanting more and hoping to make a better life for herself. The mermaid dreamed of not only becoming human, but wishing one day to leave the sea, the place she lived her whole entire life, for land.
Not only did Markle leave America for England, but the former Suits star is also a believer in women making their dreams come true. Markle is an advocate for women and inspires them to grab life by the horns and to pursue any opportunity that comes their way. She believes in women, what they can do, and how they can better this world.
Like she wrote in a March 2017 essay for TIME about breaking the stigma around periods, "When we empower girls hungry for education, we cultivate women who are emboldened to effect change within their communities and globally. If that is our dream for them, then the promise of it must begin with us. Period."
It's easy to see why Markle likes The Little Mermaid so much.
Their discussion of their favorite Disney movies didn't stop there, either. Harry revealed at the WellChild Awards he also likes Zootopia and Moana. Speaking of the latter, the prince said he likes the part "when the chicken [Heihei] comes up and finds himself out at sea in a boat." Who doesn't like Heihei?
Markle and Harry have great taste in Disney movies. Now all they need to do is plan a magical trip to Walt Disney World or Disneyland.