Watch Prince Harry's Impassioned Speech About Mental Health At The Invictus Games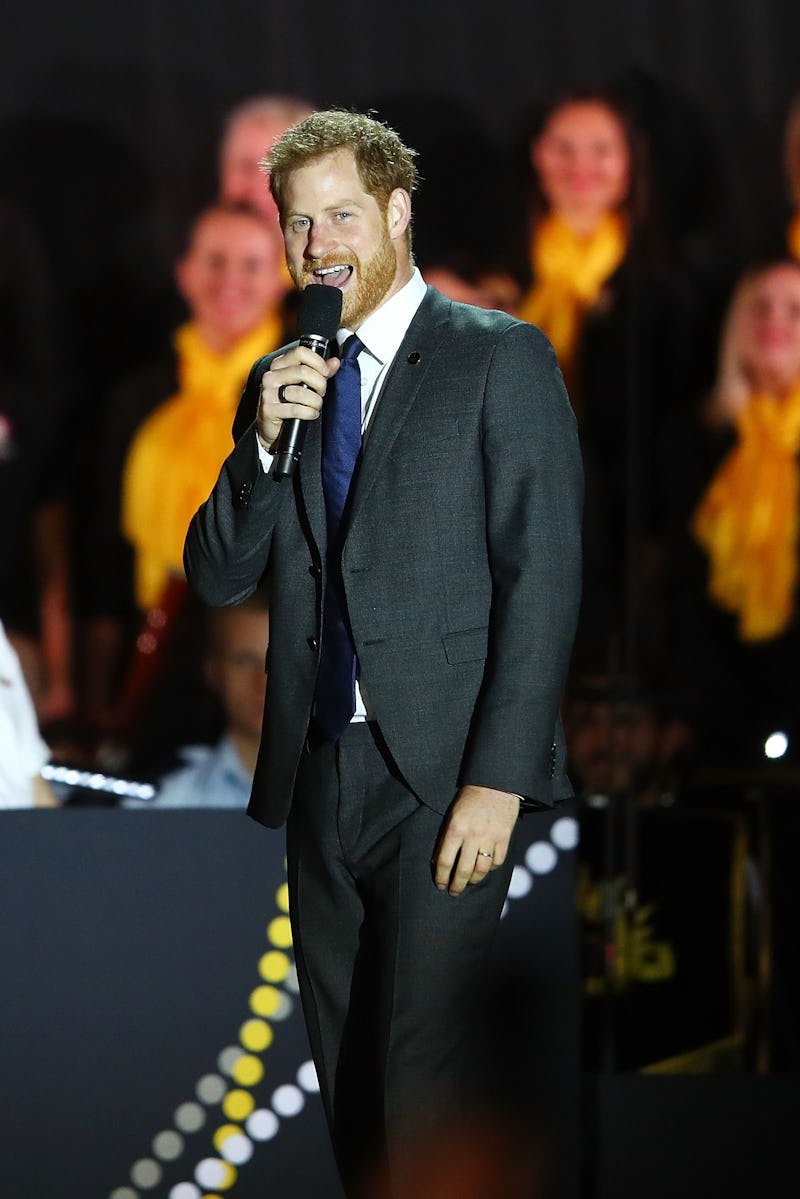 Cameron Spencer/Getty Images Entertainment/Getty Images
The Duke of Sussex may have found his crowning achievement. In Prince Harry's Invictus Games closing ceremony speech at Sydney, Australia's Qudos Bank Arena on Saturday, Oct. 27, the royal's passion for the physical and mental health of wounded, injured, and sick servicemen and women, reigned supreme.
Wrapping up the week-long Olympic-style international sporting event he founded four years ago after a 2013 visit to the United States' Warrior Games, Prince Harry paid tribute to the 500 athletes, who came together in Sydney to compete in 11 sporting events, including indoor rowing, archery, powerlifting, wheelchair tennis, sitting volleyball, and pool games of wheelchair basketball and wheelchair rugby.
"These men and women are role models," the Duke of Sussex said, per Kensington Palace. "They are men and women who have confronted a challenge and overcome it. They are ordinary people doing extraordinary things. And with the help of their friends and families, they have exceeded every expectation."
One takeaway he had from the Games was the importance of mental health and that "no challenge is too difficult to overcome" — a centerpiece of his closing ceremony speech. Prince Harry added to the crowd that, per E! News, included pal David Beckham:
"By simply being here and fighting back from some of the darkest experiences known to anyone, you have become role models for everyone at home or in the stands who might be struggling with their emotions or with a mental illness. For that friend or comrade you know who is unable to open up about their struggles. For that man or woman who has watched on television, you are proving that it's OK to talk about how we feel. To girls and boys who see you speaking openly about anxiety, stress, and depression, you are showing it's OK not to be OK. And most importantly, you are showing us all that it's OK to ask for help."
Prince Harry also gave specific shout-outs to several competitors to illustrate the Games' inspirational spirit of "determination, of optimism, of strength, honor, and friendship, or as the Aussies call it 'mateship.'"
Among those participants receiving special recognition were Paul Guest and Edwin Vermetten, who the Duke said supported each other "through Paul's struggle with Post Traumatic Stress on the tennis court." He also mentioned that a man named Jakub Tynka "fought through excruciating leg pain for the final 20 minutes of his cycling event, and let the cheering crowd and his fellow competitors Benjamin and Cedric push him over the finish line." Finally, he shared the stories of Hannah Stolberg, who raced using a bike that belonged to a late fellow serviceman, as well as that of a 67-year-old former military nurse named Cavell Simmonds, who "decided age was just a number," competing in a total of five events at her first Invictus Games this year.
"They are who every child should look up to," Prince Harry added in his speech. "In a world where negativity is given too much of a platform, our Invictus competitors — many of whom have been given a second chance at life — are achieving extraordinary things."
Of course he'll soon have a little prince or princess of his own soon to pass along that meaningful message. While he and wife Meghan Markle, Duchess of Sussex have been on a 16-day tour of Australia, Fiji, and Tonga, and New Zealand — their first international royal tour as a married couple — the biggest piece of news has been that the royal couple's is expecting a baby in the spring.
While in Australia for the start of their royal tour, Prince Harry had previously helped launch the event by scaling the Sydney Harbour Bridge with Australian Prime Minister Scott Morrison. Speaking at the Invictus Games opening ceremony on Saturday, Oct. 20, Harry said he was "so proud to be able to introduce my wife to you and we have been so happy to be able to celebrate the personal joy of our newest addition." Later in the week, he and Duchess Meghan cheered on sailing competitors and also watched the wheelchair basketball finals.
During the closing ceremony, Markle gave a surprise speech of her own, sharing an emotional moment she "will never forget" from watching the sailing competition with her husband. The former Suits actress told the story of Chicago native Ryan Novak, whom she said "suffered a severe injury leaving him paralyzed from the waist down" and doctors had told he would never walk again.
"It was through Ryan's strength of spirit, and with the unwavering support of his parents, that he was able to prove all of those doctors wrong," Markle, who also snapped a photo of Harry, told the audience. "Not only has Ryan competed in sailing, swimming and athletics this week, but when Harry and I saw him at the finish line of the sailing competition, he literally jumped into our boat — with dexterity and ease, by the way — to give both of us a hug."
While the Invictus Games won't be held again until 2020 in the Netherlands, it seems the memories of this year's event will last a lifetime for the Duke and Duchess of Sussex.