Prince Louis' Nursery Is Supposedly Haunted & The Ghost Stories Will Chill You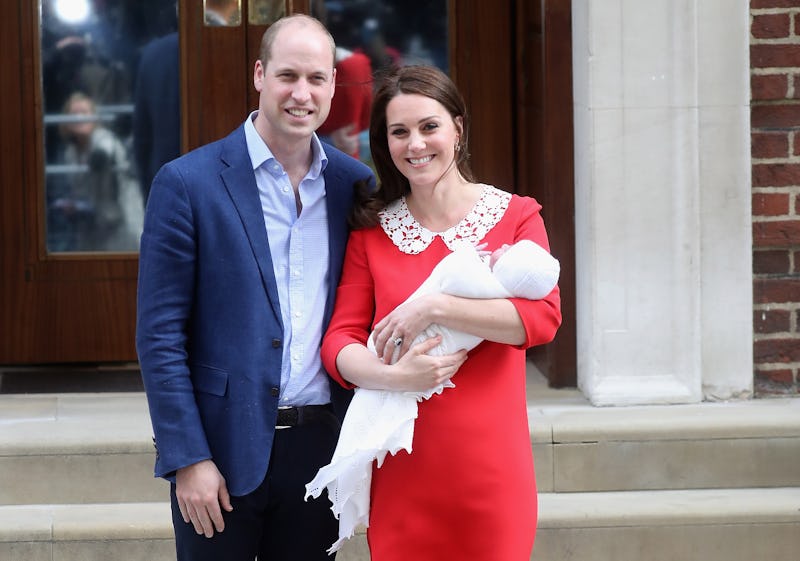 Chris Jackson/Getty Images Entertainment/Getty Images
Prince Louis isn't even a month old, but he's already making headlines — and spooky ones, at that: People are already wondering if Prince Louis' nursery is haunted. Like his siblings, Prince George and Princess Charlotte, the newest member of the Duke and Duchess of Cambridge's family has a particular room in Apartment 1A of Kensington Palace as his nursery… but some folks suspect that room to harbor a few ghosts. William and Kate apparently don't believe the stories (and, I mean, that's fair; ghost stories are often more than a little embellished, after all) — but despite their skepticism, it's worth noting that a few spooky ghost stories do tend to hang around Kensington Palace as a whole.
Before we go any further, I should note that I've had a hell of a time trying to track down the original sources of the quotes so frequently cited when people talk about the alleged ghosts haunting the Kensington Palace nursery. The quotes are usually brought up by tabloids; however, these outlets don't tend to be great at attribution, so I've found no clear indication of whether the quotes were given directly to them through original interviews, or whether they've cribbed them from elsewhere. As such, it's worth taking all of this with a very large grain of salt — the same way you would with any other ghost story, really.
But with that in mind, let's take a look at the history of Kensington Palace and who or what allegedly haunts it, shall we?
Originally built in 1605 as a Jacobean mansion, Kensington Palace began life under another name: Nottingham House. Following their coronation, however, William III and Mary II bought it and commissioned architect Sir Christopher Wren to expand and renovate the property. They lived in it from Christmas Eve 1689 'til both of their deaths — Mary until 1694, when she died of smallpox, and William in 1702, when he caught what ended up being a fatal chill. Queen Anne, George I, and George II all lived there during their reigns; however, since George II's death in 1760, no reigning monarchs have lived in the palace. George III — George II's grandson — didn't particularly like Kensington, so instead of living there himself, he set up a lot of his family members in apartments there.
When William and Kate were first engaged, they lived on the Kensington Palace grounds in Nottingham Cottage (where Prince Harry and Meghan Markle currently live); following their wedding in 2011, however, it was announced that Apartment 1A, previously the residence of Princess Margaret, would be renovated for them. Their expected move-in date was 2013 — and they did, in fact, hit their target. By the fall of 2013, just a few months after Prince George's birth, the family had officially taken up residence in the palace apartment. They've lived there ever since.
All three of William and Kate's kids have had their nursery in the same room in the apartment — which brings us to our current question: Is said nursery haunted?
The rumors surrounding the nursery are usually mentioned in conjunction with a series of quotes attributed to writer Andrew Morton. Morton is probably best known for having penned Diana: Her True Story In Her Own Words, a biography of Princess Diana written "with her cooperation," according to Simon and Schuster; it was originally published in 1992, with several updated editions following in the decades since. After Prince George's birth in 2013, Morton said, according to various tabloids, "Prince George's nursery is in Apartment 1A of Kensington Palace, which has been a notorious spot for ghost sightings. The alleged ghosts of George II, Caroline of Brunswick, and Princess Sophia having reportedly been sighted in the apartment, report the tabloids; additionally, Morton noted, "Princess Margaret's housekeeper told her she saw a woman in Regency dress suddenly appear in front of her, then vanish through a wall. So let's hope little Prince George can sleep peacefully in his cot at night."
I'm fairly certain the Sun was the first to publish these quotes; although they also appeared in the Daily Mail, the Mirror, and others, the Sun's piece featuring them has the earliest publication date (Oct. 12, 2013, for the curious — the others followed about a day later). I'm not sure exactly what the context or situation was that lead to the gathering of the quotes, though; the Sun merely reports that "last night, Royal biographer Andrew Morton said the room parents William and have chosen for the tot is at the center of a string of strange bumps in the night over the years." I also think it's worth noting that the Sun's piece doesn't actually say that there's a particular ghost that allegedly haunts the nursery itself; it just posits that the apartment as a whole reportedly plays host to a series of spirits and draws a line from there to George and the nursery.
In any event, though, here's the lowdown on those alleged spirits:
George II
George II is said to haunt the palace filled with anxiety about the state of the world. When he died in 1760, Britain was deep in the middle of the Seven Years' War — the conflict which is often pointed to as the first true world war — and as such, it's popularly believed that his spirit hangs out in the King's Gallery, lamenting, "Why won't they come?!" By this, he's said to mean something along the lines of, "Why is there no news from my troops?!"; some also believe "Why won't they come?!" to have been his last words.
(That's probably not actually the case, though; George II died of an aortic aneurysm while he was alone and, uh, on the toilet, so I don't think anyone really knows what his last words were.)
Caroline of Brunswick
Caroline of Brunswick, meanwhile, had an extremely troubled marriage to King George IV; allegations of infidelity plagued her, and although an investigation never turned up anything that suggested she had been unfaithful, her access to her daughter, Princess Charlotte, was restricted. She was popular amongst the general public — far more popular than her husband — but wound up socially isolated for much of her life. During the investigation of the allegations against her — termed "the Delicate Investigation" — rooms at Kensington were furnished for her use. She died in 1821, but her angry spirit is still said to roam around Kensington Palace.
Caroline of Ansbach
There's another Caroline who may haunt the palace, too, by the way: Caroline of Ansbach, George II's wife, who lived at Kensington during her reign. She died due to complications from childbirth, which, admittedly, wasn't common for the time — but what she went through was both lengthy and brutal (warning: the squeamish should probably skip the rest of this paragraph): When she gave birth to Princess Louisa in 1724, Caroline suffered an umbilical hernia; then, in 1737 — over 10 years later — part of her small intestine had worked its way through the hernia hole. An awful, terrible, botched surgery followed, and she died several days later as a result. Gee, I wonder why she stuck around after her death?
Princess Sophia
And as for Princess Sophia? The daughter of King George III and Charlotte of Mecklenburg-Strelitz, she allegedly gave birth to a child out of wedlock sometime prior to 1800 and was sent to live at Kensington Palace afterwards. There's some debate about whether or not this actually happened — but although she lived quite a long life, it's said that the unofficial exile to Kensington Palace has resulted in her unhappy spirit staying in residence after her death in 1848.
"The Woman in Regency Dress"
Not much is known about the strange "woman in Regency dress" allegedly seen by Princess Margaret's housekeeper — but an interview at Royal Central with Margaret's biographer, Christopher Warwick, sheds a little more light on the subject. According to Warwick, the housekeeper was known as "Mrs. Mac," and the incident in question occurred in the 1970s. "On one occasion when she was in the entrance hall, [Mrs. Mac] sensed somebody looking at her," Warwick said. He continued:
"Turning round, she clearly saw the figure of a woman in Regency dress standing in the doorway to the Drawing Room. Who was she? A Georgian Princess? A lady of the Court? There was no way of knowing, because Mrs. Mac told me she was unable to see her face. Of course, when Kensington Palace was originally built, the entrance hall to Apt 1A was part of the 17th-century Stone Gallery, a long passage in the south-facing range which connected with the King's Staircase. At that time, courtiers evidently had rooms off the Stone Gallery. Or could the faceless lady in her fine Regency dress, have been the Duchess of Inverness, morganatic wife of Adolphus Frederick, Duke of Sussex, who was the earliest resident of this part of the palace? We shall never know."
And, Well... Here We Are
Despite the ambiguity surrounding where Andrew Morton's words originally came from, they've proven to be quite tenacious; nearly five years on, they're still pointed to as evidence for Kensington's haunted nursery. This time 'round, it's Radar Online that's circulating them in the wake of Prince Louis' birth, adding a few quotes from a piece published recently by the Daily Star into the mix. According to the Star, an anonymous "royal source" said, "Royal children are traditionally brought up in what has become known as the 'haunted nursery'"; however, the source also noted, "Kate and William have not spotted anything spooky there and until they do the room will continue to be used as a nursery."
And, I mean, hey. George and Charlotte both made it through their infancy in the nursery ghost-free, so it's likely that Louis will, too. At least they've got bragging rights as far as telling people they grew up in an allegedly haunted house, right?