Why Prince William & Kate Middleton's Wedding Anniversary Is EXTRA Special This Year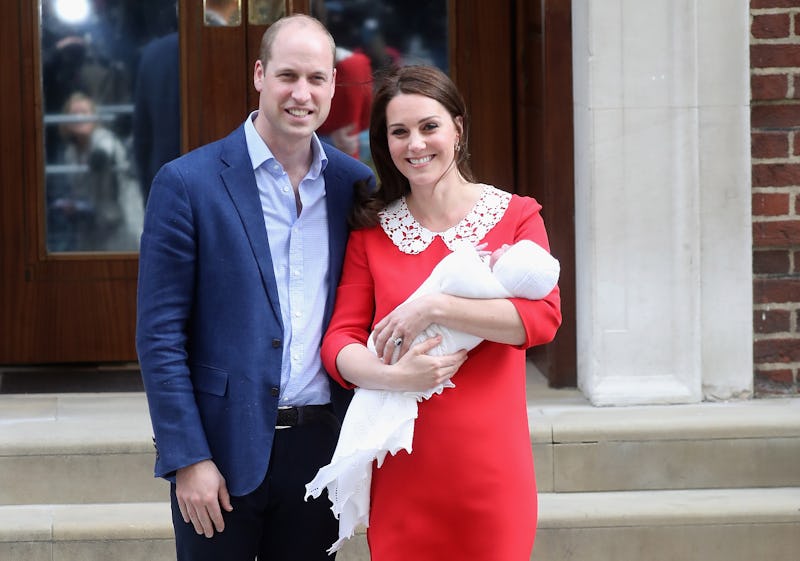 Chris Jackson/Getty Images Entertainment/Getty Images
There's never a dull week in the life of the British Royal Family, but there's no denying this week is extra special. On April 29, Prince William and Kate Middleton are celebrating their anniversary, and it's hard to believe it's already been seven years since the gorgeous Westminster Abbey wedding. It's even more difficult to believe that just a few days have passed since the Duke and Duchess of Cambridge announced the name of their third child — Prince Louis Arthur Charles — and less than a week since the royal baby was introduced to the world. If that weren't enough, Prince William was officially named best man for Prince Harry's upcoming nuptials to Meghan Markle. Oh, and their grandmother, the Queen of England recently celebrated her 92nd birthday with a massive concert at the Royal Albert Hall. Again, that's just in the last week.
But seven years ago, a commoner named Kate Middleton walked into Westminster Abbey and walked out as Catherine, Duchess of Cambridge, with a husband that happens to be second in line for the British throne. It's not clear how the pair are celebrating their wedding anniversary — after all, with three children under the age of five at home, things are likely busy. Hopefully, they'll have at least a few minutes to reflect on what a magical day their wedding was, and if Middleton wanted to try on her wedding dress and hang out at home like she was in that episode of Friends, certainly no one would blame her.
Members of the British royal family do not have individual social media accounts. Rather, the Kensington Royal account reports on all of the family's activities that they deem worth sharing — these include charity events, social gatherings, and more. Kensington Royal has posted cute throwback photos celebrating the wedding anniversary, but they have not officially shared how the happy couple plan to celebrate their special day. That's completely understandable, especially after all of the sharing the royal family has done in the past week.
Prince William and Middleton are entitled to a certain amount of privacy. And after a whirlwind 2018 in the limelight — what with Prince Harry's engagement, the Queen's birthday, and a new baby, for starters — it makes sense that the new parents would take some time for themselves at home. Plus, that means the team at Kensington Royal gets to dig deep into the archives for some royal wedding anniversary gems, such as this one.
Of course, the excitement stops for no one. No matter how royal, or how recently they welcomed new children into their family. In the last few days, the Duke and Prince Harry have been out and about, most recently at the newly-opened Greenhouse Sports Center. Prince Harry has been even busier, as he made a speech at Queen Elizabeth II's birthday event, opened a new foundation in her name, attended the London Marathon, and has made several other appearances at high-profile events, frequently accompanied by Markle.
Though the Duchess of Cambridge has done an incredible job in her role as a global ambassador, humanitarian, highly-scrutinized member of the British royal family, style icon, mother, and internationally famous person since she met Prince William when they were students in college, one can imagine she'll be relieved to step out of the spotlight for a few weeks as all eyes turn to Markle, as she prepares for her own walk down the aisle.
It seems impossible to believe that it's been seven years since the last royal wedding captivated the world, but the next one is just a few weeks away. Prince Harry and Markle are set to marry on May 19, 2018, in a lower-key ceremony than that of the Duke and Duchess. Is it too much to hope the newest royal baby makes his second public debut then? Just imagine the matching outfits Prince George, Princess Charlotte, and Prince Louis could wear. Sigh. Again, though, here's hoping that the Duke and Duchess of Cambridge are enjoying their seventh wedding anniversary with some peace and quiet. As much as one can get with a full house.