Queen Elizabeth II's 92nd Birthday Party Plans Are WAY Cooler Than Yours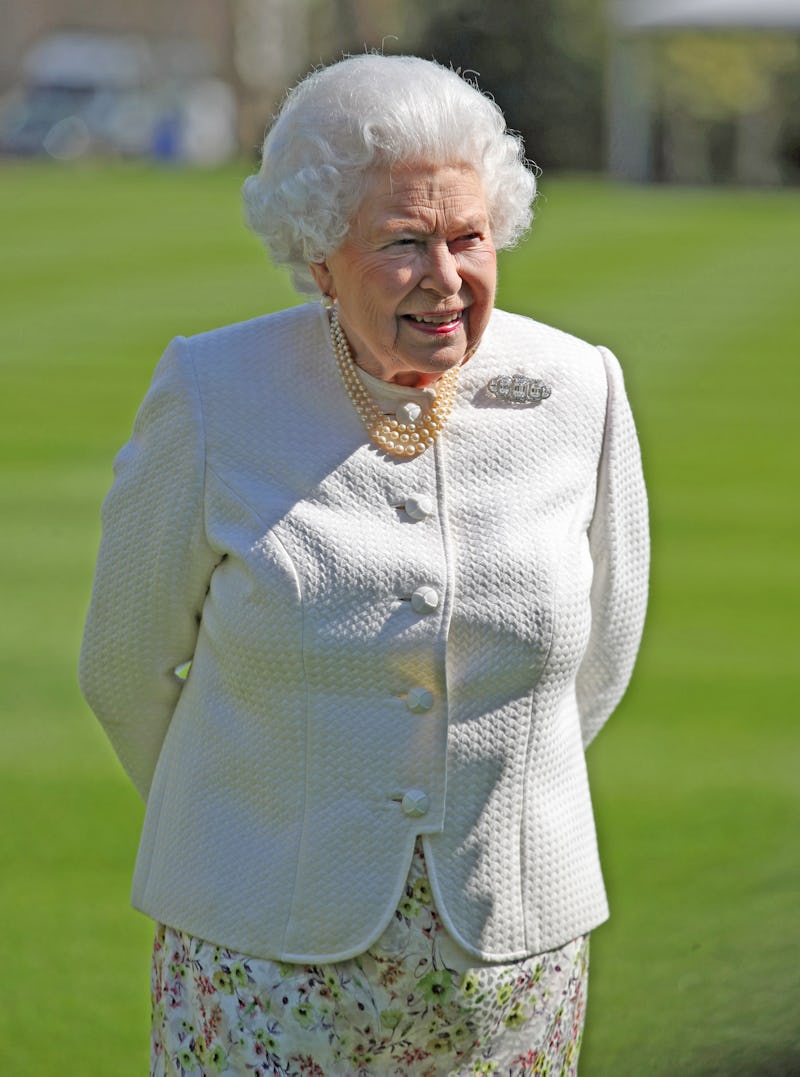 WPA Pool/Getty Images Entertainment/Getty Images
Sorry, world, but it turns out the Queen is way better at birthday celebrations than everyone else. According to The Hollywood Reporter, Queen Elizabeth II's 92nd birthday plans include a concert held in her celebration. It's not just any concert though, it's a pop concert, because that's just how Her Majesty rolls.
Musicians like Kylie Minogue, Sting, Shaggy, and Tom Jones will join the BBC Concert Orchestra at the Royal Albert Hall tonight (Saturday, Apr. 21) to celebrate this momentous occasion for the world's longest-reigning living monarch. According to Radio Times, the artists will play songs that coincide with the different decades of the Queen's reign — reportedly, among the hits will be a tune from her favorite musical, Oklahoma!.
It sounds like a hopping event that will please not only the Queen, but her many guests as well. At 92, surely no one would begrudge her if she opted for a quiet evening in with her family, but the Queen is happily celebrating her birthday with the British people. The Royal Albert Hall is expected to be packed, but the concert celebration will be broadcast on the BBC as well. Yes, that means there will be footage of Queen Elizabeth II appreciating the musical stylings of Shawn Mendes — and you can bet it will instantly become an international treasure.
Members of the Queen's family will also be attending the concert, but only Prince Harry has been officially confirmed so far. The Queen's soon-to-be-wed grandson is expected to lead tributes to his grandmother, according to THR. This honor is part of his duties as the new president of The Queen's Commonwealth Trust. And since this is Prince Harry, you can expect him to crack a few jokes along the way.
The evening certainly sounds like a fun way to commemorate turning 92, and it's just one more event in a year that's shaping up to be a major one for the British royal family. In addition to the Queen's super cool birthday party, Prince Harry and Meghan Markle's wedding is set for May 19, Prince William and Kate Middleton are expecting their third child this spring, and Princess Eugenie will have a fall wedding on Oct. 12.
In 2018, the British royal family suddenly seems more relevant than they have in years, and that's thanks in large part to the younger generation taking great strides to redefine what it means to be royal in the modern age. Of course, they owe a great deal to the original rule-breaker, Queen Elizabeth II herself. At 92, she's still finding new ways to defy expectations and give her people what they want. And yes, that includes a pop concert on her birthday.
The Queen truly has turned balancing tradition with accepting change into an art form. She's also excellent at celebrating her birthday. To be fair, she has twice as much practice as most people, because she actually has two birthdays a year. That's right, she'll be partaking in some revelry again in just a few months.
While her actual birthday is indeed on Apr. 21, her "official" birthday is usually celebrated on the second Saturday in June, according to royal.uk. The tradition of celebrating British monarch's birthdays on a day other than the one on which they were born is a longstanding one. Basically, the second birthday in the summer is for monarchs born in other months. The idea is that summer is a much better time for a parade because the weather is less unpredictable then. In June, the Queen will be joined by her family for the Trooping the Colour parade.
Why yes, that does mean the Queen will have a concert and a parade to celebrate her 92nd birthday(s). It's time to send her another crown, because in addition to being the Queen of England, Queen Elizabeth II is clearly the queen of birthdays too.