Princess Eugenie Just Revealed She Got Into Hot Water Over THAT Instagram Pic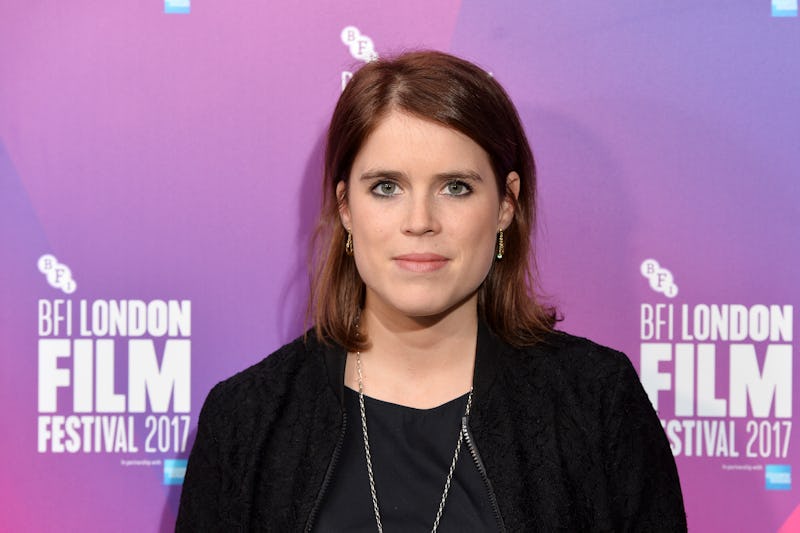 Jeff Spicer/Getty Images Entertainment/Getty Images
Being a young royal who just wants to show off a small portion of her life on social media must be tough. While most of the royal family don't even have Instagram, 28-year-old Princess Eugenie does. And she's not shy on it either, posting anti-slavery messages and private photos of some of her family members. But one of Princess Eugenie's Instagram photos apparently caused the royal to be given a telling off.
It was a simple mistake. Back in June, Eugenie posted a proud photo of her dad, Prince Andrew. Taken just after the 2018 Trooping the Colour ceremony, it showed the Queen's son in his full military uniform. So far, so good. However, it was where the prince was standing that caused a hoo-ha.
You see, there's apparently a royal rule which declares that no private part of the royal residences should be shown to the public. And Eugenie's photo shows Prince Andrew standing inside a private corridor of Buckingham Palace. Obviously, it looks exactly the same as the rest of the palace with a royal red carpet and paintings and busts everywhere.
But this didn't assuage certain members of the royal family, according to Eugenie. In her full interview with British Vogue, the Daily Mail reports that the royal said: "I recently got in trouble for posting a picture of Papa in a corridor of the palace that was off limits to the public."
It can't have been that bad because the photo is still there for all to see. Or maybe the royal family is more savvy than most celebrities and realises that a photo published on the internet will always be there — even after it's been deleted.
Anyway, it must be difficult for someone who spends most of their time in "off limits" places to post a photo of a proud moment in their lives. Eugenie reportedly mentioned this in the same interview, saying she had a dilemma when it came to choosing which picture to post for Father's Day. According to her, one taken in Balmoral would be "too personal" while one from a day at Ascot would be "too formal." (She went for a childhood one instead, in case you're wondering.)
With her wedding coming up, I can only imagine the social media panic that has already set in for Eugenie and her family. So don't expect any behind-the-scenes photos to emerge.
A celebrity made a similar royal family blunder last month. Model Karlie Kloss chose Instagram to share news of her engagement to Joshua Kushner, posting several screenshots of her friends' reactions on her story. One of those was from Princess Eugenie's older sister, Princess Beatrice.
The only problem was that Kloss revealed Beatrice's secret Instagram account by tagging her in the photo. However, as Town & Country reports, Beatrice doesn't have to keep her Instagram private as she is not a working royal and is therefore free to do what she pleases. However, there's probably a reason the world didn't know about her Instagram account. Perhaps she wanted to keep it low-key? If she did, that dream's now out the window.
Beatrice has 129 Instagram posts so far, and I am definitely wondering what they're all of. Meanwhile, Eugenie only joined Instagram earlier this year so has some catching up to do with her 32 posts. However, she currently has 289,000 followers, so she isn't doing too badly.
Unfortunately, the likes of Meghan Markle and Kate Middleton are not allowed to have personal social media accounts. (Markle famously deleted all of hers prior to marrying Prince Harry.) Instead, their antics are posted on Kensington Palace's official account.
This is one of those stories that makes me really glad to be a regular person.