Princess Eugenie Is Making The BEST Feminist Statement In Her Wedding Vows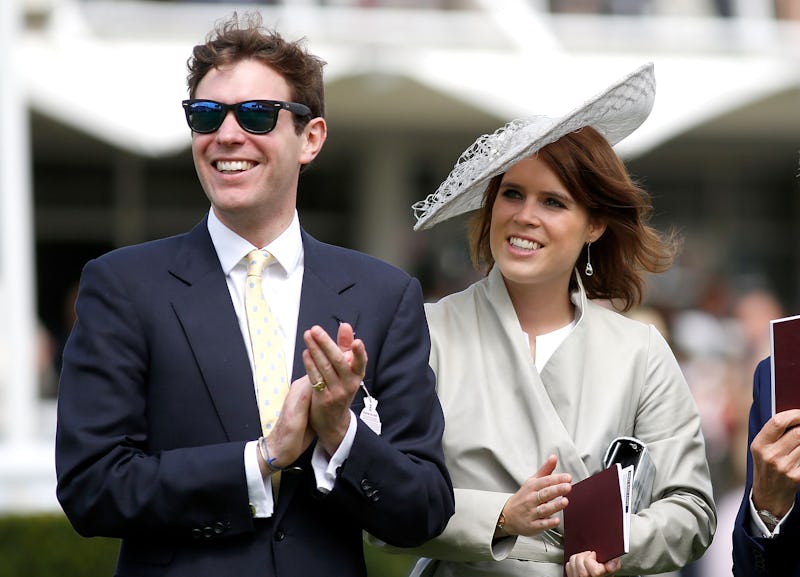 Tristan Fewings/Getty Images Entertainment/Getty Images
Even the biggest romantic can't deny some elements of the traditional wedding are like, low key kind of problematic. And like, don't get me wrong, I am a completely hopeless, mushy gushy romantic but saying I have to obey someone? Erm, babe no. Looks like our girl Eugenie is totally on board. According to the order of service Princess Eugenie's wedding vows show she won't "obey" Jack Brooksbank and good for her.
Yes, reneging on tradition Eugenie has decided to drop those oh so ridiculous words. Hell yes you can Eugenie! What a hero. According to the official website of the Royal Family, who released the order of service, the wedding is set to be super traditional in a plethora of ways. All the ways that keep it romantic and lovely and filled with gorgeous hymns, like Panis Angelicus, and giving a shout out to granny, yes her Maj herself, with the national anthem. Just minus the uber problematic bits.
Meghan Sussex, nee Markle, also chose to leave those lines behind during her nuptials to Prince Harry which shows a trend that might well mean these lines are no longer used in the traditional wedding vows. Now that is one trend I can fully get on board with.
But guys, Meghan wasn't the first to start this trend. It actually started with the people's princess herself, Princess Diana. She chose not to obey and subsequently so did her daughter in law Catherine. Looks like the two Princes are completely on board with wanting a team mate instead of an obeying servant. And yes, to some, this might seem like not the biggest deal but this is actually a huge feminist revision of the old school, traditional vows.
And like, what else would we expect from Eugenie? She has proven to be a hard working, independent woman. As ninth in line to the throne, she does not receive an income from the Royal Family. Actually, she has forged out a career in a pretty difficult industry. She is the director of the art gallery Hauser & Worth, which is based in Mayfair.
She has also made her place in history as the very first member of the Royal Family to have her own Instagram account. An account which she chose to launch on International Women's Day. Her first post was a video of her at the 2018 WE Day UK Charity Concert. She captioned the post
"I can think of no better day than today, International Women's Day, to launch my personal Instagram. I hope to use this platform to share the causes, passions and people close to my heart."
She also went a bit off piste when she opened up about her battle with scoliosis and how it has affected her life. The notoriously private Royal Family would not usually be so forthright and open regarding health issues so this was a huge step forward. On the Royal National Orthopaedic Hospital website, she shares her story of her corrective surgery and how it made her feel as a 12-year-old child.
"In 2002, when I was 12 years old, I was diagnosed with scoliosis (curvature of the spine), and told that I would need corrective surgery. This was, of course, a scary prospect for a 12-year-old; I can still vividly remember how nervous I felt in the days and weeks before the operation".
As excitement mounts for the big day, needless to say, the best is yet to come for this forward thinking member of the Royal Family.