Priyanka Chopra's Engagement Ring Has A Sweeter Backstory Than You Realized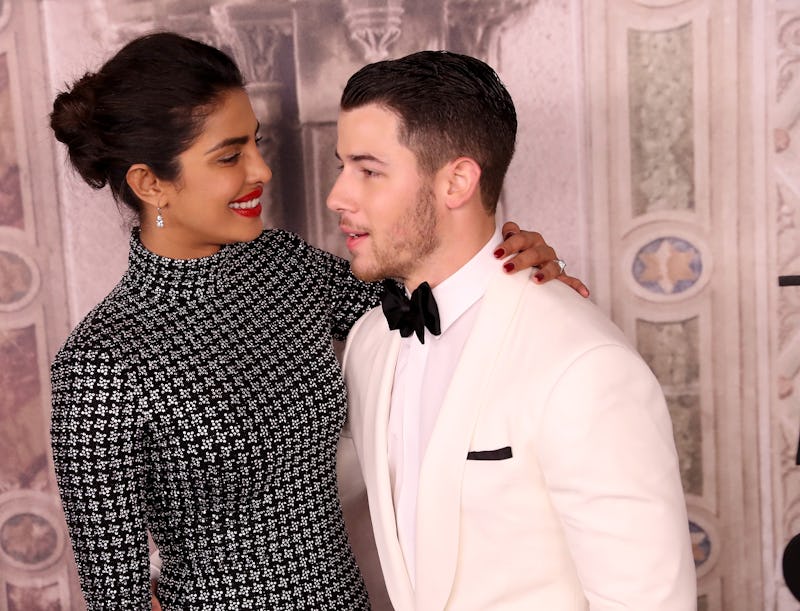 Rob Kim/Getty Images Entertainment/Getty Images
Priyanka Chopra knows what she wants — and Nick Jonas does, too. The Quantico actor shared with People that she dropped plenty of hints about her engagement ring, and her fiancé took heed. Basically, Priyanka Chopra gave Nick Jonas some engagement ring suggestions (subtly, of course), and it sounds like he did well in his choice.
Chopra explained to People that she'd wanted a Tiffany & Co. ring for years, thanks to a few popular movies. "I just knew it since I was a kid," she told the magazine. "First, it was Breakfast at Tiffany's that did it for every girl in the world and then, of course, Sweet Home Alabama came and put a stamp on it that it has to be Tiffany."
It's worth pointing out that Chopra's statements came during a Tiffany & Co. event on Tuesday, celebrating the iconic jewelry brand's new 2018 Blue Book collection. But it sounds like the actor was the perfect guest to include at the event. Based on her statements, it's clear Chopra really does have a great affinity for Tiffany & Co. jewelry and those iconic blue boxes. And it looks like the Baywatch actor has a soft spot for romantic comedies, too.
Fans of Chopra and Jonas will remember that the actor did, indeed, get a Tiffany ring in the end. Chopra shared a photo of her engagement ring on Instagram in August, and it's absolutely stunning.
Apparently, the "Right Now" singer picked up on the Tiffany clues, too. Back in July, People reported that Jonas shut down a Tiffany & Co. store in London so that he could have a private shopping experience while picking out Chopra's ring. The actor told People this week that "since I was a little girl, it was just something that was stuck in my head and I may have said that and I guess he remembered." Her subtle hints definitely paid off.
Given Chopra's recent statements, the story about Jonas' ring-shopping adventure is even more adorable. In Sweet Home Alabama, Patrick Dempsey and Reese Witherspoon's characters also visit a Tiffany & Co. store for a private engagement ring shopping session. (The two don't actually end up together in the movie, but it's still a cute scene.) The movie may have been released 16 years ago — and Breakfast at Tiffany's was released all the way back in 1961 — but the legacy of the movies (and the jewelry brand) lives on.
Rumors that Chopra and Jonas were dating first started in May, though the pair have known each other for longer than that. They attended the Met Gala together in 2017, since they were both wearing Ralph Lauren outfits to the event. Jonas and Chopra confirmed their engagement in August, and they've shared some sweet photos of themselves together over the past few months.
Jonas and Chopra's relationship has bloomed quickly, but it seems like they are very much in love. Plus, their families are totally on board. Jonas met Chopra's mom in India over the summer, and Chopra attended Jonas' cousin's wedding alongside other Jonas family members. So there's definitely plenty of love to go around.
Chopra's recent comments about her ring emphasize how strong her bond with Jonas is. It's clear that he's paying plenty of attention to what she loves, and it sounds like they couldn't be happier about their upcoming wedding.