Priyanka Chopra & Nick Jonas' Wedding May Be Happening As Fast As Their Engagement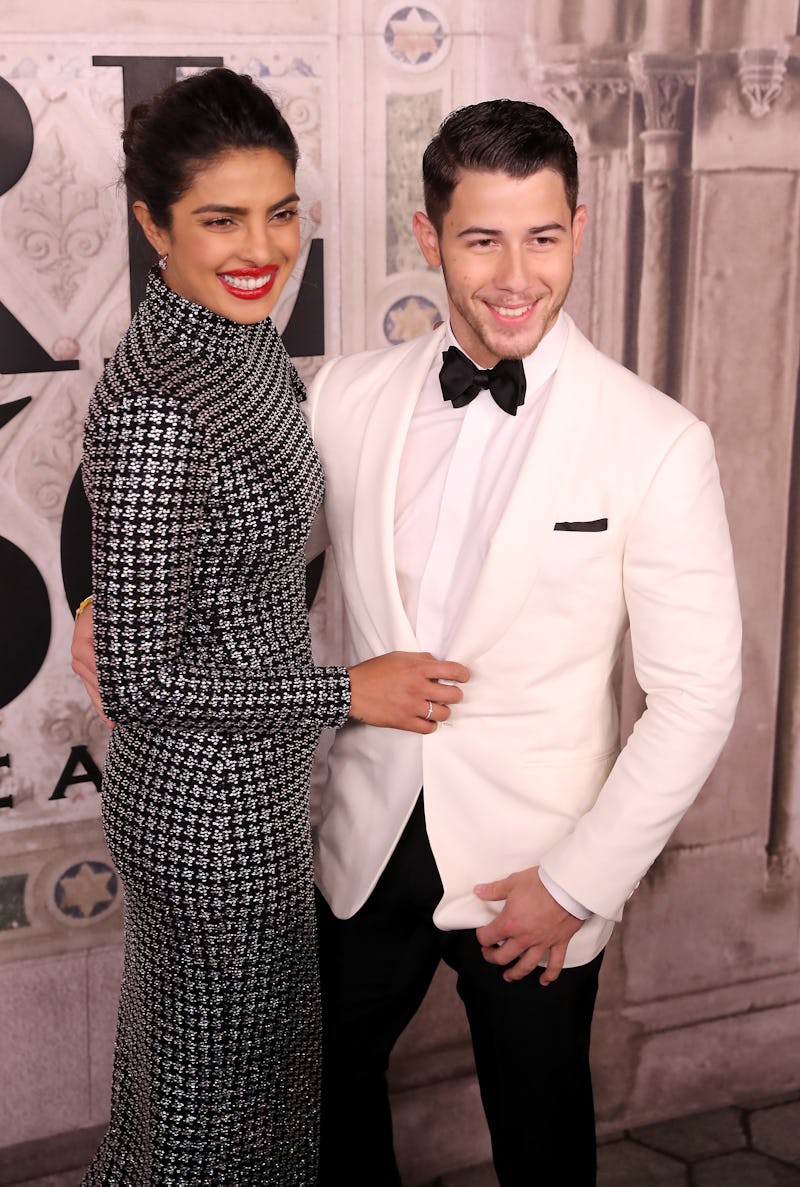 Rob Kim/Getty Images Entertainment/Getty Images
Well, this was super fast. According to Us Weekly, Priyanka Chopra and Nick Jonas' wedding is happening sooner than you probably thought. On Sept. 30, a source revealed to the publication that the celebrity couple will reportedly be walking down the aisle before you know it. Apparently, the former Quanitco star and the singer don't want to wait any longer to say "I do."
"The wedding is coming soon and they really want to blend wedding traditions from both of their cultures that are important to them," the source claimed to Us Weekly. "Priyanka is having a really good time planning the wedding because it's a mix of Indian and American styles and customs, which she knows so much about."
At the end of July, People reported Chopra and Jonas were engaged after only two months of dating. On Aug. 18, the couple confirmed their engagement in an Instagram posted by Chopra showing the actor staring into Jonas' eyes with her stunning diamond ring on full display. "Taken.. With all my heart and soul.." she captioned the photo. Jonas shared the same picture with Chopra on Instagram and wrote, "Future Mrs. Jonas. My heart. My love."
Besides sharing photos and videos of their love for one another on social media, the couple has been pretty private about their relationship timeline and wedding details. That said, Chopra's mom, Madhu Chopra, actually opened up about her daughter and Jonas' romance in an interview published on Aug. 22 by After Hrs for DNA India. She even talked about their upcoming nuptials.
"I always trust Priyanka's judgment; she's not impulsive," she said about her daughter's decision-making. "She gave it a lot of thought and when she decided on something, I was sure it would be good." She also called her future son-in-law "calm and mature" and a "wonderful person."
Madhu also dished that she had "no idea about" exact wedding details, like location. Although, she admitted at the time, "They haven't decided on a wedding date yet. It's too soon. These are just baseless rumors. Both of them have work commitments right now which they need to finish. They will take some time to decide where they want it and when they want it."
Who knows when or where they're getting married, but what remains obvious is how much time Chopra and Jonas are spending together. On Sept. 30, Chopra shared a series of photos with Jonas on Instagram. She also captioned the pictures, "Bae in Bombae!!"
The Baywatch star tagged Mumbai, Maharashtra as the location. As you can see above, Jonas and the other men featured in the photos are wearing athletic bibs reading, "Playing for Humanity." If you scroll through the images, you'll see Chopra is right by her fiancé's side.
According to Glamour, Jonas played soccer with Bollywood stars in Mumbai, where Chopra is currently filming The Sky Is Pink. The publication reports the soccer game was a charity event. Per the Hindustan Times, Jonas, actors Aditya Roy Kapoor, Kunal Kemmu and Shabir Ahluwalia, and cricket star MS Dhoni, were playing with the All Stars Football Club.
Per the All Stars Football Club official website, the club is owned by Playing For Humanity, a "charitable trust." The All Stars Football Club's website states, "The main aim of All Stars Football Club is to collect income for charity while using the ever growing game of football in India as a platform to do so." The website explains further, "In other words India is still lagging behind where basic necessities for their inhabitants are concerned such as food, clothing, shelter and most importantly education." The purpose of the charity football game is to raise funds and awareness for underprivileged people living in India.
Between Chopra filming and Jonas' philanthropic ways, who knows when they'll find time to plan a wedding. But, knowing the couple, they'll probably keep everything under wraps and announce details when they're absolutely ready to.