These Photos From Priyanka Chopra's Bachelorette Party Show Her Pre-Wedding Bliss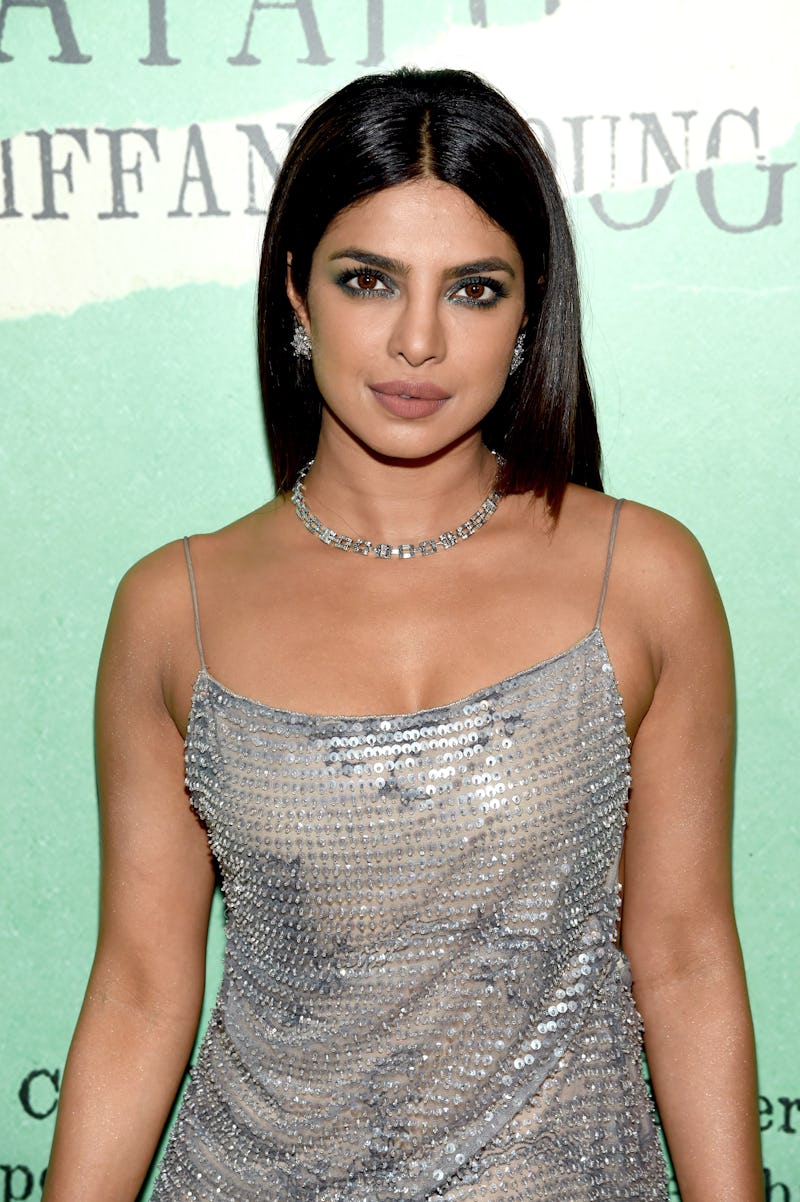 Dimitrios Kambouris/Getty Images Entertainment/Getty Images
The wife of the party has arrived. Photos from Priyanka Chopra's bachelorette party began trickling in via social media on Saturday, Nov. 3, and the girlfriends' getaway already looks seriously Instagram-worthy. Using the hashtag "#BacheloretteVibes," the bride-to-be herself shared a stunning photo in which she's "all dressed in white," sporting a blissful smile — oh, and her Tiffany & Co. engagement ring from fiancé Nick Jonas, too, of course. (After all, the diamond sparkler is reportedly 4 carats and cost Jonas about $200,000, so it's kind of hard to miss.) Her future mother-in-law, Denise Jonas even hilariously commented "Be good" under the Instagram pic, adding a red heart emoji.
The former Quantico star also shared a shot on her Instagram story of what looked like a hotel room filled with all the bachelorette essentials: champagne on ice, pink and gold balloons, and a gorgeous arrangement of roses, natch. In a subsequent post, Chopra also captured a yellow "guest service" rotary telephone next to a pair of fuzzy red Patricia Green slippers.
And what's a wedding party without an official hashtag? In addition to Chopra's #BacheloretteVibes," her pal, filmmaker Shrishti Behl Arya also tagged her Instagram story posts "#PCsBachelorette." Adding Boomerangs showcasing the delicious food and decorations, Arya also shared a video which appeared to be taken from a boat. While the location is unconfirmed, multiple outlets have speculated that Chropa's pre-wedding festivities are taking place in Amsterdam.
This is the only the latest celebration leading up to Chopra and Jonas' big day. The couple's friends and families came together for a traditional roka ceremony in Mumbai, India in August, and, just last week, the soon-to-be Mrs. Jonas celebrated her bridal shower in New York City at Tiffany's Blue Box Cafe. The Oct. 28 bash, which was planned by bridesmaids Mubina Rattonsey and Anjula Acharia, also included famous guests like Kelly Ripa, Lupita Nyong'o, as seen in social media photos from the shower.
The venue, of course, was also a sweet nod to Jonas' proposal. In a true Sweet Home Alabama movie moment a la Reese Witherspoon and Patrick Dempsey, Jonas popped the question after reportedly shutting down a Tiffany's store to pick out a ring for his bride.
He might have had just a little help deciding on the jeweler, though. "I may have dropped that hint," Chopra recently told People. "I think we had a conversation about it when we were dating and I've always known it had to be Tiffany ... Since I was a little girl, it was just something that was stuck in my head and I may have said that and I guess he remembered."
Unlike Witherspoon's Melanie Carmichael (Smooter? Perry?), however, Chopra was not present when Jonas selected the custom cushion-cut ring, adding to People: "He and his brothers went and did a whole thing to buy the ring for his future wife."
While all the festivities seem to indicate the wedding could happen imminently, there are conflicting reports on when Chopra and Jonas' are getting married. The pair may have not made any official public announcement, but Us Weekly recently quoted an unnamed source who claimed Chopra and Jonas are planning a December wedding in India. Added a second insider to the magazine, "They really want to blend wedding traditions from both of their cultures that are important to them."
Meanwhile, Entertainment Tonight reported (also via an anonymous source) that Chopra and Jonas won't wed until 2019. "Priyanka and Nick are on the same page about wanting to get married earlier rather than later, and are telling friends it will most likely be next year," added ET's insider.
According to another ET source, "The couple is still planning their wedding for next year. Both of them are extremely busy, but are making time to enjoy the relationship and not rush anything more than they already have."
Indeed, the pair shocked fans when they quickly got engaged this summer after just months of dating— but, according to Chopra, when you know, you know. "This is such a wonderful new step in my life and I'm still getting used to it because it's obviously been a whirlwind and I haven't seen myself happier," the Isn't It Romantic actor gushed to ET on Oct. 19. "Just being in the whole situation of finding somebody who can be a partner to you in so many more ways than one is amazing, so yes I'm very excited."
With Chopra's new bachelorette photos to feast their eyes on, fans are also understandably more excited than ever for the upcoming nuptials.