'The Bachelor' Tried To Make A 'Property Brothers' Crossover Happen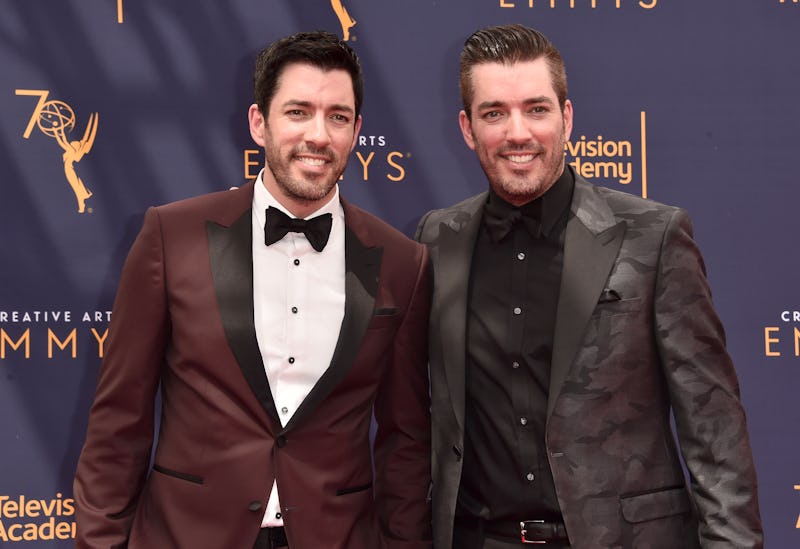 Alberto E. Rodriguez/Getty Images Entertainment/Getty Images
It could've been The Property Bachelor. Before Colton Underwood was picked to be the next Bachelor, a certain HGTV personality turned down an offer to be on ABC's long-running reality dating series. Had he been on board, Property Brothers star Jonathan Scott could've been the star of The Bachelor. Like an open kitchen that flows right into an airy and bright living room, this Bachelor and Property Brothers crossover sure would be great for entertaining. Alas, it sounds like this idea will never come to fruition.
When speaking to Us Weekly at the 2018 Creative Arts Emmy Awards, Jonathan revealed he said his "third no to being the Bachelor about a month ago." He continued,
"I cannot. That is absolutely not me. I would love something like Amazing Race. [It] would be fun … but not The Bachelor."
Jonathan's co-star and twin brother, Drew Scott, told Us Weekly:
"Jonathan has been pitched like, I think four times now, been approached to be the Bachelor. He don't need that. Anyway, I think right now he's just focusing on what we're doing, the shows, we're launching our first kids' book next month, which is exciting. Eventually he'll have time and then I'll pawn him off for a dating show or something."
The Scott twins have mentioned The Bachelor reaching out to Jonathan a number of times over the years, and every time, they rip out hearts like some old plaster.
When the Property Brothers duo appeared on The Meredith Vieira Show back in 2015, Jonathan said the following about passing on The Bach:
"For me, I don't understand how you could date 20 women at one time. I have a hard enough time dating one. I like to focus on one special person."
And in 2014, Jonathan told People,
"I've been approached and I've been asked if I'd be interested in doing The Bachelor. You know, it's not my thing."
In their 2017 book It Takes Two, Jonathan's twin addresses his brother's Bachelor Nation summons. According to OK! magazine, Drew writes,
"Before snagging Jacinta's heart, Jonathan may have been long to find love, but he's allergic to drama and manipulation, so accepting an invitation to become The Bachelor was a non-starter."
Per Bachelor Nation law, a spoken for Bachelor/ette is not an eligible Bachelor/ette. And so, when the contractor began dating Jacinta Kuznetsov few years ago, The Bachelor pumped the brakes. But those brakes didn't stay pumped forever. Jonathan and Kuznetsov announced they split up in April of this year, and apparently, the reality dating competition series promptly asked the magician-turned-reality star if he'd changed his mind. He did not change his mind, and it sounds like he probably won't ever change his mind. The Property Bachelor feels about as likely as finding stacks of gold bars behind some old drywall.
Jonathan may never be the Bachelor, but do not let that stop you from imagining group dates where everyone has to use design software to draw up the open concept fantasy suite of their dreams. Or one-on-ones where Jonathan and a contestant go to an actual reno site and pull down old cabinets together. Or a two-on-one where Jonathan takes two feuding contestants to an island made of old drywall and popcorn ceiling scrapings, hands out a rose to one contestant, and leaves the other contestant behind.