The Queen Went To London Fashion Week & She Even Got Her Own Cushion To Sit On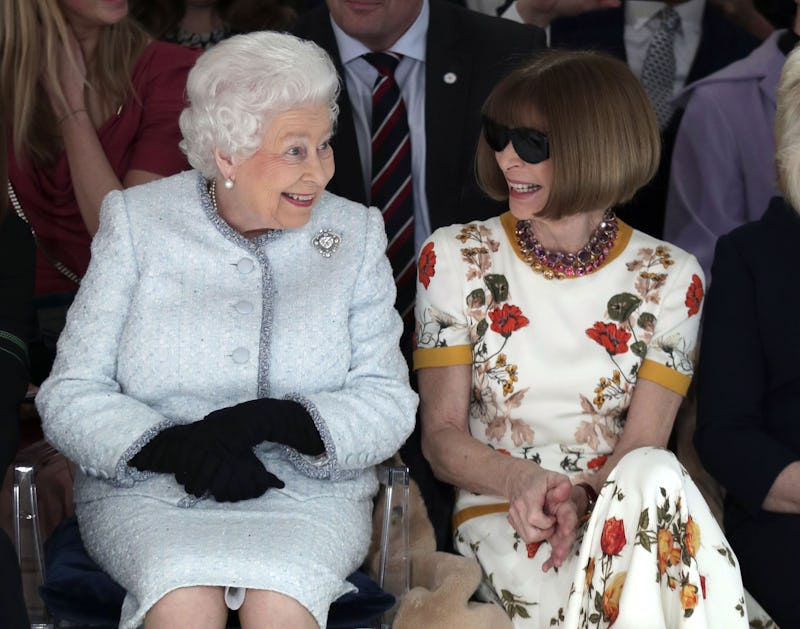 Yui Mok/AP/REX/Shutterstock
It's been a big week in fashion for the royals, and I'm not talking about another rule-breaking outfit from Meghan Markle. As People reported, Queen Elizabeth sat front row next at London Fashion Week next to Anna Wintour. She even had her own personal cushion to sit on for the show. This isn't exactly the fashion week moment that you expected, but it will likely become your favorite.
There were a lot of surprises this fashion month. In New York, Flaming Hot Cheetos were eaten on the runway and a venue was completely filled with popcorn. But the Queen sitting front row with Anna Wintour was definitely one of the most surprising. The monarch was at the Richard Quinn show to present him with the Queen Elizabeth II Award for British Design.
According to British Vogue, is the "recognition of the role the fashion industry plays in society and diplomacy, [and] be awarded annually to an emerging British fashion designer who shows talent and originality, whilst demonstrating value to the community and/or sustainable policies."
The Queen wore a powder blue skirt suit with a pendant, pearl earrings, and her black gloves. Unlike at other public events, she did not wear a hat during the show, which is likely because it was indoors.
Of course, the Queen is not your average Fashion Week guest, and she got treated a little differently. According to People, Queen Elizabeth got a cushion to sit on throughout the show. For the record, Wintour did not. Because when you're royalty, you get to be as comfortable as possible at all times.
While the people around the Queen got comfortable by taking off their jackets for the show, she kept hers on. According to previous Bustle coverage, it is against royal fashion rules to take off your coat in public, which is why the Queen was seen wearing hers throughout the entire show. She also kept her gloves on, as another royal protocol.
Although she wasn't seen clapping throughout the show like others around her, she was seen in photos talking to Wintour before and after the show. There's no word on what she was talking about, but I would have loved to be a fly on the wall.
Speaking of royal protocol, Wintour refused to take her sunglasses off throughout the show, according to the Daily Mail. The publication spoke to etiquette expert William Hanson, who said that he thought not removing her glasses was "plain rude" of the fashion editor.
'The Queen of Fashion meets The Queen, but sadly has got it wrong here. Whilst Anna Wintour's fashion choices usually are faultless her etiquette today is far from on trend," Hanson told the Daily Mail.
"Sunglasses are outdoor accessories and should always be removed when indoors - even if they are your trademark. For a start, you don't need them indoors, and secondly it's just plain rude to shield the eyes - an exception to Ms Wintour's trademark shades should have been made when in the presence of Her Majesty."
The Queen didn't seem to be bothered by the accessories though.
This wasn't the only royal fashion moment of the week, either. The Queen and Wintour showed up at the Commonwealth Fashion Exchange reception at Buckingham Palace that was co-hosted by Kate Middleton. The only American designer there was Behno, which, according to a press release is "dedicated to redefining and bringing awareness of sustainability and ethics to fashion." Other designers at the event included Stella McCartney and Burberry.
While you shouldn't expect to see the Queen at many more fashion weeks, this was a nice surprise. After all, she does have a country to run.