Bobby Berk Teases A Major Change For The Upcoming Season Of 'Queer Eye'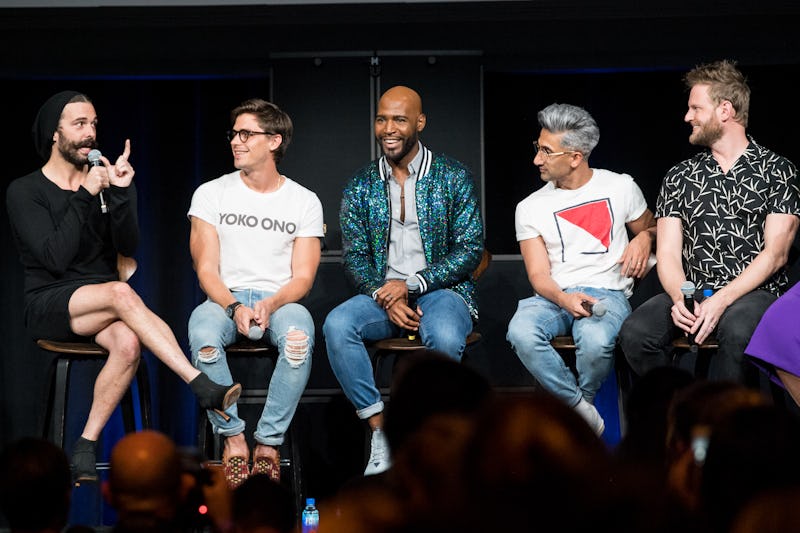 Emma McIntyre/Getty Images Entertainment/Getty Images
Change is coming on the third season of Queer Eye — and it's not just for the subject's wardrobes this time around. Instead of sticking with the tried and true formula of having the Fab Five transform the life, closet, and home of one man every week, Queer Eye Season 3 will feature both male and female subjects, according to home design expert Bobby Berk.
Interior designer Berk revealed in an interview with Variety that the upcoming season, which they filmed in Kansas City, Missouri, will feature an equal number of female and male subjects who need the Fab Five's help. And the group of gurus, made up of Berk, Jonathan Van Ness, Tan France, Antoni Porowski and Karamo Brown, are having a whole lot of fun working with the ladies. "No offense to men, but we have so much more fun with women," Berk told Variety.
Berk also teased that the Season 3 will also have greater significance to him personally, as he returned to his home state of Missouri to film. "It's not the Missouri I left, it's not the Missouri I ran away from at 17 years old," Berk told Variety. "It's really turned into an awesome city, so I'm excited for people to see a part of my home state that no one would ever think is there." Berk also noted that the mayor of Kansas City, in particular, was very welcoming to the Fab Five, filming a video in a rainbow bow tie and advising the stars on the best nightlife spots in the city.
Season 3 won't be the first time that the Fab Five have worked with a female subject. In the Season 2 premiere, the gang headed down to the small town of Gay, Georgia to help teacher, church leader and breast cancer survivor Tammye Hicks finish up the community center for her church. In addition to transforming Miss Tammye from "hot mess to Sunday best," the Fab Five helped her son, Myles, find a new place in the church community after coming out as gay.
Though Miss Tammye is the only woman to have her own episode thus far on the show, the Fab Five have shown hints of what it would be like to watch them connect with and make over more female subjects on the upcoming season. After all, in the Season 1 episode with Bobby Camp, Van Ness and France tore through a Target in order to create new grooming routines and choose brand new outfits for an entire family of girls within minutes, so we know they have a great eye for female fashion.
And if the Queer Eye guys have their way, they'll continue to work with a bigger and more diverse group of "heroes" with each upcoming season. "For me, if we're able to get a third, fourth, fifth season, I really want to keep pushing the boundary of people we are helping because there are so many people who don't feel seen," Brown told The Hollywood Reporter back in June. "We quietly tapped on the senior citizen community, and that got such a big response. I want to dive in with people with disabilities." Having an equal split of male and female "heroes" in Season 3 seems like a good place to start.