Quentin Tarantino Tells His Side Of The 'Kill Bill' Crash Story In A New Interview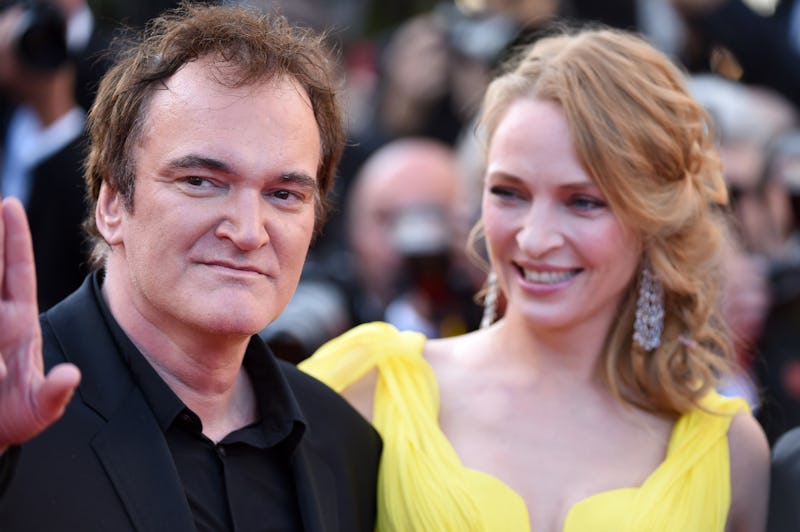 Ian Gavan/Getty Images Entertainment/Getty Images
For the very first time, in an interview with the New York Times, Uma Thurman spoke out against Harvey Weinstein, accusing the producer of sexually assaulting her. (Weinstein admitted to making an "awkward pass" at Thurman, which he apologized for, but denied assaulting her via a spokesperson.) In the story, Thurman also accused director Quentin Tarantino of ignoring her concerns about a Kill Bill car scene that resulted in a crash that she now says left her with lasting injuries. And, in an new interview with Deadline, Tarantino responds to Thurman's Kill Bill claims, saying he regrets putting her in that car. But the director also addresses the latest Weinstein sexual misconduct allegations, admitting his complicity made him part of the problem. (Weinstein's rep previously denied all allegations of nonconsensual sex in a statement to the New York Times.)
"I am guilty, for putting [Thurman] in that car," Tarantino told Deadline, "but not the way that people are saying I am guilty of it." Thurman said that in a scene where she drives a blue convertible she was "led to believe" the car was not working properly. She asked to use a stunt double for the scene, but Tarantino told her it would be fine.
Thurman ended up driving the car herself and crashing into a palm tree. Thurman posted the car crash footage on Instagram, which shows her looking shaken after the accident, resulting in a concussion and badly injured knees. It also led to a fight between Thurman and Tarantino, in which she accused the director of trying to kill her.
Tarantino told Deadline that he wasn't angry and took her concerns seriously, driving down the route she was going to take. But now, he says, "it's the biggest regret of my life getting her to do that stunt" because she only did the scene because she trusted him and in the end he was wrong. But the Kill Bill stunt isn't the only thing that Tarantino claims to regret.
In his interview with Deadline, Tarantino confirms that he knew about Thurman's allegations of sexual assault against Weinstein. That Thurman had told him in 1999 that Weinstein had allegedly tried to "attack" her and threatened her career if she spoke about the incident. (Weinstein released a statement through a spokesperson in which he "acknowledges making an awkward pass at Ms Thurman 25 years ago which he regrets and immediately apologized for," but states "her claims about being physically assaulted are untrue.")
Tarantino now says that he realized then that Thurman's story was similar to allegations Tarantino's ex-girlfriend Mira Sorvino had made against the producer. "That was when I realized there was a pattern, in Harvey's luring and pushing attacks," Tarantino said. "So I made Harvey apologize to Uma." (Thurman confirmed to the New York Times that Weinstein did apologize.)
Tarantino said he always believed Thurman's story. "There wasn't another side to this story. There was this story," he said, adding, "I knew [Weinstein] was lying, that everything Uma was saying, was the truth. When he tried to wriggle out of it, and how things actually happened, I never bought his story."
Being that he believed both Thurman and Sorvino there is the question of why Tarantino didn't do more, and he admits he should have, referring to his "complacency." He now says his attitude that Weinstein's alleged actions were just "this mid-'60s, Mad Men, Bewitched era of an executive chasing the secretary around the desk" were wrong.
"One of the things that has happened in this whole thing is there is a lot of staring in the mirror," he said, adding that he remembers being shocked when hearing Sorvino talk about Weinstein trying to force his way into her apartment. "The big question I keep asking myself is, when did that shock go away?"
That need for Thurman to find the truth is also why he says he gave her the footage of the Kill Bill car crash. "I didn't think for a moment she was just going to sit on it," he told Deadline. "She had her footage and she could show it to the world." When Thurman shared the footage on Instagram, she wrote that she doesn't blame Tarantino for the accident, but is now suing Weinstein and two other producers — Lawrence Bender and E. Bennett Walsh — for the crash. (In a statement to Bustle, a spokesperson for Weinstein denied the allegations that he covered up the accident. Bender and Walsh did not respond at the time to Bustle's requests for comment.)
This isn't the first time Tarantino has revealed what he knew about Weinstein. Back in October, Tarantino told the New York Times, "I knew enough to do more than I did." And urged others in Hollywood, specifically men, to admit the same. "I'm calling on the other guys who knew more to not be scared. Don't just give out statements," he said. "Acknowledge that there was something rotten in Denmark. Vow to do better by our sisters."
Giving Thurman the footage and speaking out about what he knows about Weinstein is Tarantino's attempt to do better. Whether you agree with Tarantino's way of handling the allegations against Weinstein what it shows is that to fix the sexual misconduct problem in Hollywood, more people need to admit they're complicity and complacency. It's the only way there will ever be any real change in the industry's culture surrounding sexual misconduct.