Rachel's 'Bachelorette' Comments Remind Women Of Color They Deserve Fairytale Endings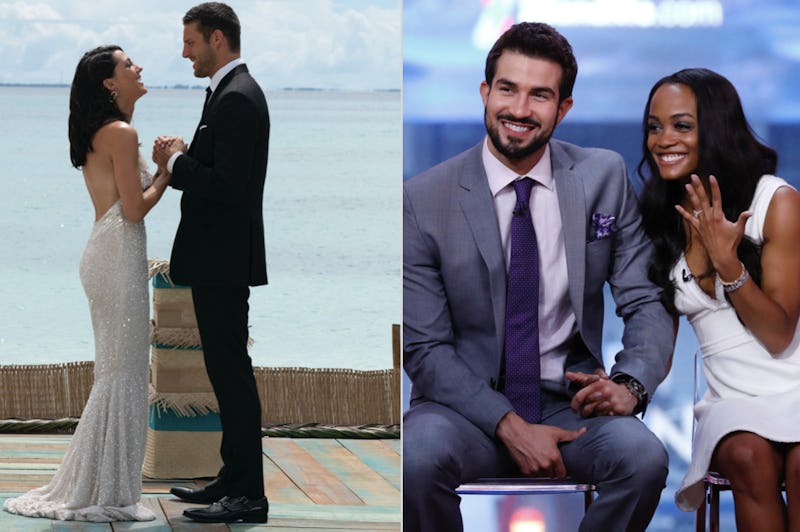 ABC/Paul Hebert; ABC/Heidi Gutman
I've been a proud card-carrying member of Bachelor Nation for more seasons than I'd like to admit. I've gushed over lush gowns and lavish proposals spanning continents, and cried over magical proposals. I've had countless crushes on suitors (Wills Reid, I am so looking at you and those hazel eyes), and been so personally invested in the happiness of contestants that you'd think I was advocating for my IRL besties. Which is why former Bachelorette Rachel Lindsay's comments about Becca's Bachelorette finale and the happy ending she was allowed despite the controversy surrounding her choosing Garrett particularly struck a chord.
In a recap of The Bachelorette finale for Us Weekly, Rachel discusses her frustration with the way her happy ending wrapped in comparison to that of Becca Kufrin, who got her fairy tale engagement to (problematic Instagram liker) Garrett Yrigoyen after a royal dumping by former Bachelor Arie Luyendyk Jr. this spring. "See, you know more about the journey of my breakup than the journey to my proposal acceptance," she wrote, referencing the admittedly gutting extended breakup scene in which she sent fan-favorite Peter Kraus home, after which her engagement to her now-fiancé Bryan Abasolo arguably felt like an afterthought. "I think it is fair to say that I was denied my on-camera happy ending."
And on this week's After The Final Rose special, Becca was spared much talk about Garrett's controversial social media likes, and neither did runner-up Blake Hortsmann's broken heart eclipse her happy moment. As Rachel said in her column: "She was protected and I was placed on display for three hours and labeled an angry black female."
Even though I had fallen for runner-up Peter Kraus and wanted him to be Rachel's final choice (I mean, who could resist that adorable doggy first date with Copper, the cutest guy of Rachel's season?), Rachel does make a very real point. She still deserves the protection given to prior Bachelorettes, and quite frankly, even more. She's the first, a place many women of color find themselves in without really having much of a choice. Being the first Black Bachelorette brought a hidden pressure that non-POCs just don't understand. Would she end up choosing a Black man, and if she didn't, how would that be perceived? Is she letting down her community by following her heart? Is she selling out with her choices? Can she express her anger without being labeled "the angry Black woman"? Can she speak up without being labeled difficult? Is she escaping every single stereotype that would make her too (cringe) urban? Would a boardroom of even more people who don't relate to her deem her too unrelatable? These are things on the minds of women of color every. Single. Day.
Prior to Rachel Lindsay's season as the first African-American Bachelorette, I hadn't seen myself represented in The Bachelor franchise at all. And like most fans of color watching in the show's earlier days, I just took that in stride. I knew that the contestants of color would likely not stick around until the final rose, and if they had any success they'd be relegated to Bachelor in Paradise. I didn't even think it was possible to see a lead of color getting the attention of the nation. And if there was a lucky POC who did get a storyline, I still had zero in common with them. Let's face it, a mixed-race nerd with a love of fairy tale reality TV is not what most of America expects when they picture me — if they even picture me at all. And despite being misrepresented, I watch every single season because I just love love, y'all. I was raised on fairy princesses, and believed so deeply in the idea that I didn't really care if those stories were never written with girls like me in mind.
Thanks to Rachel Lindsay, America got to see a gorgeous Black lawyer, with a quick wit and a love of Jordans, find love. Finally, women who look like me got to see ourselves doted over and loved on by men of all nationalities. And even with a guy like Wills, I got to see a blerd on my ABC addiction, and get this... America fell in love with him. A Black man in plaid suits with a Harry Potter tattoo? This image may be unheard of for most, but for me, it's pretty much all of the Black guys in my NYU friend group.
Let's face it, a mixed-race nerd with a love of fairy tale reality TV is not what most of America expects when they picture me—if they even picture me at all.
I applaud Rachel for not silencing herself when it came to Becca's finale. I was puzzled when I first read her blog (this is supposed to be about Becca, as Rachel says at the start of her post), but I then realized that her speaking up for herself was a reminder that even I settle in minor ways every single day and don't speak up for my own treatment when it matters. As a Black woman, you're trained to not rock the boat, act like a "lady," don't embarrass anyone. As a Latinx woman, you're taught to keep your head down, smile, and only speak when spoken to. Thanks, Rachel, for reminding me that even as a viewer, I deserve to be represented — and heard, and honored — just as much as any other woman vying for love.