Rachel McAdams Talked About Her Son In An Interview For The Very First Time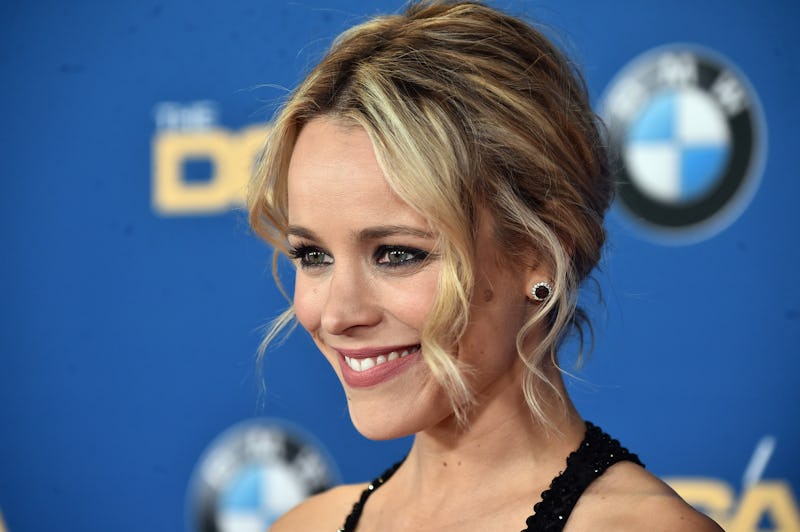 Alberto E. Rodriguez/Getty Images Entertainment/Getty Images
For a lot of children born to celebrity parents, privacy can be a bit of a luxury. The constant press coverage and flash bulbs, the non-stop scrutiny over every move they make, all because of what their mom or dad does for work. Rachel McAdams opened up about motherhood in a new interview with The Sunday Times, and the star explained how she plans on keeping her son's life private — even if hers isn't.
Back in February, rumors started swirling that McAdams was expecting her first child with Jamie Linden, her then-rumored boyfriend. She never confirmed nor denied anything, though, and the world was left to wonder. Well, until now.
McAdams reportedly gave birth to a baby boy — whose name she has yet to reveal — in April of this year. After seven months of staying tight-lipped in regards to her new bundle of joy, the actor finally opened up about her life as a mother in the Times interview published on Nov. 25.
The actor explained,
"It's the greatest thing that's ever happened to me, hands down. [People say] your life is not your own any more, but I had 39 years of me, I was sick of me, I was so happy to put the focus on some other person ... I waited a long time [for motherhood]. It's just how it happened. And I didn't want to do it before it was the right time."
Fans shouldn't expect for McAdams to share much more than words in regards to her son, though. The actor doesn't really do social media — which is where many celebrities like to put their offspring on display — and she definitely won't be selling any exclusive photos to the tabloids, either.
"I want to keep [my son's] life private, even if mine isn't," McAdams told the Times. "But I'm having more fun being a mum than I've ever had. Everything about it is interesting and exciting and inspiring to me. Even the tough days — there's something delightful about them."
Speaking of tough days, McAdams joked to the outlet that she had barely been able to pull herself together for their interview. "I have clothes on and that's a good thing," she kidded. "I don't even know what I'm wearing today. The shoes are held together with glue. Isn't that sad? I need to get a life."
Pretty sure we've all been there, with or without a new baby to take care of. Sometimes getting presentable is hard, you know? No shame in that. No shame in sprucing up your shoes with some glue, either. That's a life hack right there.
As for what the future holds, well — McAdams might just have to get used to running around in glue-shoes. When asked by the Times if she was planning on getting pregnant again any time soon, the actor replied, "I think there is definitely room for more."
So, that's definitely a "yes" then, right? When will the world have another mini-McAdams? Fans will have to wait and see.