We Need To Talk About Shannon's 'RHOC' Weight Loss Storyline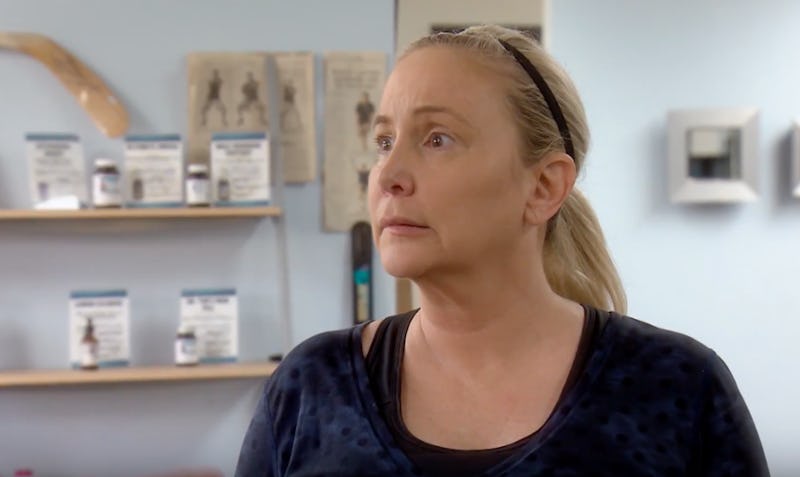 Bravo on YouTube
In 12 seasons, The Real Housewives of Orange County has explored basically every storyline you could imagine. But somehow, in all of these years and plot lines, there has never been a housewife whose storyline revolves around dramatic weight gain. And that's really surprising, considering how common it is for women over 40 to experience sudden weight gain. So, yes, the Real Housewives franchise may have its faults, but it's important to note that Shannon Beador's current weight loss storyline on RHOC is proof of how necessary age diversity is on television.
Over the last 11 seasons of the show, there have been countless friendships made and then broken, the building of a mansion that never ended, and even (at its darkest) a boyfriend who lied about having cancer. But there hasn't yet been anything like Beador's impactful story. While the relevance of reality TV shows can be debated until the end of time, the fact that she is discussing her unhealthy weight gain on TV is relatable for many viewers at a similar point in their lives.
While weight loss shows like Revenge Body are often deeply problematic, Beador's struggle on The Real Housewives of Orange County is different. It hits on something that's rarely depicted on shows that aren't specifically focused on weight loss. Many TV shows don't discuss menopause (which, admittedly, Beador isn't directly doing either) and rarely portray women over 40, let over alone 50. In fact, a 2016 report from USC's Annenberg School for Communication and Journalism found that only 26.9 percent of female characters on cable TV are 40 and over. Essentially, if we want to see women in their 40s and 50s, we're mostly left with limited series or made-for-TV movies, and, well, The Real Housewives.
And that lack of representation can often lead to a lack of information. For example, in a recent interview with E News, Beador shared her surprise over the recent changes in her body. She said:
"I gained 40 pounds, which is insane to me. I didn't think that I would be in the 150s in my lifetime let alone the 160s and the 170s, I mean, but I'm telling you, when you're 53 it can happen, it can happen. "
Not only can it happen when you're 53, it often does — just not on TV. According to WebMD, "about 30 percent of women ages 50 to 59 are not just overweight, but obese." Not all weight gain is bad, but, in the new season of RHOC, Beador discovers that hers has resulted in her body to become 40 percent fat, which puts her at risk for more serious health problems.
The 53-year-old Housewife attributes her weight gain to stress (which she blames on costar Vicki's spreading of vicious rumors about her husband, because of course there still has to be petty drama involved), and she's probably right. After menopause, one's body might not handle stress as well as it once did. According to Livestrong, women over 40 are also more likely to lose muscle (resulting in an impeded metabolism) and experience water retention and bloating due to hormone changes. When the RHOC's resident mean-girl, Kelly Dodd, cruelly told Beador that she might need to get her hormones checked, she may have been onto something... but as always with Dodd, her delivery was unkind and tone-deaf.
The important thing through all of this is that Beador's journey reflects a journey that many women either have undertaken or will undertake or even just might undertake — a journey we so rarely get to see on mainstream television. And this can only be a learning experience no matter what stage of life you're in right now. It's likely that many viewers of RHOC are connecting with Beador's story given the fact that almost all bodies change with age and that there are few 53-year-old women on TV talking about it right now. No matter how you feel about reality shows, that representation is something worth celebrating.