Rashida Jones' New Show Is Going To Take Down All Those Cringey Tropes About Sitcom Wives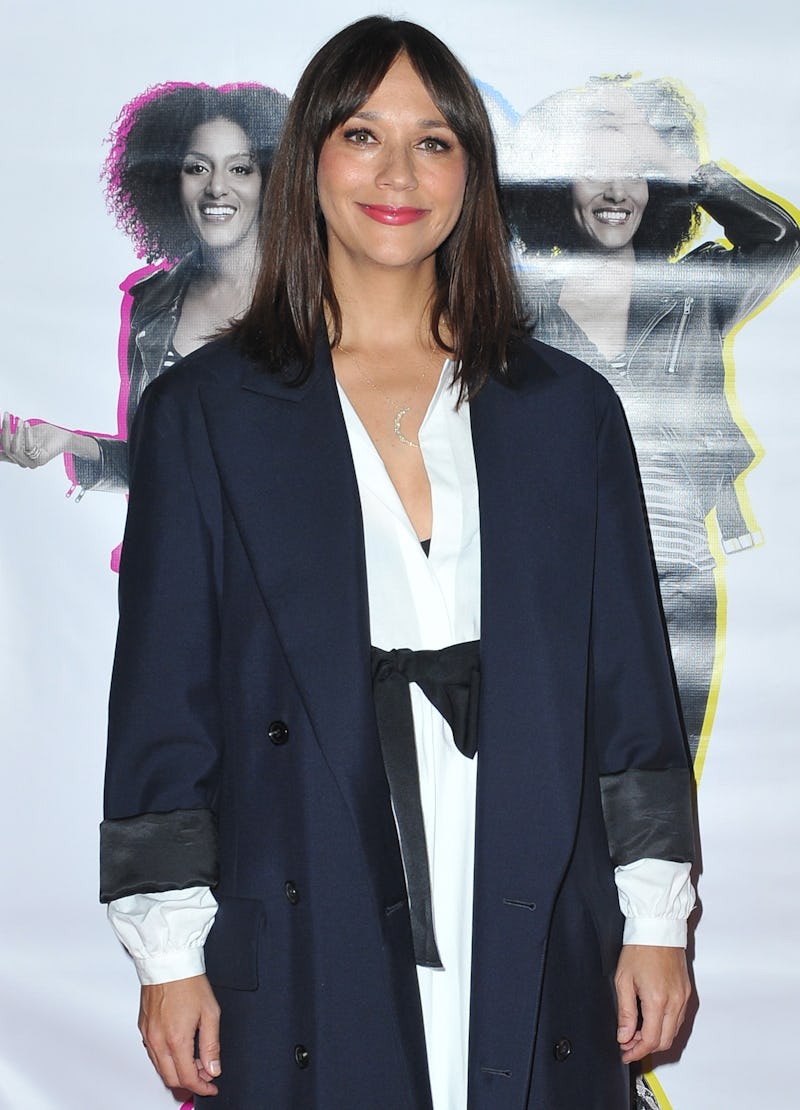 Rachel Luna/Getty Images Entertainment/Getty Images
Everyone knows the standard trope of married couples on sitcoms: There's a schlubby, often rude guy married to a beautiful, but nagging wife, and hijinks ensue as they attempt to deal with each other's foibles. But Rashida Jones' new project, a sitcom called Kevin Can F*** Himself, is aiming to turn all of those tropes on their head, once and for all.
According to TVLine, Jones will executive produce the show — which is currently in development, and and thus, still some time away from arriving on the small screen — along with Will McCormack as a high-concept "serio-comedy" that will blend single camera point of view with multi-camera hijinks for a pseudo-documentary feel. The outlet described Kevin Can F*** Himself as a project that "explores the secret life of a woman we all grew up watching: the sitcom wife. A beauty paired with a less attractive, dismissive, caveman-like husband who gets to be a jerk because she's a nag and he's 'funny.'"
The series marks yet another example of Jones' ability to turn stereotypical characters and situations on their head; the actress and writer is also one of the producers behind Claws, in which Neicy Nash stars as a nail technician hiding her criminal activities, and starred in Angie Tribeca, where she turned a standard crime procedural into a full-blown farce.
While there are a plethora of odd-couple sitcoms for Jones to draw her inspiration from, based on the show's working title, Kevin Can F*** Himself seems to be a direct response to the Kevin James sitcom Kevin Can Wait, which made headlines in 2017 after Erinn Hayes' character was killed off in the Season 2 premiere.
When it first premiered in 2016, Kevin Can Wait appeared to be a standard family sitcom about a man, on the verge of retirement from his job, who found his house full once again. Hayes played James' long-suffering wife, but after Leah Remini joined the cast — and fans seemed excited by the nostalgia of seeing the King of Queens stars together again — producers decided to cut Hayes at the end of the first season.
"I get that people are like 'Whoa, why would you do this?' But it really felt like a thing like this was needed for this show to drive forward," James told the New York Daily News about the controversial decision. "Now, I have to deal with my daughter in a different way, and she's gonna go to college, or one's getting married, or the holidays. And it deals with things in a different, weightier way."
"The plot of the show didn't have enough drive," James continued, adding, "If we got through a second season, I wouldn't see us getting through a third one. We were literally just running out of ideas."
Of course, that doesn't mean that fans should expect a straight-forward parody of Kevin Can Wait from Jones' new project. After all, there were plenty of popular cop-focused shows before Angie Tribeca, but it managed to carve out a special place in audiences' hearts by embracing the absurd in every way. Though it utilized a lot of broad humor and visual gags, Angie Tribeca was smart about its satirization of the standard procedural, from Jones' straight-laced cop to all of the standard "mysterious pasts" and gritty, intense fights with authority figures.
Sure, it also had a police dog that played the organ and chewed bubble gum, but if nothing else, that should give fans a good sense of the wide range of satirical influences that Jones can pull from in order to ensure that her projects really do subvert as many tropes as possible.
For decades, the standard "sitcom wife" has been considered a buzzkill and a nag, there primarily to warn the wild and impulsive (or cranky and unfriendly) husband about his behavior and to banter about their differences in personalities. Jones' show promises to give that character a fully-realized personality, and to show that there's so much more to female characters than being a sounding board for her husband.
With a whole lot of a humor and a little bit of cheekiness, it sounds like Jones' new project might just be the comical — and feminist! — alternative to all of those one-dimensional wives everywhere.