Recap Season 1 Of 'The Catch'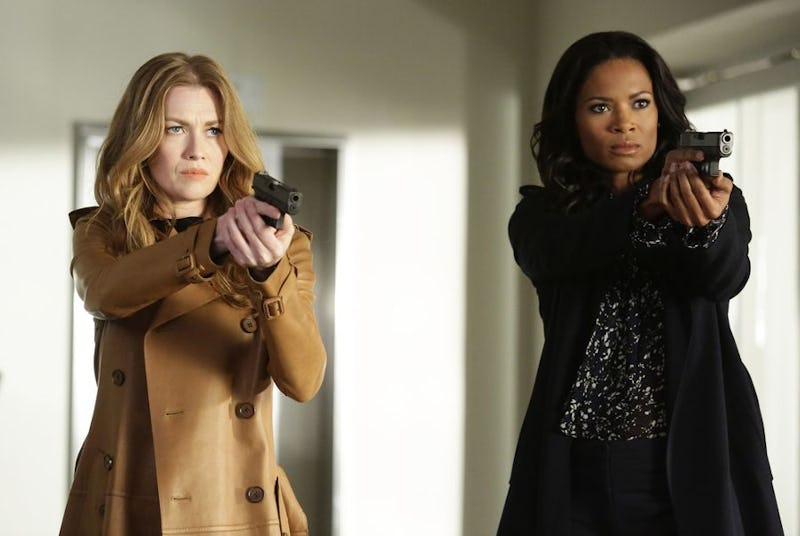 Nicole Wilder/ABC
The latest seasons of Scandal and Grey's Anatomy are in full swing, but my #TGIT joy will feel truly complete when Season 2 of The Catch premieres on March 9. Between amazing performances from Mireille Enos and Peter Krause and the brilliant twists and turns that we've come to expect from ShondaLand productions, it didn't take long for the show to become my latest obsession. It's been nearly a year since Alice Vaughan & Co. graced our small screens — so, if your memory is a little rusty, there's no time like the present to recap Season 1 of The Catch. After all, the Season 2 premiere promises to be action-packed — so viewers should be prepared to hit the ground running.
Alice is an extraordinary private investigator by trade, but the skill doesn't exactly translate to her personal life. In the show's pilot, she learned that she'd been conned by her own fiancé, who had been working for a high-stakes international crime operation. When he disappeared without a trace (taking her entire life savings with him, to boot), Alice made it her mission to track down Benjamin Jones. A seriously addictive game of "cat and mouse" ensued, and here are the most important things to remember about Season 1 before the games begin again.
The Sparks Still Flew Between Benjamin & Alice
Romantic relationships are complicated, guys. When Ben ditched Alice, he left behind a beautiful parting gift — he stole a multi-million dollar painting that had struck Alice's fancy, hung it in her home, and replaced the original with a counterfeit. They spend the first several episodes gazing longingly at old photos of each other, and when Alice has the opportunity to arrest Ben, she shows him the wire she's wearing before he can utter a word of confession. (Instances like this explain why Agent Dao is perpetually annoyed with Alice.)
Margot & Rhys Are The Deadly Duo
Margot and Ben work for a crime syndicate that's ruled by a mysterious "benefactor" who we don't see until Episode 6. His name is Rhys and he's Margot's brother — there's some tension between them because this is a family biz, and Margot expected to take over the syndicate upon their father's death. They make amends over an elaborate con that will make the syndicate go global (typical sibling bonding), but he betrays her about 10 seconds later and tells her that Alice is the person she should really target. Yikes. (But Alice can kick anyone's butt, and in heels, so I'm never that worried about her.)
Margot Posed As Alice's Therapist
When Val recommends a therapist to Alice, it seems like a solid suggestion given the year this woman's had. There's just one small problem — when Alice arrives at her first session, the therapist is the one and only Margot. The typically-unflappable con artist struggles to maintain her cover when Alice immediately reveals that she's still sleeping with Ben and he recently asked her to run away together. But it doesn't take long for Alice to realize her therapist's true identity, so she attends one last session for kicks — she devotes the hour to twisting the knife by talking about how Ben really felt about his "former partner." Oh, and she casually slips a tracking device into Margot's purse. Two points for Team Vaughan.
Ben Goes To Jail For Alice
After a series of often-deadly roadblocks, it finally appears that Ben and Alice will be able to reunite and enjoy some R&R together in the season finale. But not so fast — when she arrives home to pack for their getaway, her place is full of FBI agents and she's arrested for the theft of the stolen painting. The agents were tipped off by (who else?) Margot, and she can't resist phoning Ben to tell him that Alice is going down. As Alice is lead away in handcuffs, Ben arrives on the scene in time to confess to the theft and ask the FBI to arrest him instead.
So, it looks like Season 2 will kick off with Ben behind bars. The path of true love never does run smoothly — especially when elaborate cons are a daily occurrence.