Red Lobster Made A Lobster & Waffles Dish And The Waffle Is CHEDDAR BAY BISCUIT-FLAVORED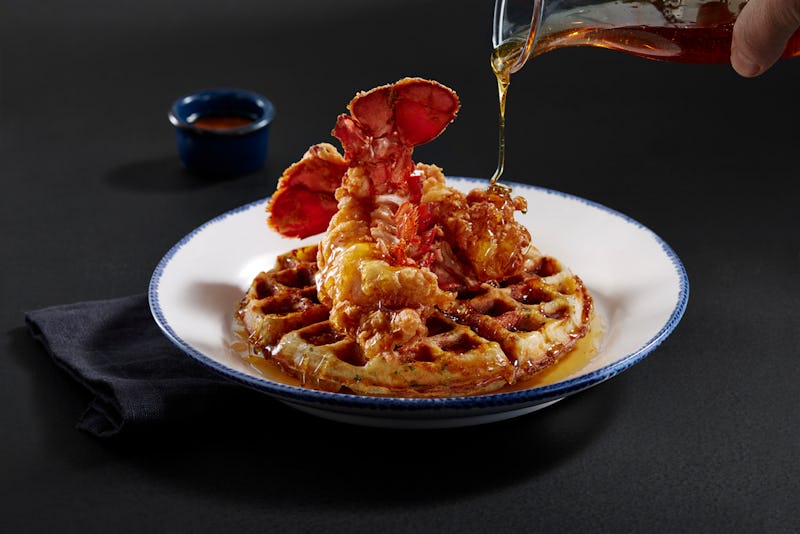 Red Lobster
If you, too, have dreams that were not enchanted by sugarplums and gumdrops, but rather plagued by incessant cravings for Cheddar Bay Biscuits, then you might want to take a seat. The news Red Lobster just dropped on all of us is the best thing to come out of the sea since Ariel shoved that hot prince who wasn't so hot at swimming back onto open shores: Red Lobster is introducing a Lobster and Waffles dish to their menu for a limited time. Cue the LOBSTER IS THE NEW CHICKEN t-shirts, and jokes about the "chicken of the sea" abound, y'all.
The ridiculously delicious promotion comes to us by way of Lobsterfest, a promotion in which Red Lobster introduces fancy new mix-ups on the menu for a limited time. And, as it turns out, this one is basically a godsend: it's not just a waffle. Per a press release emailed to Bustle from Red Lobster, it's a Cheddar Bay Biscuit waffle. It honestly seems irresponsible to the pleasure receptors in our collective brains for me to type that and put it on the internet, but there you have it, folks. It's topped with buttermilk-battered fried lobster and drizzled with real maple syrup, and looks like something that was ripped out of your dizziest daydreams.
Behold the Lobster and Waffles dish at Red Lobster, in all of its unadulterated, brunch-y glory.
The menu item will hit stores on March 26, and will retail for about $20, with prices varying by market. And, fortunately for your stomach but slightly less fortunately for your bank account, it's far from the only ridiculously delicious thing about to hit Red Lobster for Lobsterfest. Also on the menu, per Red Lobster's website, is Lobster Truffle Mac & Cheese, Stuffed Tilapia with Langostino Lobster, and something called Dueling Lobster Tails that is, essentially, two Maine Lobster tails — one steamed, and one grilled. Since I am primarily and only interested in things that have either breakfast foods or cheese in them, I will proceed to grace you with the image of the Lobster Truffle Mac & Cheese, which just became my new patronus.
Also new to the menu for Lobsterfest are a Tropical White Sangria and a drink called Lobster Lover's Punch, which involves "Captain Morgan, Bacardi, and Malibu rum, shaken with berry and pineapple juice." So basically my human heart is dead set on a Lobster & Waffles dish washed down with Lobster Lover's Punch. Catch me walking into a Red Lobster next week when all this menu stuff drops like:
(Side note: we do not discuss the dancing lobsters or their massive cultural impact on the psyche of '90s babies NEARLY enough.)
Of course, most of us are none too surprised that Red Lobster has, yet again, managed to lasso the hungry hearts of millennials everywhere; in fact, in 2016, a Consumer Picks survey by Nation's Restaurant News declared Red Lobster as millennials' favorite restaurant. Red Lobster credited their popularity with the demographic to menu and decor changes, as well as adding more options to their cocktail menus (and, TBH, that shoutout from Beyoncé probably helped). But honestly, all statistics and demographics aside, I think we all know what's really bringing us back to Red Lobster time and time again, and it's whatever drug they've laced the Cheddar Bay Biscuits with.
In any case, if you want to try the Lobster & Waffles dish, don't show up late to the party — this menu item is limited edition, so you'll only get to enjoy it while it lasts. Take a 'gram for me, my fellow millennials. And don't forget to dance it out when you're done.