Reese Witherspoon Teases 'Legally Blonde 3' Again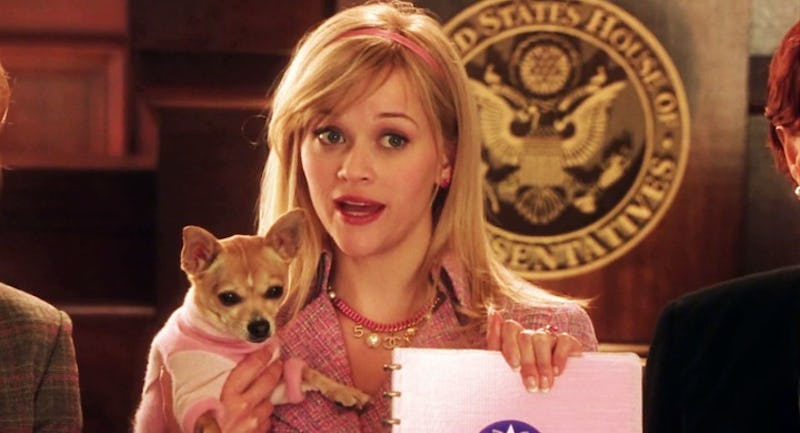 MGM
If January has you feeling a little miserable, then I've got the perfect antidote: Reese Witherspoon will make Legally Blonde 3, as long as somebody comes up with a great story. Start brainstorming immediately, people. Sure, the actor has been saying this for quite some time now, but, when she spoke to E! at the Women in Television dinner at Chateau Marmont, she reinforced that fact with one heck of a truth bomb. Basically, her reasons for wanting to make another Legally Blonde in 2017 are totally perfect.
The Wild actor said, "I do think it's a good time to do it. I think women need that kind of positivity right now." As the upcoming Women's March on Washington evidences, women are feeling incredibly marginalized right now. With Senate Republicans planning to repeal Obamacare, thereby dismantling the Affordable Care Act, access to contraception is about to become inaccessible and expensive to people all over the country. Trump's stance on abortion, especially his public declarations that women who have abortions should be punished, means that 2017 is a scary time to be a woman.
Speaking to E!, Witherspoon said,
It's a great privilege to be a woman in America. We have many rights and freedoms that a lot of women don't have all over the world. I try to celebrate that.
It's exciting to hear the actor speak so passionately about women's rights. Clearly, HER current focus on women's stories, including new HBO series Big Little Lies, is part of the reason she's ready to return to the iconic part of Elle Woods.
Legally Blonde is a feminist movie for so many reasons. Not only does Elle prove her haters wrong by getting into Harvard Law School, she shows that it's possible to retain individual style while pursuing a successful career. Since Legally Blonde 2: Red, White & Blonde saw Elle pursue politics in Washington, there's already so much potential for another sequel and several directions the character could go in. Any new Legally Blonde sequel would have fun with the amount of time that's elapsed in Elle's life, as the second movie came out in 2003. The script will basically write itself.
With Witherspoon's exciting endorsement, 14 years after the last movie came out, it's time to make Legally Blonde 3 happen for real. Even Elle Woods is ready, and her fans need her special brand of positivity now more than ever.