Reese Witherspoon's 'Big Little Lies' Update Means Season 2 Will Be Here Before You Know It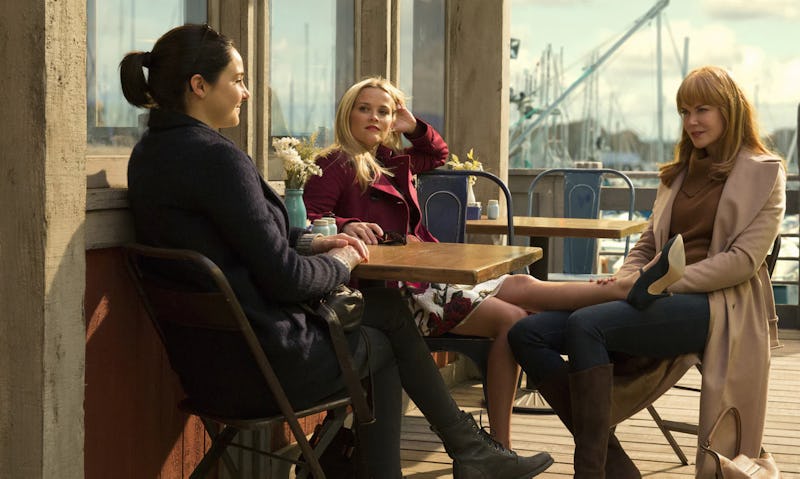 Hilary Bronwyn Gayle/HBO
Everyone's favorite drama about a group of Monterey residents, who are forever bonded by something that happened at their kids' school fundraiser, is gearing up for the second season. Reese Witherspoon has confirmed that filming Big Little Lies Season 2 will officially begin filming soon. Like, really soon. On the Thursday, March 8 episode of Late Night with Seth Meyers, Witherspoon announced that the HBO series will start shooting next week. She said,
"Y'all we're starting next Friday on Big Little Lies 2. I can't believe it. Not only do we have every cast member coming back, but also Meryl Streep is joining us."
Do you remember when you first read the report that Streep would be on the second season of the award-winning series? And do you remember thinking it didn't seem real? And do you recall waiting for someone from the BLL ensemble to pull a Mel C and say it was a joke that got out of hand? But then you realized it was not a joke, but a beautiful thing that was actually happening?
Well, it sure sounds like Witherspoon might be able to relate to that reaction. She told Seth Meyers,
"[Streep] sent an email to Nicole [Kidman] and I, and it said, 'OK, I read the part and I love it and I'm going to do it.' "I, like, dropped the phone. Like mic drop, but I phone dropped. And then, I called Nicole and was like, 'Is this real life? Is this really happening?' And then, I got off the phone with Nicole and I hugged myself gently for a minute and said, 'This is really happening. You're really working with Meryl Streep.'"
Oh, to be a BCC-ed fly on the wall of that email thread.
Once the reality of the situation fully sunk in, Witherspoon had some serious business to attend to. "Then I called the writer and went, 'You better write me good scenes with Meryl Streep,'" she joked.
At the end of last year, HBO announced the thing that everyone suspected all along: Big Little Lies would not be a one-off. As The Hollywood Reporter confirmed on Dec. 8, 2017, the HBO miniseries is getting a second season and will be directed by Andrea Arnold. The site added that David E. Kelley will not only be back for another round, but has already written all of the scrips for the forthcoming batch of episodes.
As previously reported, Witherspoon, Kidman, and Streep will be joined by Season 1 stars Laura Dern, Shailene Woodley, and Zoë Kravitz. Season 1 supporting star Adam Scott has also been confirmed for Season 2. Ready for a twist? According to a TVLine report, Alexander Skarsgård could be back "in some capacity." Rejoice, for the original band — plus Meryl flippin' Streep — is getting back together.
In addition to the cast, the director, and the writer, we also know when Season 2 won't premiere. Back in December, Vulture asked HBO programming chief Casey Bloys if viewers could look forward to seeing Big Little Lies Season 2 the following year. Bloys replied, "It would be impossible to get on in 2018." So, there you have it. Season 2 won't be here until 2019 or later.
Yes, 2019 seems like a long ways away, and yes, after 2019 feels even further away. And yes, it could be a while before Big Little Lies is back on the small screen. But hey, that really is not a bad thing; it would be a bummer if the follow-up to the brilliant first season felt rushed.
And given everyone who's working on Season 2, our patience will almost certainly pay off in a big way. Tend to your patience like a little pet.