Reformation Is Launching A Jeans Line & It's More Affordable Than You Think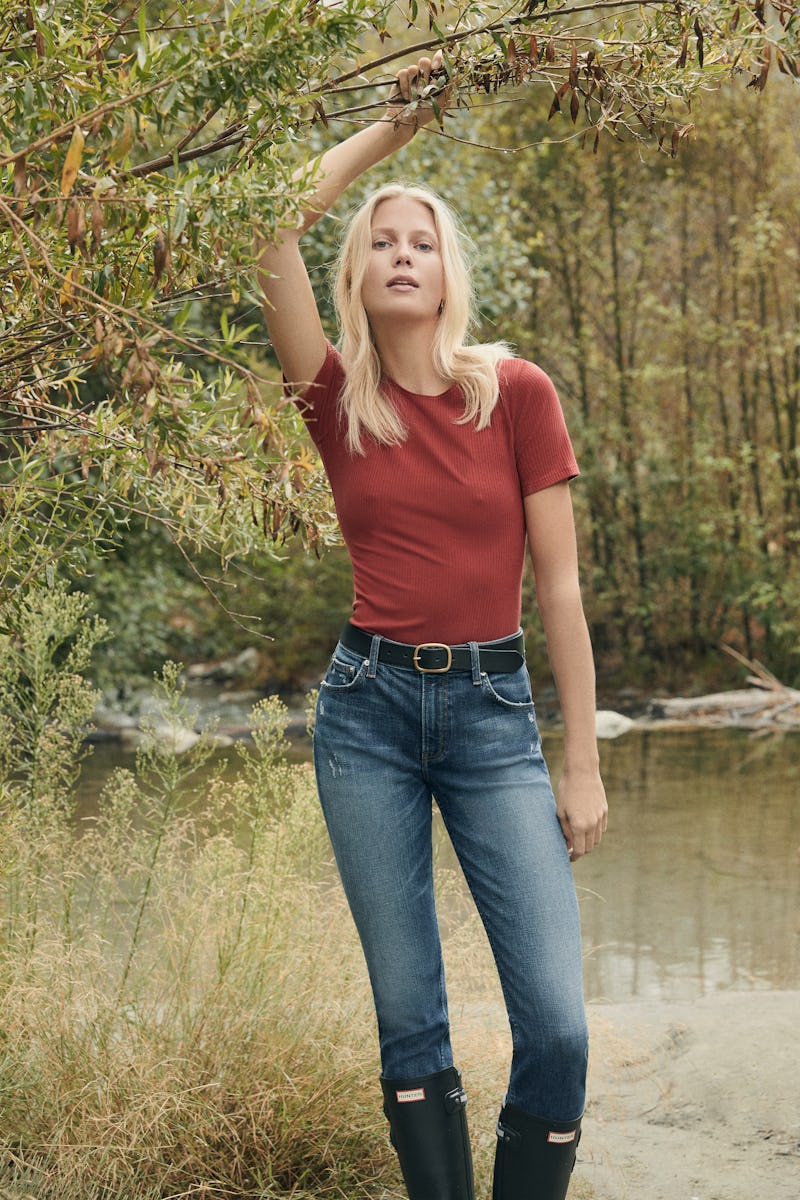 Courtesy of Reformation
There's pretty much no brand that nails casual cool-girl style like Reformation, so news that the brand is launching a denim line, Reformation Jeans, will be music to a lot of fashionistas' ears. That's right, the eco-friendly brand is venturing into a new product area, and fans are going to flip over the selection of denim Reformation's producing.
The Los Angeles-based design company has been taking the fashion industry by storm for the past several years. Launched in 2009 by Yael Aflalo, Reformation manufactures a large portion of its designs in its studio in Los Angeles. At the heart of its mission is the desire to use "sustainable fabrics and vintage garments while incorporating better practices throughout our supply chain to make beautiful styles at a fraction of the environmental impact of conventional fashion," according to the Reformation mission statement.
That means Reformation is all about sustainable fabrics and techniques, which is part of the reason it took so long to create a denim line. According to a letter from Aflalo, this has been a years-long process. "My biggest dream is to bring sustainable fashion to everyone," Aflalo wrote in the announcement. "This year, we decided to tackle the worst polluting type of clothing that we all buy all the time — denim." Not only does Reformation Jeans include denim, it's also got "other easy stuff that goes with denim," according to the company.
The line was created with sustainable practices top-of-mind. But does that mean is actually looks good? This is Reformation — of course it does.
The focus of this first collection seems to be on classic washes and cuts — jeans you'll wear for years, and ones that only seem to get better with age. And that's because the sustainable company has put an insane amount of thought into what fabric the jeans are made with.
Like the rest of Reformation's products, the denim line is "made with either 100 percent recycled materials, deadstock fabrics, or sustainably sourced fibers. (Deadstock fabric is an industry term for textiles that aren't going to be used, either because they turned out the wrong color or just weren't needed by whomever intended to purchase them.)
Denim is a fabric that requires a notorious amount of water to produce, but Refomation is also combatting that challenge. Its production techniques eliminate toxic dyes and water waste, and the company claims that saves 1,460 gallons of water for each pair.
And there's an added bonus that Reformation will purchase water restoration credits from the Bonneville Environmental Foundation, which will donate 1,000 gallons of water credits to the National Forest Foundation every time someone purchases a pair of Reformation jeans. Pretty cool, right?
So what does the collection include? It'll include 46 pieces, all "bra friendly and machine washable," according to the company. The first pieces launch today on the Reformation Jeans website, thereformation.com/refjeans. You can sign up for the waitlist now, and pieces will launch in Reformation stores on Oct. 23.
Part of the goal of Ref Jeans (as Aflalo refers to it) is to make sustainable clothing more affordable. So the collection will range in price from $28 to $148. Not terrible for sustainable fashion, and definitely on the lower end of the price spectrum compared to some of Reformation's other collections.
The initial launch will include 11 denim styles in 14 washes, 10 tops and four dresses, according to the company. And the best part? They'll be releasing new pieces every week, because "waiting is overrated." From what the brand has shown of the collection so far, it looks like it'll be full of classic styles that you'll be able to wear on repeat for years to come. And really, what's more sustainable than that?