'RHONY' Star Jill Zarin's Tributes To Her Late Dog Will Make You Sob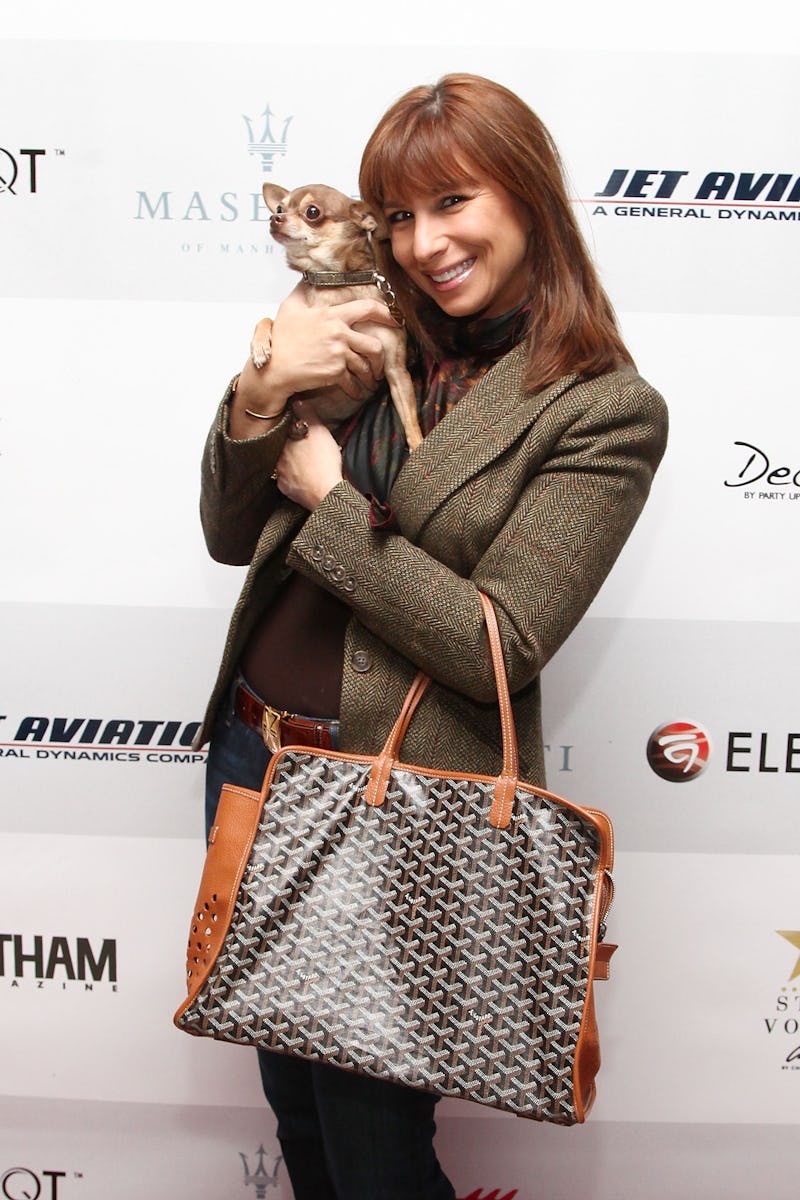 Taylor Hill/Getty Images Entertainment/Getty Images
The Bravoverse said goodbye to a very special four-legged friend this week. In heartbreaking news, The Real Housewives of New York City alum Jill Zarin put Ginger, her 14-year-old Chihuahua, down Monday evening. Jill Zarin's late dog was a big part of the Jill Zarin era of RHONY, and an even bigger part of her family. The pup endured a series of serious health issues this year, and unfortunately, her condition did not improve.
Before she had the dog put down, Jill told People, "I didn't want her to suffer. I know it's the right thing to do but I'm just so sad." After Ginger's passing, Jill shared a memorial slideshow in honor of her longtime sidekick. She wrote on Instagram,
"We love you so much but knowing that you will be with daddy brings us peace. You will always be with me my sweet Ginger. I love you"
Jill's daughter, Ally Shapiro, also posted a slideshow, writing,
"Although we didn't always get along, I already miss your growl and your cuddles. Thank you for being the best sister for 15 years. Bobby needs you more right now"
And here is the tribute to Ginger that went up on Jill's dog Bossi's Instagram account on Tuesday:
The former RHONY star knew her dog's time was coming, and so she made the most of their final days together. The weekend before Ginger died, Jill wrote on IG,
"I spent the last 5 days 24/7 in my apartment with Ginger, Bossi and Chicken. I want Gingers last days alone with me. I will never forget you my Ginger girl. I've been off social media and didn't go to any fashion shows or parties because I know this is Gingers time to go be with her Daddy. He left her here for me to help me so I wouldn't be alone. Bobby knows I am ok and we can't let her suffer. She had a stroke, went blind, almost drowned twice and now has metastatic cancer. She can't keep her food down. Her left front paw is limp from the stroke and we can't let her suffer anymore. She will be surrounded with love from us and all of you who have prayed for her and my family and I will never be able to repay the favor but know how grateful we are."
Oof, how gut-wrenching. Go ahead and let those tears flow.
What a devastating year it's been for Jill. Her husband, Bobby Zarin, passed away on Jan. 13 after a long and difficult battle with cancer. For the next eight months, she watched her beloved Chihuahua's health decline. Jill told People,
"I thought she was going to die a few months ago. Bobby made sure she stayed with me long enough to make sure I'm OK. She's going to go to heaven tonight. She's going home to be with her Daddy."
Ginger, that little nostril-licking sweetheart, was and will forever be a Bravo icon. All of the love to Jill and her family.