Harry Dreyfuss Alleges That Kevin Spacey Groped Him Amid Other Allegations Against The Actor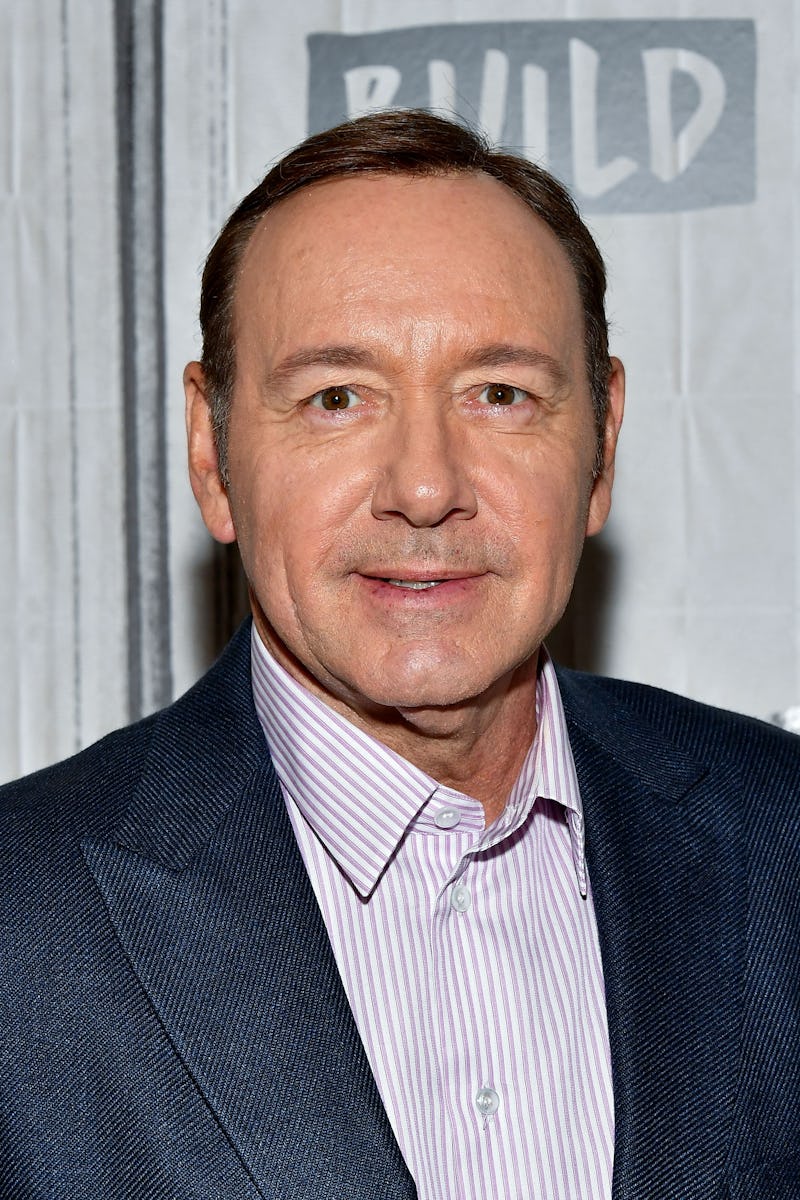 Dia Dipasupil/Getty Images Entertainment/Getty Images
On Saturday, Nov. 4, BuzzFeed published an article written by actor Harry Dreyfuss, son of Richard Dreyfuss, in which the younger Dreyfuss alleges that Kevin Spacey groped him when he was 18. The alleged incident occurred in 2008, when Spacey was directing Dreyfuss' father in a play at the Old Vic in London. According to Dreyfuss' account, one evening he joined his father and Spacey at Spacey's apartment for a rehearsal session. While Dreyfuss, his father, and Spacey were running lines, Dreyfuss alleges that Spacey groped him. Bryan Freedman, a lawyer representing Spacey, told BuzzFeed in a statement: "Let me be clear, Mr. Spacey absolutely denies the allegations."
Dreyfuss wrote that the alleged incident began when Spacey put his hand on Dreyfuss' thigh while they were sitting on the American Beauty actor's couch. At the time, Dreyfuss says he looked up to Spacey, and believed the actor's actions were harmless. When he became uncomfortable, Dreyfuss alleges that he moved away from Spacey, only for Spacey to move closer to him. This happened twice before the groping allegedly occurred.
Dreyfuss wrote in the BuzzFeed article,
"Kevin followed me, sat down, and with considerable effort, slid his hand between my right hand and my right leg. He'd snuck in. At this point I didn't think there was anything I could do short of alerting my dad to what was happening. But I didn't want to start a feud between them. I didn't want the play to be threatened. This job really mattered to my dad, and Kevin was his boss."
For years, Dreyfuss alleges that he told the story to friends in a joking manner, and for a long time, he didn't tell his father about Spacey's alleged actions. He told BuzzFeed that seeing so many men and women come forward in the wake of the scandals involving Spacey, Harvey Weinstein, and other members of the Hollywood elite inspired him to acknowledge that what allegedly happened to him wasn't a joking matter.
Dreyfuss' claims come at a time when Spacey is facing multiple sexual misconduct allegations. On Sunday, Oct. 29, Star Trek: Discovery actor Anthony Rapp told BuzzFeed that in 1986, when Rapp was 14 and Spacey was 26, the Oscar-winner allegedly attempted to sexually assault him. Spacey responded to Rapp's allegations with a tweet, in which he shared the following statement:
"I have a lot of respect and administration for Anthony Rapp as an actor. I am beyond horrified to hear his story. I honestly do not remember the encounter, it would have been over 30 years ago. But if I did behave then as he describes, I owe him the sincerest apology for what would have been deeply inappropriate drunken behavior. I am sorry for the feelings he has described carrying with him all these years."
After Rapp came forward, several other men shared their stories of alleged encounters with Spacey, including filmmaker Tony Montana and actor Robert Cavazos. Spacey is also under investigation in London for an alleged sexual assault that took place in 2008. A Scotland Yard spokesperson told The Guardian on Friday, "On 1 November, City of London police referred an allegation of sexual assault to the Metropolitan police service. It is alleged a man assaulted another man in 2008 in Lambeth. Officers from the child abuse and sexual offenses command are investigating."
The Guardian pointed to a report by The Sun claiming that the person being investigated for sexual assault is Spacey. The tabloid reports that an unidentified 23-year-old man (who is now 32) claims he woke up in Spacey's London home to find the House of Cards actor allegedly performing a sexual act on him. The Guardian reports that, "A spokesman said it had no record of any arrests having been made in connection with the investigation and police declined to comment on a report from The Sun that the complainant had been interviewed by police."
In the wake of the allegations against Spacey, Netflix has fired the actor from House of Cards, which is filming its final season. On Friday, CNN released a report with allegations from eight people who either work on the set of House of Cards or previously worked on the set, all of whom have alleged that they were sexually harassed by Spacey. Additionally, one of the eight people claims that Spacey sexually assaulted him. Vulture also published an article detailing the account of an anonymous man, who says that Spacey allegedly attempted to rape him when he was 15. The actor's lawyer told Vulture, "Mr. Spacey absolutely denies the allegations."
On Thursday, Nov. 2, Spacey's former publicist, Staci Wolfe, issued a statement that said, "Kevin Spacey is taking the time necessary to seek evaluation and treatment. No other information is available at this time."
As Dreyfuss joins the list of men with allegations against Spacey, he makes a powerful point about the importance of speaking out. "In minimizing my own experience all these years, I unwittingly played a role in minimizing it for everyone," Dreyfuss wrote in his essay. "That ends now. This was never a funny story. Rather than a punchline, I hope my story can serve as inspiration to others who may have felt that they couldn't or shouldn't speak up until now."
If you or someone you know has been sexually assaulted, call the National Sexual Assault Telephone Hotline at 800-656-HOPE (4673) or visit online.rainn.org.