Richard Madden Would Crash On THIS 'Game Of Thrones' Star's Couch For The Best Reason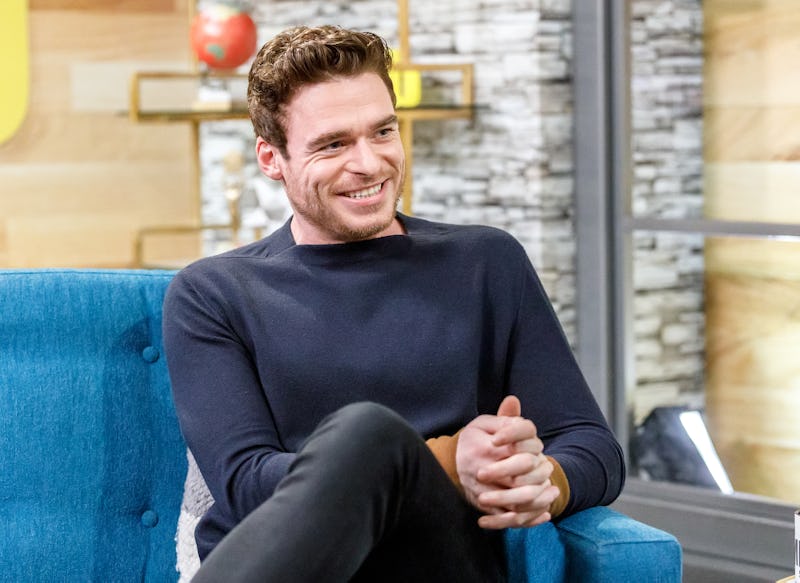 Rich Polk/Getty Images Entertainment/Getty Images
It's been some time since Richard Madden has played the ill-fated Robb Stark, the last true King in The North before Jon Snow returned from the Night's Watch. However, his love for his time on the show, and for his fellow cast mates, has not wavered. In a new interview with IMDb, Madden revealed which Game of Thrones actor's couch he'd crash on for the night, and his answer will have you pledging your fealty to House Stark all over again.
In a YouTube video posted on Sunday, Nov. 18, IMDb sat down with Madden to interview him about his new TV show, Bodyguard, which came out in the UK and Ireland back in August, but was just released on Netflix on Oct. 24. In a little game they've cleverly titled, "Game of Friends," interviewer Tim Kash presented the actor with several scenarios and then asked which co-star from Game of Thrones Madden would choose in that situation. It was no doubt a hard task, because the entire cast seems to be close, but he offered up his answers pretty easily.
One of the last questions Madden answered was who he would call if he needed a place to stay. The answer he gave would even melt the Night King's ice cold heart: it's Jon Snow, of course. "Probably Kit [Harington]... Because we'd probably just get drunk and then we'd have a little chat."
That's a pretty solid answer. Who doesn't like sleepovers, where you can drink with friends, catch up, and have a great time? Honestly, that is the ideal hangout. The Stark children have all been separated from one another since the very first episode, and for Robb Stark and Jon Snow, they had been separated from the time Jon left in episode two of Season 1, when he left to join the Night's Watch. Robb, along with his mother Catelyn, and his wife, Talisa, were murdered in the well-known, yet tragic, Red Wedding before the brothers could be reunited.
So, while Madden hasn't shared the screen with Harington for a while, it's nice to know the two still hang out in real life as buds when they get the chance. (Never forget, Madden was invited to Harington's wedding to Rose Leslie, reuniting most of the Stark kids in the process.)
If the guys ever plan a rowdy night out, it sounds like they'll have to invite another one of their co-stars along as well. In the interview, Madden reveals that there's probably no one in the cast that he would lose a drinking competition with, but he did admit that Liam Cunningham, who plays Ser Davos, would probably be the closest to a challenge. "I think Liam Cunningham and I would keep up with each other... Yeah, he's a big broad guy, yeah."
And who's the cast member that he would love to act in a comedy with? The Lioness herself, Cersei Lannister — well, her real-life counterpart, that is. "That's tough. Maybe Lena Headey. Because she's got a really great comic side that you maybe don't get to see as Cersei so much, but she's funny." If you're a fan of Headey's, you'll know she's pretty comical from her interviews, and she also has an upcoming comedy, Fighting With My Family, starring Dwayne "The Rock" Johnson coming out in February, so don't underestimate Queen Cersei's ability to drop a well-timed one-liner.
Even though Robb is gone, and things are probably going to get really rough for his Game of Thrones familyin Season 8, it's sweet to hear he'd still drink with Ser Davos and crash on his TV brother's couch. It just goes to show that the Starks always stick together, no matter how long they've been apart.