Not One But THREE Powerhouse Women Are Hosting The Met Gala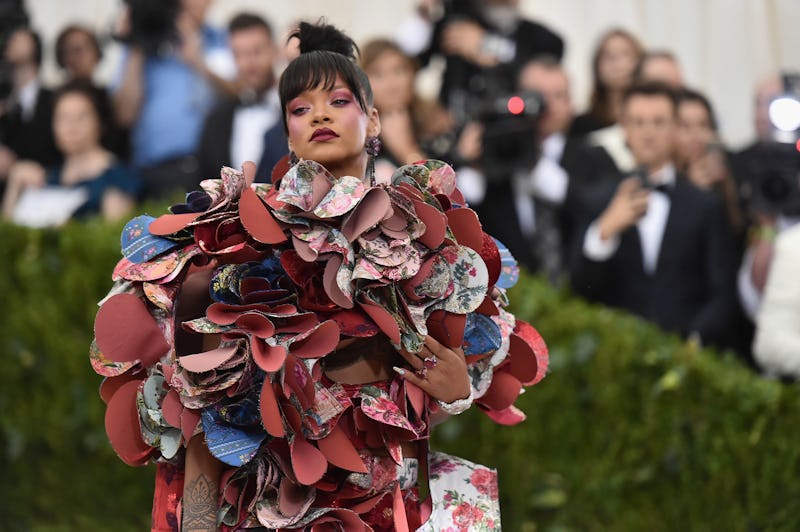 Mike Coppola/Getty Images Entertainment/Getty Images
What's the most important day in fashion? While some might say the Oscars or the days of New York Fashion Week, there's another day that leave fashion fans giddy, and it's the Met Gala. The star-studded event is an annual fundraiser, who's hosting the 2018 Met Gala? The Metropolitan Museum of Art's Costume Institute fundraiser has to have people hosting, after all. The event isn't just the red carpet (though an argument can be made that it actually is), so who's faces are you going to be seeing as the leaders of the famous event?
The 2018 gala has a seriously star studded line-up for their event, and you'll probably recognize every single one of the hosts because yes, an event this big deserves more than one person to help welcome guests the day of, right? The hosts, hand chosen by Vogue editor Anna Wintour, all have history with the famous event and all have walked the carpet. While they may seem like they don't have much in common, their fashionable appearances at the Met all unite them.
So, who are the 2018 Met Gala hosts? The three women are none other than Rihanna, Amal Clooney, and Donatella Versace. Now, that's the line-up you were hoping for, right?
While all three women are basically household names (in fashion obsessed homes that is), Rihanna may be the host that's on everyone's minds thanks to her two most recent appearances at the gala. The Fenty Beauty creator, singer, and star of the upcoming Oceans 8 film (set at a fiction Met Gala no less).
Last year, during the Rei Kawakubo and Commes de Garçon themed event, Rihanna stunned in a gorgeous creation by none other than Kawakubo herself. The printed, structured creation was unlike anything else on the carpet that night, and Rihanna's gorgeous makeup featured a killer blush draped cheek that only took the look up to a whole other level.
Then, of course, there's the moment no one can forget from 2016. For the "China: Through the Looking Glass" gala, Rihanna wore a drop dead gorgeous, dramatic AF gold fur lined cape created by Chinese designer Guo Pei. The look was a show stopper, and it became so popular that it even spawned its own meme. Who else but Rihanna could do that?
Then, of course, there's Donatella Versace. Obviously, she's the head of the house of Versace. No big deal, right? Not only does she routinely dress stars for the event (like Kylie Jenner and her stunning dress last year), but she's walked the carpet of the Met Gala more times than any of the other hosts. According to Vanity Fair, Versace has walked the carpet a total of 16 times. Now, she's officially become a host of the event. Clearly, she's earned her title through her design talent and commitment to the event.
Then, of course, there's Amal Clooney. While she's only walked the Met Gala red carpet once, it doesn't matter much given her extensive background in activism. Her position as a successful human rights attorney is more than enough to welcome her as any part of the gala. Of course, it's hard to deny her classic sense of style.
Obviously, there's not shortage of brilliance coming from the 2018 Met Gala hosts. With Rihanna's stunning looks and success in the entertainment and beauty industry, she's absolute perfection, and Donatella Versace's incomparable history with the event paired with her iconic fashion label makes her an ideal choice. Amal Clooney's activism coupled with her incredible sense of fashion makes her yet another perfect choice. With Anna Wintour selecting the hosts, though, you shouldn't have expected anything less.