These Signs Suggest We Could Be Getting New Music From Rihanna BEFORE Christmas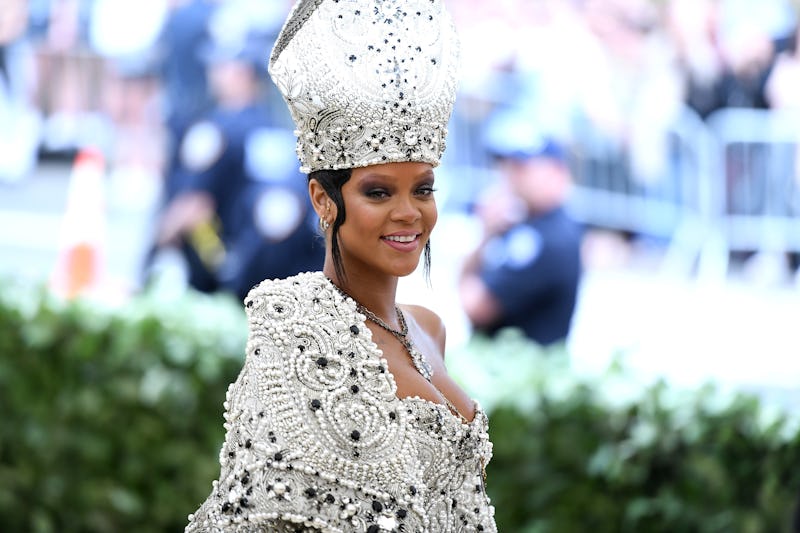 Noam Galai/Getty Images Entertainment/Getty Images
She's made histo-rih as the most streamed female artist of all time, as well as holding the unofficial title of the baddest in the game. But sometimes, even the most devout worshippers have their patience tested. The two years since Rihanna first told us to "work work work work work" have felt very, very long. There's been no new music since 2016's Anti to tide us over, nor has there been any teaser of stuff to come. But, finally, the wait might nearly be over. Prepare to "Pour It Up," as a new album from Rihanna is on the way.
Things got a bit suspicious when Rihanna removed her profile picture from her official YouTube account on Sept. 11, as Music News Facts tweeted. In this day and age, that's usually a sign of things to come. Remember when Radiohead erased their entire internet presence just before they announced 2016's A Moon Shaped Pool? Or when Taylor Swift left blank spaces on her Instagram, as she deleted all of her posts just before the announcement of Reputation? If that's anything to go by, and it probably is, a new Rihanna album could be on its way sooner than you originally thought.
She's been inundated with fans asking her when new music would be released, but the "Diamonds" singer remained tight lipped. However, on the same day as she removed her profile picture on YouTube, she started to let things slip. In a screenshot from Twitter user Rihanna Facts, she's seen replying to a thirsty fan on Instagram. "I'm doing music," Rih confirmed, "Simultaneously doing lingerie, makeup, film, amongst a couple other things that I enjoy. when the music is ready you won't have to ask for it. But it's coming. Just not today sis."
Suspicion was initially raised when the Barbadian princess was spotted hanging around studios in New York, Paris, and Los Angeles, as Capital Extra reported back in May. Rih confirmed that she was working on new music shortly after, when she appeared on The Graham Norton show alongside her Ocean's 8 costars on June 15. "I am actually in the studio at moment," she told Norton. When he asked her whether the album would be out before Christmas, she told him: "You'll just have to wait and see." If like me, you're a stolen wine glass half full kinda girl, then you'll have noticed that's not quite a "no." Can you even imagine how great a Rihanna Christmas album would be?!
For the extra optimistic among you, there's the hope that Rih might even release two albums before Santa comes to town. Elle initiated the rumour that she was working on a reggae album, which they reported back in July. Elle gleaned this from Rihanna's profile with Vogue a couple of months before, while sources close to Rih reported to Rolling Stone that she was also "at work on another pop oriented album". So, let's just hope we won't have to wait much longer for either release. And Rih, if you're reading this, please release the album(s) and make 2018 great again.