Rob & Chyna Have Been Together An Entire Year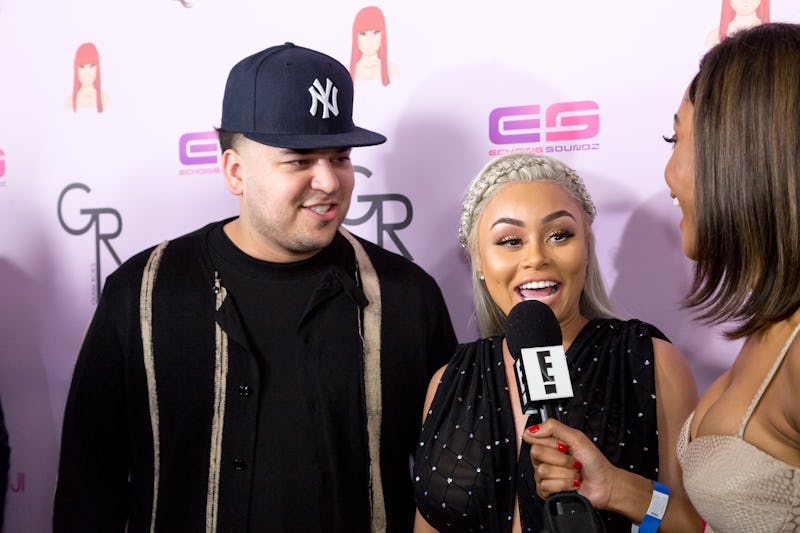 Greg Doherty/Getty Images Entertainment/Getty Images
All I've got in my brain box right now is a big "wow." Can you believe it's been a year since Rob Kardashian and Blac Chyna got together? A whole lot has happened in the rest of the world and when it comes to their relationship — they got engaged, had a baby together, and starred in their own reality show — so the whole span of their relationship seems to have taken up way more time. But, in fact, it's been only a year, which is demonstrated by a video full of couple-y moments that Kardashian shared on his Instagram account on the day of the anniversary, Jan. 25. The video, which is a montage of hugs, kisses, and affection towards Chyna's baby bump set to DJ Khaled's "Hold You Down" is really a thorough salute to Kardashian and Blac Chyna's one-year anniversary.
According to Us Weekly, the caption of the video montage was originally "a year went by so fast, love you," but Kardashian changed it to the arguably more personal — as defined by the couple's goofy interactions together — "1 year down lol woohoooooo happy anniversary babbbbbbiiiiiiieeeeee." The silly caption ends with a host of baby emojis (representing their child, Dream Kardashian, perhaps?) and a blue heart.
Kardashian and Blac Chyna's relationship has been marked by a lot of drama, which is the main reason it seems like this couple has been together forever. There were reports that members of the Kardashian clan weren't a fan of this new relationship, the couple got engaged in April 2016, and they also appear on their own show Rob & Chyna. That's a lot going on for such a young relationship.
Reaching the one-year milestone almost didn't happen for the two as they seemed to break up for a short while in December amid a heated social media battle between them on multiple platforms.
If year one was this full of relationship drama, year two is almost certainly also going to be quite the ride.