J.K. Rowling Is Releasing A Mystery Book This Fall Under Her Pseudonym Robert Galbraith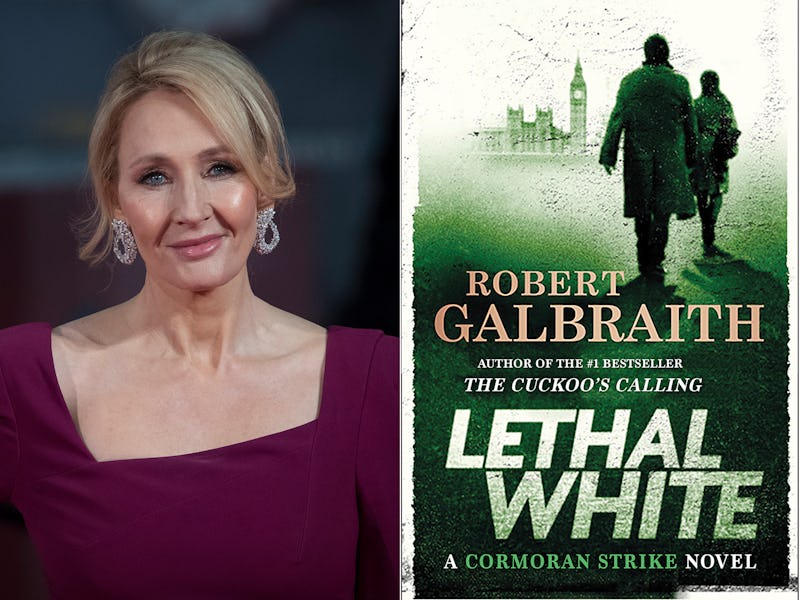 John Phillips/Getty Images Entertainment/Getty Images
It's been three years since Career of Evil, the third installment in the internationally bestselling Cormoran Strike series, hit shelves, and since then, readers have been holding their breaths waiting for another story from Robert Galbraith, a.k.a. J.K. Rowling. Now, they can finally exhale a sigh of relief, because Lethal White has an official release date in September, and this new Cormoran Strike story promises to be the most exciting one yet.
She may have finished the last installment of the beloved Harry Potter series in 2007, but since then, J.K. Rowling has kept herself incredibly busy. Not only has the mega-bestselling author continued to crank out supplemental stories from the wizarding world on the website Pottermore and in fun books like The Tales of Beedle the Bard, but Rowling also served as a producer on several of the Harry Potter films, helped write the Fantastic Beasts movies, and co-authored the award-winning play Harry Potter and the Cursed Child. Oh, and did I mention she has also created an entirely new series of adult detective novels under the pen name Robert Galbraith?
The Cormoran Strike series follows the titular war veteran turned private detective and his driven assistant, Robin Ellacott, as they investigate gripping crimes and brutal murders throughout the city of London. The first installment, The Cuckoo's Calling, was released in 2013 to critical acclaim and commercial success. Along with the two other books that followed, The Silkworm (2014) and Career of Evil (2015), it topped both national and international bestseller lists, and was adapted for a major television series for BBC One.
Now, Mulholland Books is getting ready to publish the next book in the series. On July 10, they announced that the official publication date of Lethal White, the fourth installment in the Cormoran Strike series, was slated for Sept. 18, 2018. The publishing house also revealed the highly anticipated crime novel's cover, which perfectly captures the moody atmosphere of London and the chilling mood of each Strike mystery.
Take a peek, below:
Lethal White by Robert Galbraith, $29, Amazon (Pre-order)
When Billy, a troubled young man who believes he witnessed a crime as a child, decides to find out the truth about his past, he knows there is only one person he can ask for help investigating: Cormoran Strike. The only problem is, Billy is in obvious mental distress and he can't recall any real concrete details about the incident. Still, Strike sees sincerity in his story and wants to help him figure out what really happened all those years ago, but before he is able to ask more questions, Billy runs away in a panic.
Luckily, Strike isn't on the case alone. Robin Ellacott, his former assistant and current partner at the agency, is there for every unexpected twist and turn of the investigation that leads them through the back alleys of London, into a secret chamber of Parliament, and to a gorgeous but menacing countryside manor. Meanwhile, Strike is struggling with his own personal issues that threaten to get in the way of his case. Not only has his newfound fame as a private eye made it difficult to operate under the radar like he used to do, but now, his relationship with Robin is more complicated than ever.
If you aren't caught up on the Cormoran Strike series, don't worry, you still have plenty of time to read the previous three novels before Lethal White hits shelves this September. If you don't have time to revisit the books, you can also catch up on all the murder, mystery, and mayhem by watching Strike, a detective drama based on the books, on either BBC One or Cinemax.