'Rogue One's Diego Luna Knows Diversity Is Key In The Star Wars Universe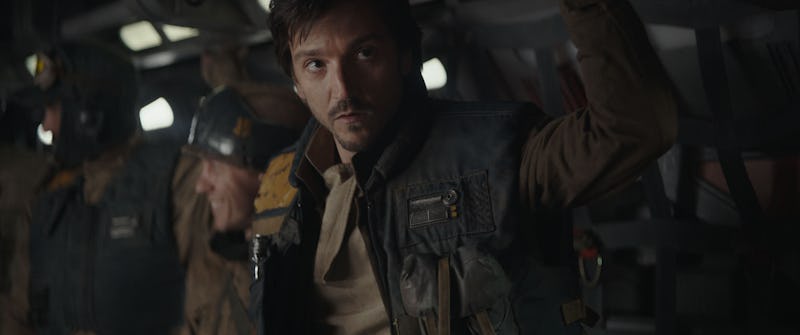 Walt Disney Studios
Rogue One: A Star Wars Story is breaking new Star Wars ground. The first anthology film of the series marks a break from the trilogy construction of the originals, the prequels, and new three films. But, more importantly, Rogue One is the first Star Wars film not centered around the Skywalker family. As a result, the cast of Rogue One is more diverse than any other Star Wars film, featuring a female lead, a Latino male hero, and a (mostly) non white cast of supporting characters. As star Diego Luna, who plays Cassian Andor, tells Bustle, Star Wars had to leave Luke Skywalker behind to create a diverse galaxy in Rogue One,and Hollywood should consider following in its footsteps.
The fact that Rogue One is the most diversely cast Star Wars movie in the history of the franchise is no coincidence, says Luna. "It's the only way this universe can exist for a long time and be passed through generations as it's happening, by making a modern approach to it," the actor explains.
For the first time, Star Wars reflects the diversity of the real world, and that is in no small part due to the narrative departure from the Skywalker saga. It could be argued that the Erso family — Jyn and her complex relationship with her father, Galen — has taken the Skywalker place in Rogue One, which puts another white family in the center of the galactic story. However, this would be a disservice to the story of the Rogue One crew and the filmmakers, who were able to create a completely new story out of one of the world's most beloved franchises. Jyn creates her own family in Rogue One, one that happens to include many non-white faces such as Chirrut (Donnie Yen), Baze (Wen Jiang), Bodhi (Riz Ahmed), Cassian (Luna), and K-2SO (Alan Tudyk). Thus, Rogue One leaves behind the white familial narrative of Star Wars in favor of a new, stronger, and more diverse family picture.
The franchise's newfound diversity is, according to Luna, not only a more accurate reflection of Star Wars audiences, but a direct result of audiences influencing the cinema they see on screen. "If you go to the cinema today and turn your face back toward the screen, and look at the audience, you'll see that diversity, and that has to be reflected on the screen," Luna tells Bustle. "So I think what's happening is that audiences are shaping the cinema that they want to see. They're getting involved and their voice is being heard." Audiences are demanding that the realities of a diverse world be addressed onscreen, and the movement in Rogue One towards creating a more inclusive Star Wars universe is proof that at least some Hollywood insiders are listening.
Watching Rogue One through the lens of diversity at the end of 2016 is a bittersweet experience. It's a breath of fresh air, for sure, to see a female heroine lead a blockbuster movie, with a Mexican male lead backed up by a British Pakistani pilot and a duo of Asian warriors. It's also sad that it's something to be noticed. As I left the theater after seeing Rogue One, my heart overcome with love for Luna's Cassian, I realized that I hadn't seen a major studio film with a Latino male lead in a long while. Even as Star Wars movies become more inclusive, it still remains that overall, diverse blockbusters are few and far between. It's not enough for just Rogue One to be diverse — the rest of Hollywood needs to be, too.
Additional Reporting: Kelsea Stahler