Rose Leslie's Trick To Avoid 'Game Of Thrones' Spoilers From Kit Harington Is Too Perfect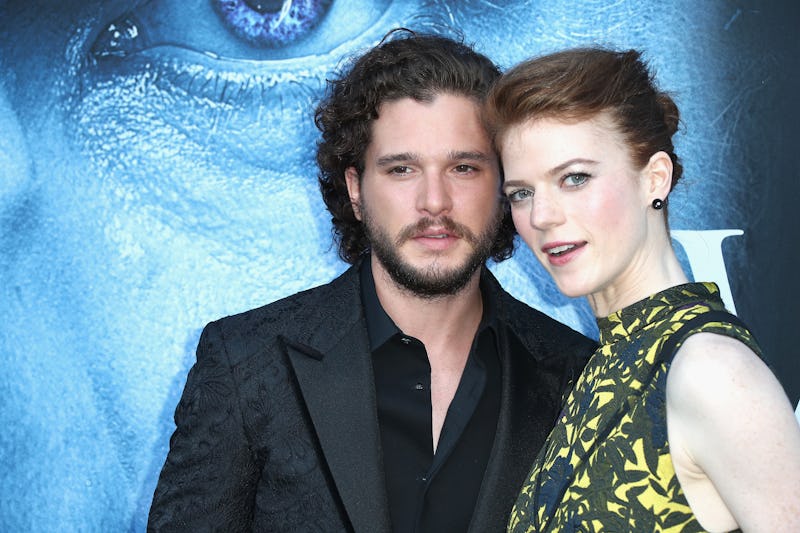 Frederick M. Brown/Getty Images Entertainment/Getty Images
Being engaged to Kit Harington has its advantages — like the fact that Game of Thrones scripts could literally be in the same room as you at any time. But if you're trying to avoid GoT spoilers, having a fiancé who plays one of the show's most elusive characters presents a bit of an issue. Luckily, Rose Leslie has a way to avoid Game of Thrones spoilers — it just involves avoiding eye contact with the love of her life.
Leslie, who was once on the show herself, revealed to Entertainment Weekly that she can't watch her fiancé read the GoT scripts. Even if he doesn't say anything, she's afraid she'll read into his reactions — and honestly, it's hard to blame her. When it comes to the HBO series, you can never be too careful. She told EW,
"I for sure ask Kit not to show me his excitement after he has read an episode, simply because I don't want to read anything in his eyes. I know the anticipation is killing a lot of people, and my God the build-up is fantastic. I can't wait until next year. So when he's at the other end of the room and reading the episode, it's like, no… we are not going to have eye contact for a long time. Go make a cup of tea. Calm down."
Based on Harington's previous statements, it sounds like Leslie has the right idea. After all, her fiancé shared in 2016 that he once used a Game of Thrones spoiler to avoid facing a speeding ticket. Harington told Jimmy Fallon during a Tonight Show appearance that a police officer told him he wouldn't have to go to a police station if he revealed Jon Snow's then-unknown fate. (And apparently, avoiding being booked was more important than whatever confidentiality agreement HBO no doubt had him sign.)
Leslie may no longer be on Game of Thrones herself, but her connection with Harington has continued offscreen long after her character's death. Ygritte and Jon Snow were together on screen, though they kept their IRL relationship out of the public eye at first. These days, though, Leslie and Harington aren't afraid to get cozy with each other during red carpet appearances.
Harington and Leslie officially announced their engagement in September, with a newspaper ad that appeared in the London Times. The announcement was every bit as regal as you'd expect:
"Mr K.C. Harington and Miss R.E. Leslie. The engagement is announced between Kit, younger son of David and Deborah Harington of Worcestershire, and Rose, middle daughter of Sebastian and Candy Leslie of Aberdeenshire."
Before the pair's engagement, Harington gushed about their romance during a July interview with Entertainment Tonight.
"I think that's the really special thing about it is that we met on this show, and here we are seven years down the line back here promoting Season 7," Harington told ET. "I mean, it's mad. It's such a special thing. I'm so privileged."
Since leaving Game of Thrones, Leslie's been starring in a decidedly different role as Maia Rindell on CBS' The Good Fight. Maia's recently been in jail, thanks to her connection to her criminal father. And when the show returns, Maia will be sporting an ankle bracelet, Leslie told EW.
"Now she has an ankle bracelet on, so I rather fabulously got to wear some flashy trousers rather than the kind of dresses and the skirts," Leslie said to EW. "There has been time for Maia to heal, but she is going to suffer the consequences of her father's appalling behavior and abandonment issues. That dilemma that she has gone through has allowed for her to mature and harden, and as a result, evolve."
Still, house arrest beats dying in your lover's arms by a long shot.